The first round of the Boyndie Drome Open Challenge took place on Sunday 10th March 2019 in freezing cold weather, but dry.
However the finals were in the wet ending up in snow. A program of 36 races was scheduled for the day. The feature trophy was the Marshal's Cup, which the marshal's of the day voting for the drivers the driver that impressed them most.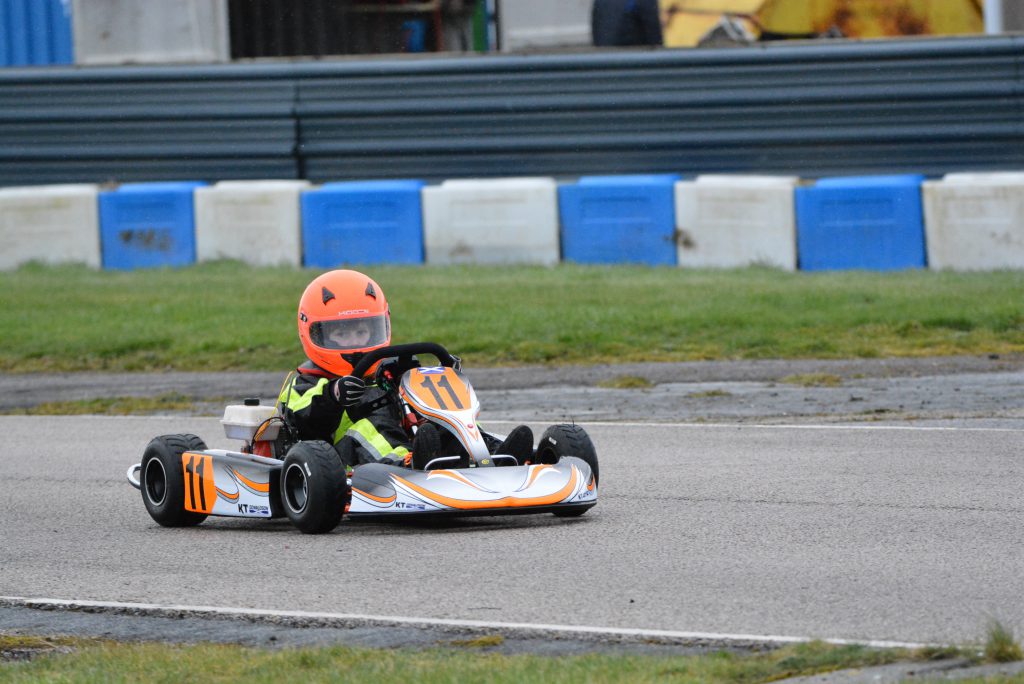 Bambinos
The Bambinos time trial, Katie Donaldson set the fastest time and was followed by Finlay Smith and Harry Matheson.
1st – Katie Donaldson (Dufftown)
2nd – Finlay Smith (Stuartfield)
3rd – Harry Matheson (Muir of Ord)
Marshal's Cup – Harry Matheson (Muir of Ord)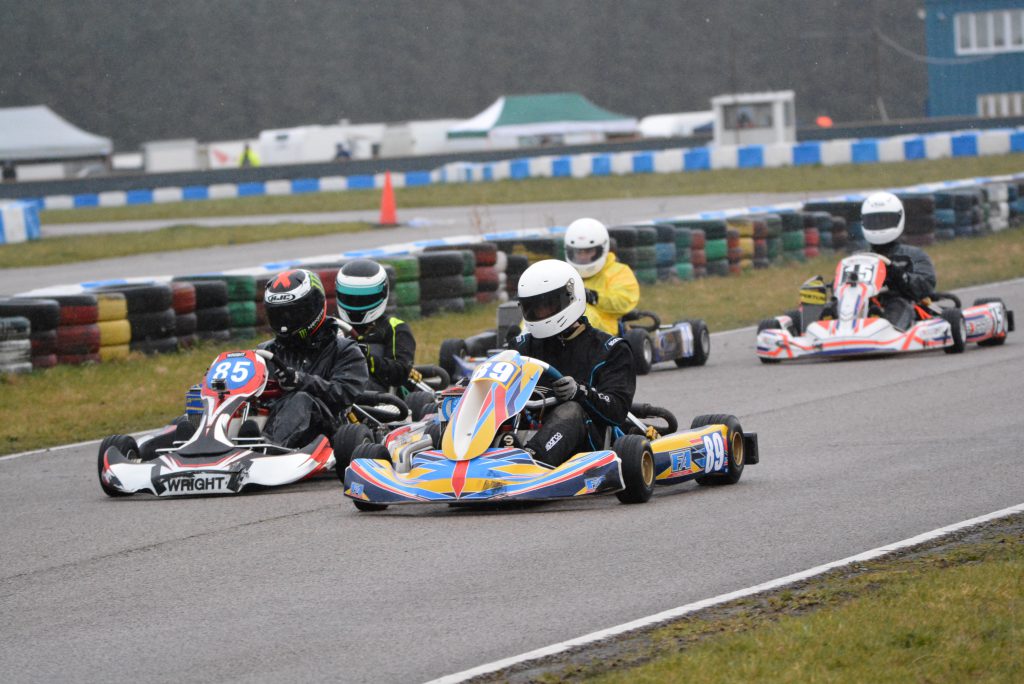 Senior Max
Fraser Skene took the victory by 8.5 seconds over Steven Thomson. A close battle between Dominic Lund, Fraser Ballantyne and Steven Bain was the order as they crossed the finishing line by less than a second apart.
1st – Fraser Skene (Potterton)
2nd – Steven Thompson (Tarves)
3rd – Dominic Lund (Turriff)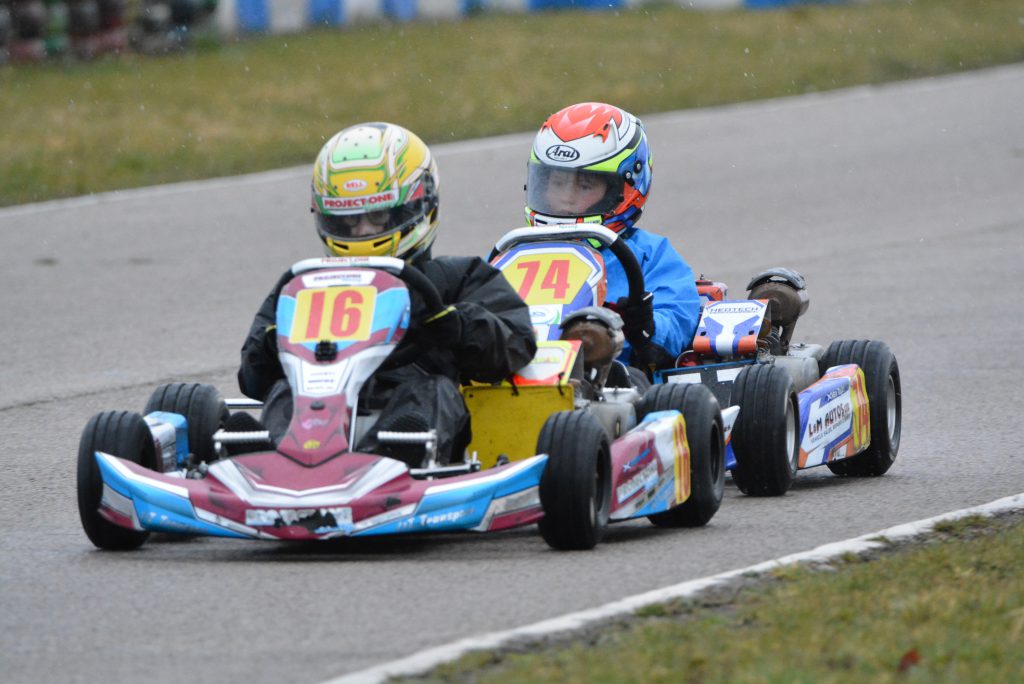 Honda Cadet
A clean start by pole sitter Steven Duncan was ahead of Max Taylor and the rest of the pack. The front pair gradually drew away. Taylor challenged at the end of Boyndie Straight on several occasions but Duncan resisted. Taylor dropped away before the chequered flag with Duncan taking the victory. Next up was a group of three, Leon Hastie, Taylor Thomson and Rhys Ballie. Thomson gained third with two laps to go and Ballie move to fourth on the penultimate lap. Hastie finished fifth with Aiden Mcdonald sixth.
1st – Steven Duncan (Aberchirder)
2nd – Max Taylor (New Leeds)
3rd – Taylor Thomson (Kirkcaldy)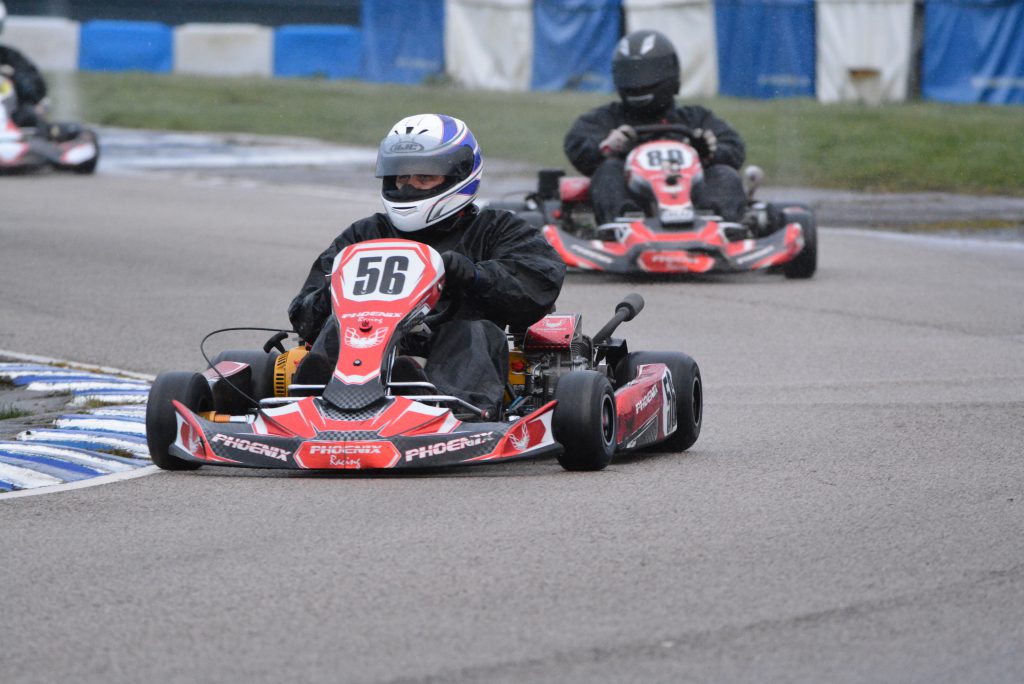 Twin Engined Prokart (Owner Drivers)
Gary Flemming took the early lead, which he held to the chequered flag. Richard Christie held second at the end of the first lap however Grant Miller moved into the position on the second tour. Nicky Sutherland moved to third a lap later. The race became spread out with Flemming taking the victory and Miller second followed home by Sutherland, Christie and David Leiper.
1st – Garry Fleming (Arbroath)
2nd – Grant Miller (Montrose)
3rd – Nicky Sutherland (Stonehaven)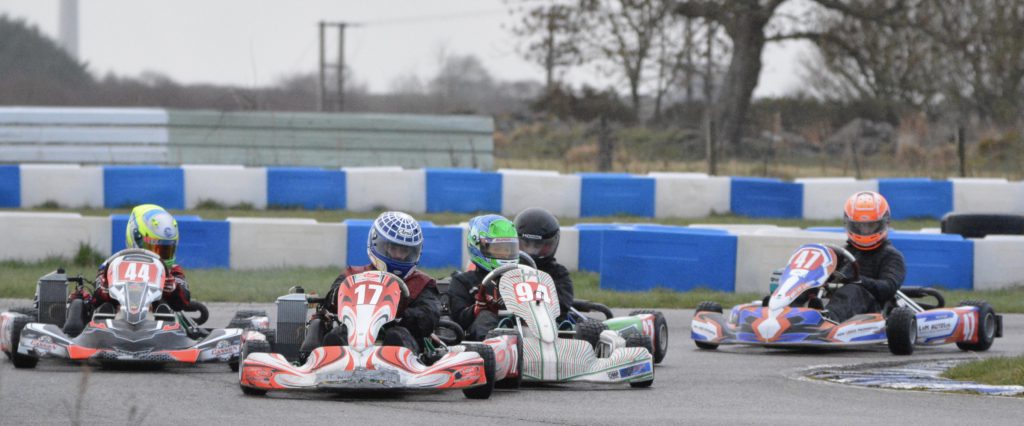 Jnr/Mini Max
Poleman Jonathan Edwards led the pack away but ran wide at Kevin's Korner allowing Leon Henderson through. Henderson broke away to take the victory on the road but was disappointed when the kart failed a technical infringement at scrutineering and was demoted to third. Les Taylor worked his way through with Owen Ross and Callum Meldrum.
Taylor took the victory followed by Owen Ross.
Darren Guijt led the Mini Max class early on. By lap 3 Lennon Brandie had made his may through to lead and carried on to take the victory. Guijt took second with Nathan Smith, third and Kieran Wood fourth.
Mini Max
1st – Lennon Brandie (Newmachar)
2nd – Darren Guijt (Kennethmont)
3rd – Nathan Smith (Stuartfield)
Junior Max
1st – Les Taylor (New Leeds)
2nd – Owen Ross (Inverness)
3rd – Leon Henderson (Newmachar)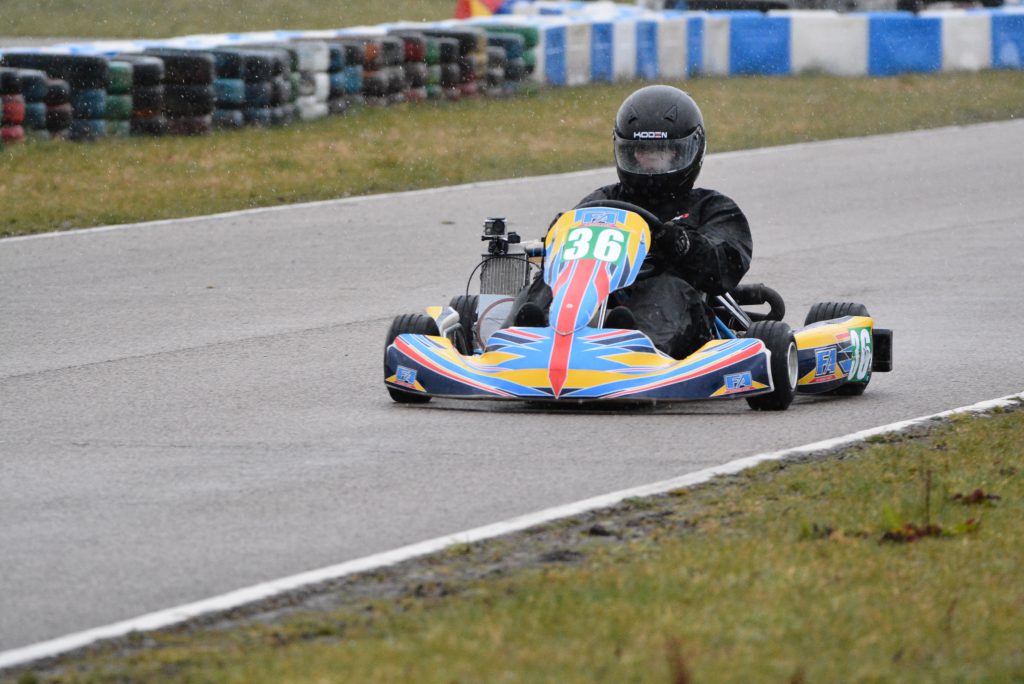 Senior Max 177 / Clubman
Robert Strachan took the 177 victory over Stewart Thomson.
In the 162 kg Gavin Allan led Kes Watson who took the lead on lap two followed by Scott James and Peter Lesisz. This order did not alter therefore Watson took the victory from James and Lesisz. Steven Gall took fourth.
Clubman
1st – Kes Watson (Oldmeldrum)
2nd – Scott James (Longside)
3rd – Peter Lesisz (Huntly)
Senior Max 177
1st – Robert Strachan (Cuminstown)
2nd – Stewart Thomson (Tarves)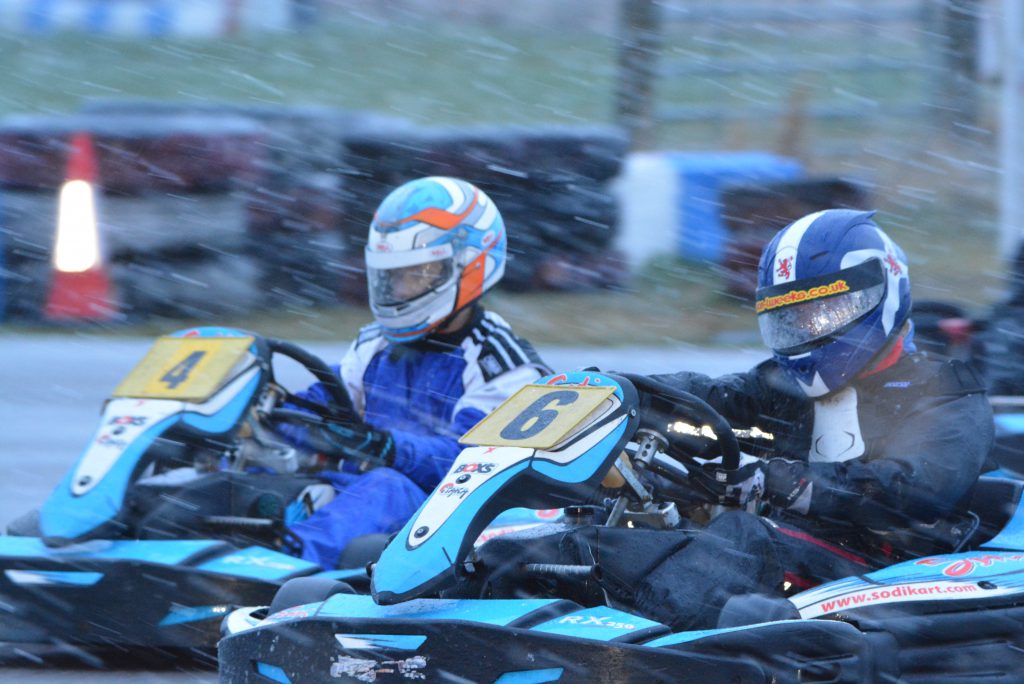 Prokarts (hire karts)
In almost blizzard conditions Kerran Glen led away from the lights followed by 2018 Prokart Champion Daniel McRae. McRae dropped back to fourth with Ben Gordon and Ben Burnett moving through. But by three laps latter McRae was leading from Glen, Gordon and Dylan Bruce. Next home was Burnett and Hamish Ross.
1st – Daniel Macrae (Inverness)
2nd – Keirran Glen (Banff)
3rd – Ben Gordon (Whiterashes)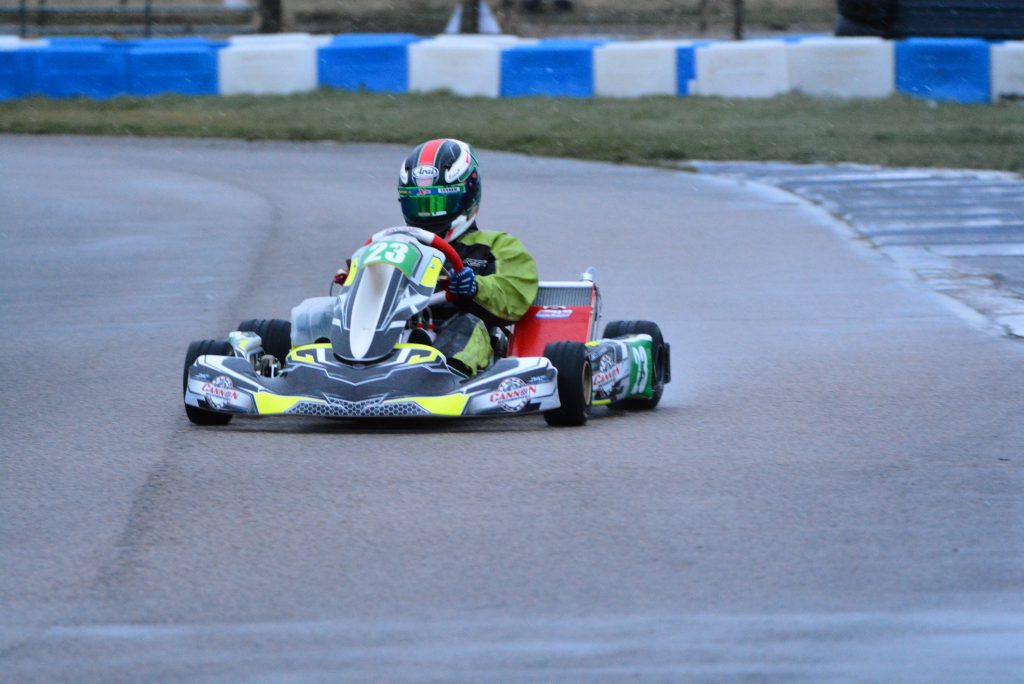 KZ2 UK (Gearbox)
Jack Gordon showed his class in the deteriating conditions to take victory the gearbox victory by almost 13 seconds. Gary Warren was second approaching the finishing line for the first time when Walter Wallace got to the inside to nose ahead across the line. Gary Williams was in fourth, which he made third on lap four. Warren retired. Ross Armstrong moved to fourth and was followed home by Neil Anderson and Colin McIrvine.
1st – Jack Gordon (Whiterashes)
2nd – Walter Wallace (Peterhead)
3rd – Gary Williams (Ellon)
GKC Chair, Fraser Edwards, presented trophies for GKC after the meeting.
Electronic timing results – https://speedhive.mylaps.com/Events/1633367
Next race meeting takes place on 24 March 2019.