The second round of the Boyndie Drome Open Challenge took place on Sunday 24th March with heavy showers on a strong wind lashing the track. The feature trophy was the Kildonan Cup for gearbox drivers.
Bambinos
The bambinos, 6 to 8 year olds, do a 7-minute time trial to set their quickest lap. On this occasion Finlay Smith in his 26 kart set the best time of 1:08.536 a second quicker than Eilidh MacDonald. Third was Dylan Rankin who was ahead of Harry Matheson.
1st – Finlay Smith (Stuartfield)
2nd – Eilidh MacDonald (Turriff)
3rd – Dylan Rankin (Foveran)
Junior Max/Mini Max
Junior Max driver, Owen Ross, led away from the red lights closely followed by Jonathan Edwards, Chloe Grant and David Mitchell. Edwards took the lead on lap 5, which he held until pit corner on the last lap when Ross got in the inside of Edwards. With a short run to the chequered flag Ross took the victory from Edwards. Mitchell took the third at mid-distance from Grant who finished fourth ahead of Callum Meldrum and Les Taylor with engine problems.
Junior Max
1st – Owen Ross (Inverness)
2nd – Jonathan Edwards (Cornhill) 
3rd – David Mitchell (Avoch)
Mini Max
1st – Darren Guijt (Kennethmont)
2nd – Nathan Smith (Stuartfield) 
3rd – Lennon Brandie (Newmacher)
Honda Cadets
Max Taylor led the away from the starting lights with Lennon Allardyce and Taylor Thomson. Allardyce chased hard but Taylor was comfortable in front and took the win. Allardyce finished second and Thomson third. Rhys Baillie was in fourth but Leon Hastie demoted him for two laps but Baillie recovered two laps from home. Hastie was fifth with Aiden MacDonald, sixth and Sonny Brandie, seventh.
1st – Max Taylor (New Leeds)
2nd – Lennon Allardyce (Peterhead)
3rd – Taylor Thomson (Kirkcaldy)
Senior Max
Steven Thomson from the outside of front row led from Fraser Ballatyne and Fraser Skene at the end of the first lap. Skene moved to second on lap 2 and chased down Thomson. Skene took the lead three lap to go and took the victory. Thomson took second. A race long battle between Ballantyne and Dominic Lund took place with Lund in front for the majority of the time. On lap 8 Ballantyne took third and held the position until the line. Lund was fourth with newcomer Kevin Taylor taking fifth.
1st – Fraser Skene (Potterton)
2nd – Steven Thompson (Tarves)
3rd – Fraser Ballantyne (Huntly)
Senior Max 177 / Clubman
In the 177 class Robert Strachan was victorious over Billy Falconer by 5 seconds. Stewart Thomson finished third.
Ross Raffan initially led the clubman's. Kes Watson moved through to lead on lap 3 followed by Gavin Allan. Watson took the victory with Allan second. Raffan took third ahead of Steven Gall, Alan Falconer and Scott Jamieson.
Senior Max 177
1st – Robert Strachan (Cuminstown)
2nd – Billy Falconer (Inverness)
3rd – Stewart Thomson (Tarves)
Senior Max Clubman
1st – Kes Watson (Oldmeldrum)
2nd – Gavin Allan (Turriff)
3rd – Ross Raffan (Macduff)
Twin Engined Prokarts / Hire Prokarts
The two prokart classes ran together with the quicker twin engined chassis heading the field. No. 56 kart owner Gary Fleming took the early lead and took a comfortable victory from Rik Christie. A couple of spinners resulted in the class being spread out. Third home was Nicky Sutherland who headed David Leiper and Kevin Grant.
In the hire prokarts class Keirran Glen led Ben Gordon on the opening lap. Glen opened a gap but Gordon began to real in Glen. Glen responded and took the victory followed home by Gordon. Third was Dane Christison followed Ben Burnett and Scott Innes
Twin Engined Prokart (Owner Drivers)
1st – Garry Fleming (Arbroath) 
2nd – Richard Christie (Aberdeen)
3rd – Nicky Sutherland (Newtonhill)
Prokart
1st – Keirran Glen (Banff)
2nd – Ben Gordon (Whiterashes)
3rd – Dane Christison (Brechin)
KZ2 UK (Gearbox)
In the final race of the day, pole man Jack Gordon got off the line first closely followed by Gary Williams. This pair broke away from the pack with Gordon inching away from Williams. However Williams closed on the closing laps but all to late with Gordon taking the chequered flag. Great start from Ryan Simpson saw him in third at the end of the first lap followed by Garry Warren, Ross Armstrong and Neil Anderson. Warren grabbed second from Simpson on the second tour with the places reverting a lap later. Meanwhile Anderson was making his way through the field and by half distance was on Simpson's bumper. With two laps remaining Anderson made his move from pit corner around the outside of Simpson to head him up Boyndie Straight, a move not scene before at Boyndie. Anderson took the final step on the podium with Simpson fourth. Next home were Armstrong, Alex Mackay and Colin McIrvine.
1st – Jack Gordon (Whiterashes)
2nd – Gary Williams (Ellon)
3rd – Neil Anderson (Insch)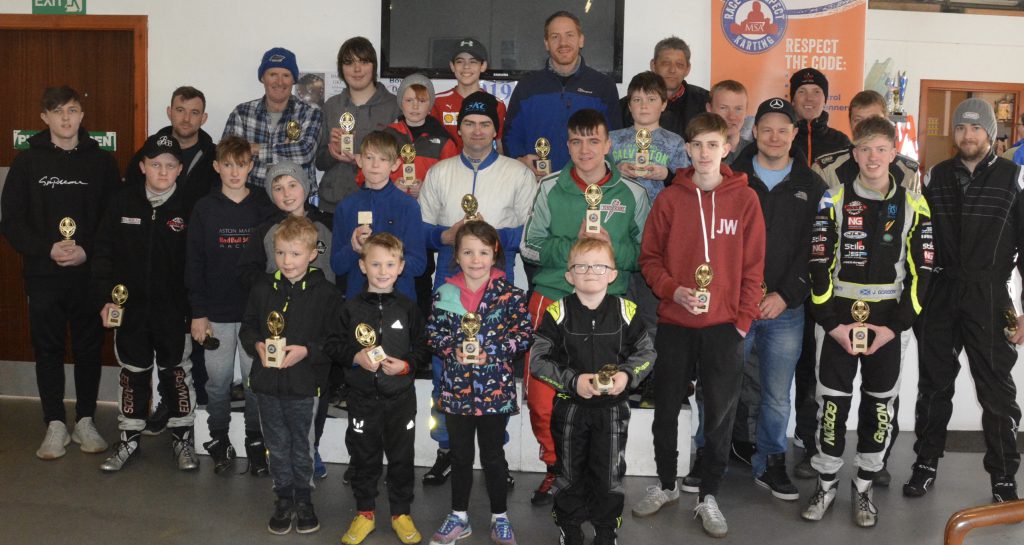 GKC Chair, Fraser Edwards, presented trophies after the meeting.
Full results – https://speedhive.mylaps.com/Events/1637088
Next race meeting takes place on 14 April 2019.