With the Covid-19 pandemic decimating the 2020 GKC racing programme the first race meeting of the year took place on the weekend of 11th and 12th July.
The normal one-day meeting was split in two to reduce the number of people on site.
The youngsters took part on Saturday. The classes being Bambinos, Honda Cadet, Mini Max and Junior Max. On Sunday the classes were Junior Prokart, Senior Max, Senior Max 177, Senior Max Clubman, Senior Prokart and KS2 (Gearbox). Face covering and social distancing applied.
Feature trophies for the weekend were Dickie Bend Cup and the Andrew Borton Memorial Quaich.
Bambino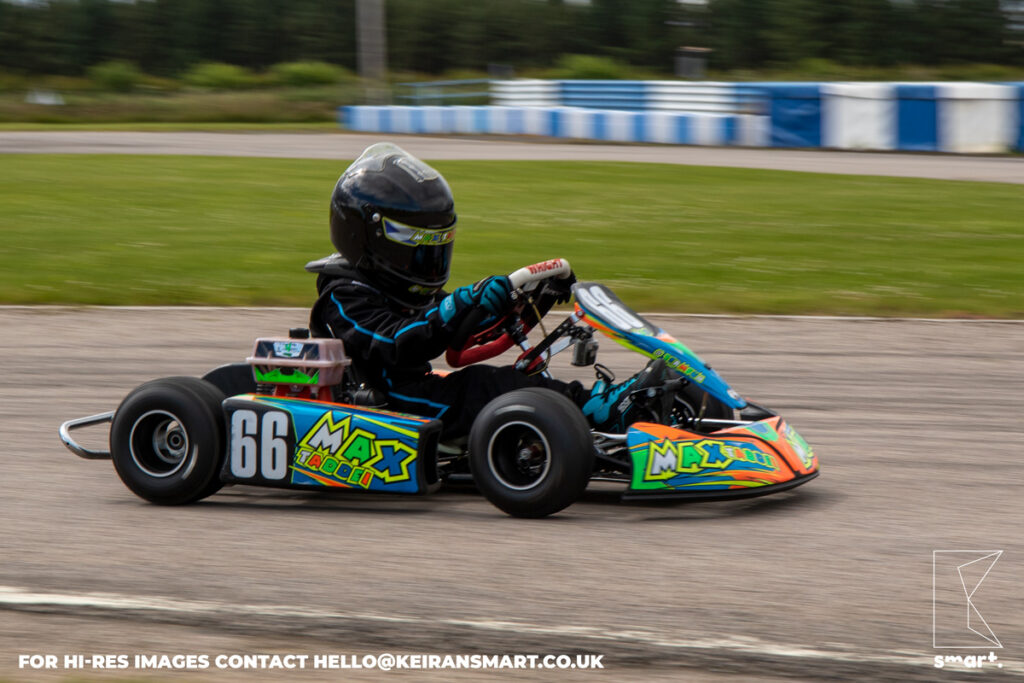 The seven pint sized drivers opened the 2020 season with Max Taddie setting the quickest time of 53.343 set in heat 2 which is a new lap record. As the karts took to the track two stray dogs appeared and red flags were quickly thrown to stop the drivers until the animals were collected for safety. The six to eight year old Bambino drivers raced against the clock and not each other. Second quickest was Jude Buchan followed by Dylan Rankin, Ryan White, Brodie Moir, Harry Matheson and Ameya Thomson.
1st – Max Taddie (Cumbernauld)
2nd – Jude Buchan (Peterhead)
3rd – Dylan Rankin (Foveran)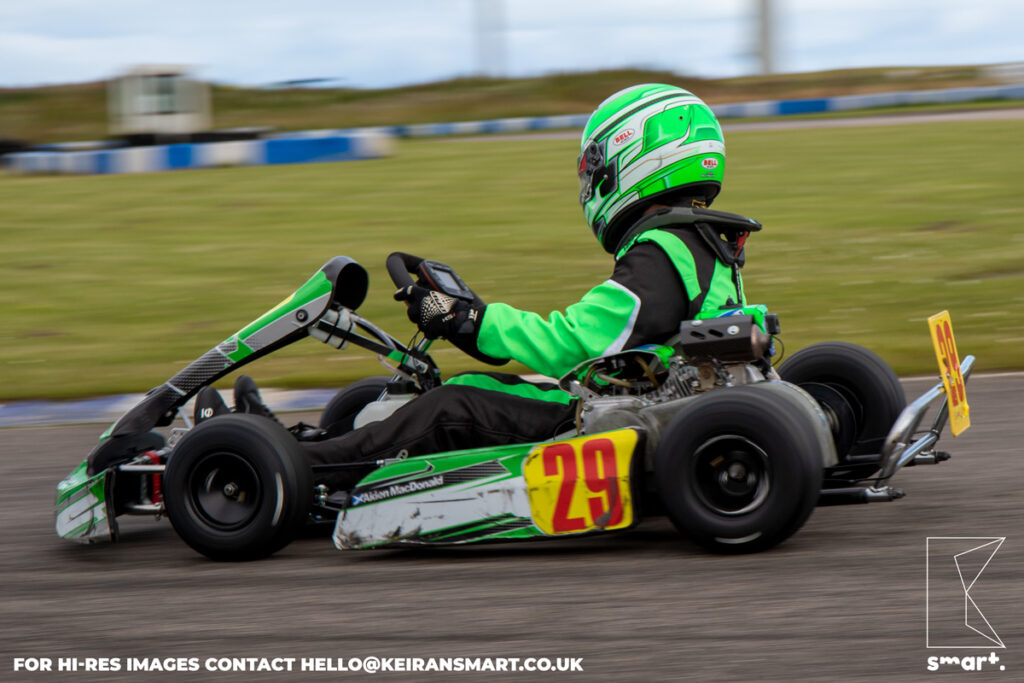 Honda Cadets
Poleman, Aiden MacDonald took the lead from the off to take a comfortable victory by over eight seconds in the nine minute final. There was a race long battle for second between Katie Donaldson, Duncan Ingram and Leo Massie. Ingram grabbed second on lap 3 but Donaldson fought back. However the order did not alter and the three karts crossed the line less than two seconds apart. Finlay Smith was fourth with Daniel Dempster fifth, Liam Watson sixth followed by Hayden Miller.
1st – Aiden Macdonald (Woodhead)
2nd – Duncan Ingram (Bridgend)
3rd – Katie Donaldson (Dufftown)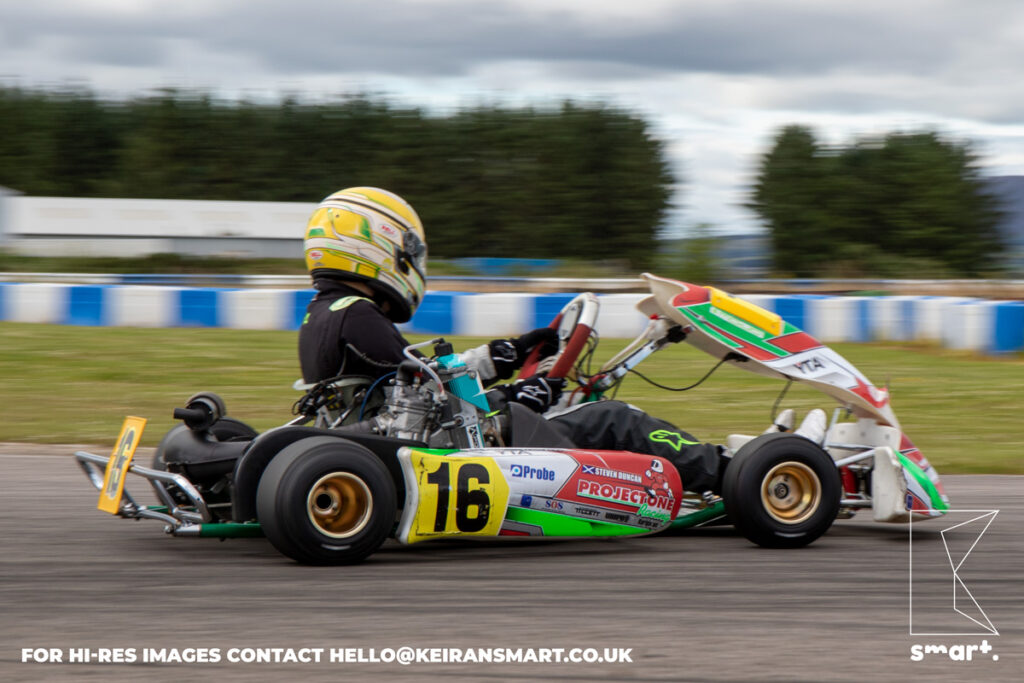 Mini Max
Steven Duncan set a new class lap record of 38.630 in heat 1. In the final he led all the way from Max Taylor and Lennon Allardyce.
1st – Steven Duncan (Aberchirder)
2nd – Max Taylor (New Leeds)
3rd – Lennon Allardyce (Peterhead)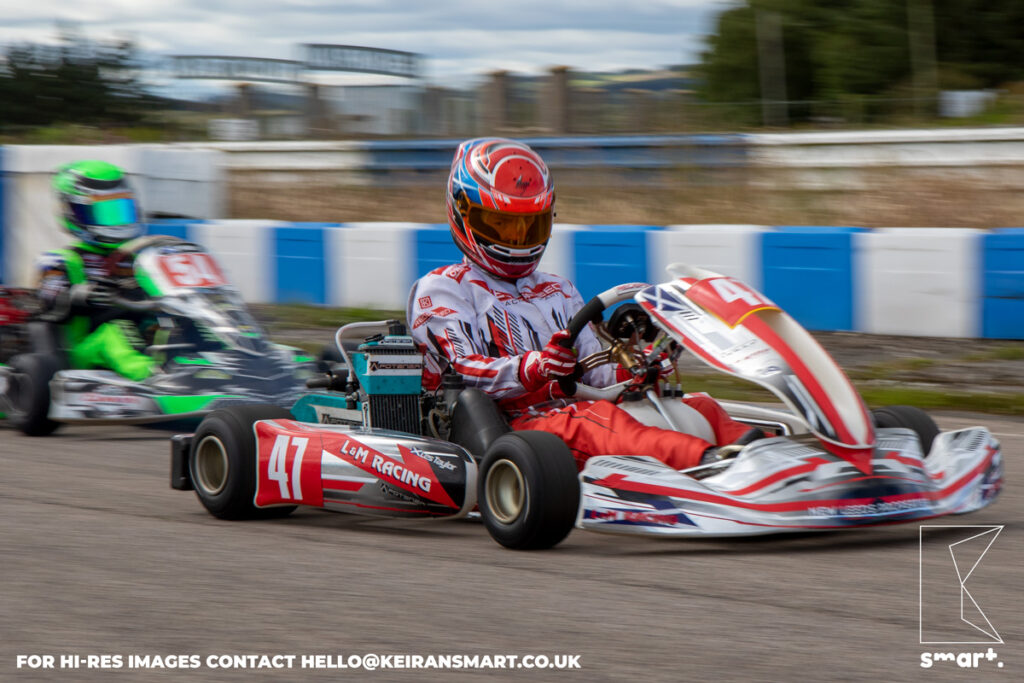 Junior Max
Les Taylor looked so relaxed to take the chequered flag. However a technical problem in post-race scrutineering resulted in a four-place penalty. This handed the victory to Nathan Smith. Second home was Cole Richie and third Reece Duthie with Dylan Mackay fourth after an earlier issue prior to the race start.
1st – Nathan Smith (Stuatfield)
2nd – Cole Richie (Newmachar)
3rd – Reece Duthie (Stuartfield)
Junior Prokarts
Angus Scrivener who set the inaugural lap record of 42.580 seconds dominated a new class for GKC all afternoon. Scrivener took the victory by almost 5 seconds from Ian Menzies and Cameron Bailey.
1st – Angus Scrivener (Limekilns)
2nd – Ian Menzies (Tulliallan)
3rd – Cameron Bailey (Kinross)
Senior Prokarts
The field of 19-twin engined karts thundered up to the starting lights. Reece Fleming took the early lead and was never headed and won by 2.8 seconds. Second home was Ryan Fleming who had been under pressure all way throughout the final by Garry Fleming who crossed the line 2 tenths back. Fourth was Murray Scott who came home ahead of Nicky Sutherland and Grant Miller.
1st – Reece Fleming (Lethal)
2nd – Ryan Fleming (Lethal)
3rd – Garry Fleming (Arbroath)
Senior Max Clubman
The 33 kart of Kevin Taylor led from the lights closely followed by Ross McWilliam. McWilliam closed in on Taylor until he ran wide at the Seafield Complex on lap 12. This error handed a more comfortably victory to Taylor. McWilliam asked afterwards what happened he stated he "run out of talent". John Fairclough took the podium final spot. Gordon Black and Raymond Campbell followed him home.
The 33 kart of Kevin Taylor led from the lights closely followed by Ross McWilliam.
1st – Kevin Taylor (Macduff)
2nd – Ross McWilliam (New Elgin)
3rd – John Fairclough (Rosehearty)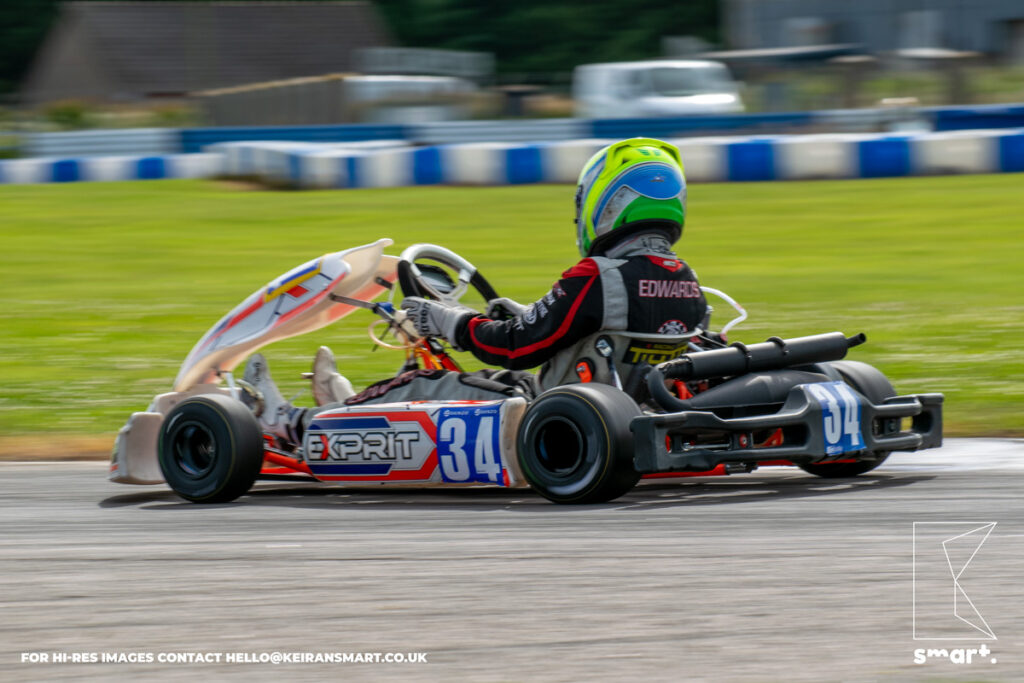 Senior Max
Gary Bird led the first half of the final until half way when Jonathan Edwards took the lead at Kevin's. Edwards led for the second half of the race and took the chequered flag by 1.3 seconds from Bird. Robert Strachan can home third but at the after race scrutineering on a technical infringement. Third was Dominic Lund who came home only 7 hundreds from Ross Raffin, Logan Blake and Steven Thomson.
1st – Jonathan Edwards (Cornhill)
2nd – Gary Bird (Lairg)
3rd – Dominic Lund (Turriff)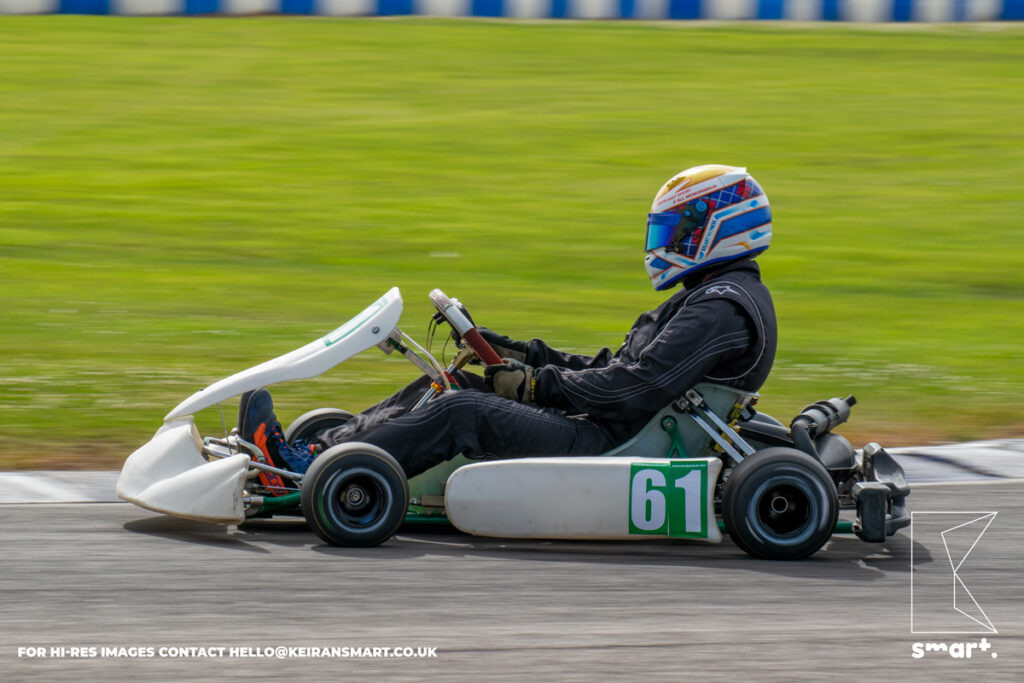 Senior Max 177
There were only two 177kg Karts who started behind the senior max 162kg drivers. Stuart Wyness was making his way through the lighter karts until he binned it at pit corner. Stewart Thomson took the class lead. Wyness recovered and took up the chase and caught Thomson on the final lap to take the chequered flag first.
1st – Stuart Wyness (Inverurie)
2nd – Stewart Thomson (Tarves)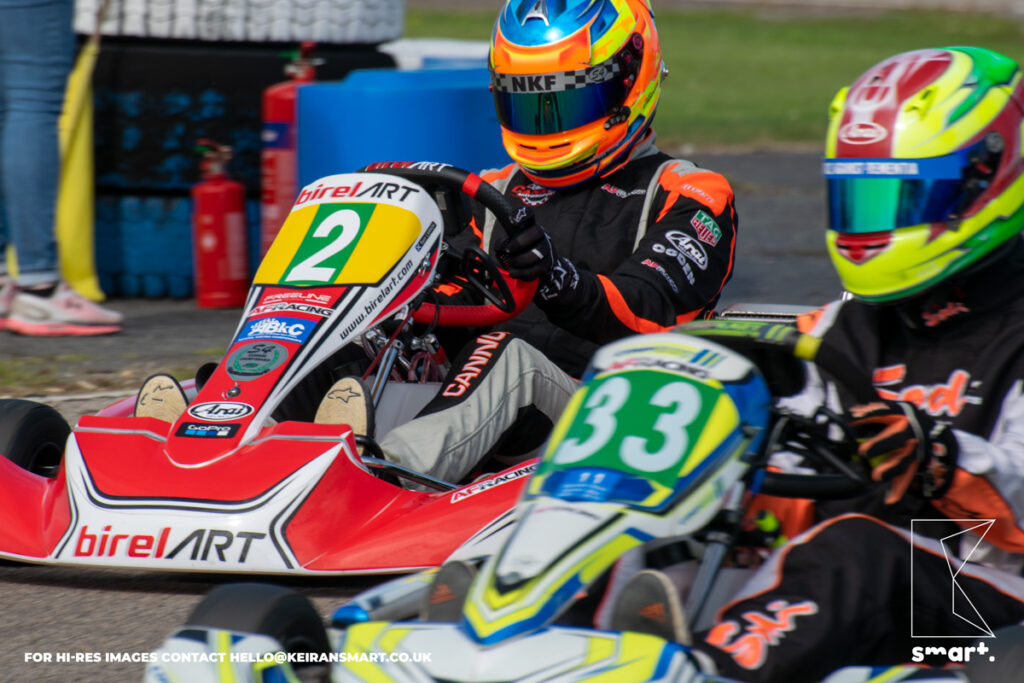 KZ2 UK (Gearbox)
The race favourite, Ryan Cannon with the British No.2 race number was on pole for the final. Once the race settled down it divided into two battles. Cannon was never headed but Darren Allan kept him honest and closed in at the latter stages. Close racing for the final podium place was between Gary Williams and Ryan Simpson. Williams was in front early on, until Simpson squeezed though. Williams harried Simpson for the rest of the final but Simpson held on. Roy Thomson finished fifth and Ross Armstrong sixth.
1st – Ryan Cannon (Leven)
2nd – Darren Allan (Bishopbriggs)
3rd – Ryan Simpson (Macduff)
Dickie Bent Cup – Aiden MacDonald (Woodhead)
Andrew Borton Memorial Quaich – Ryan Cannon (Leven)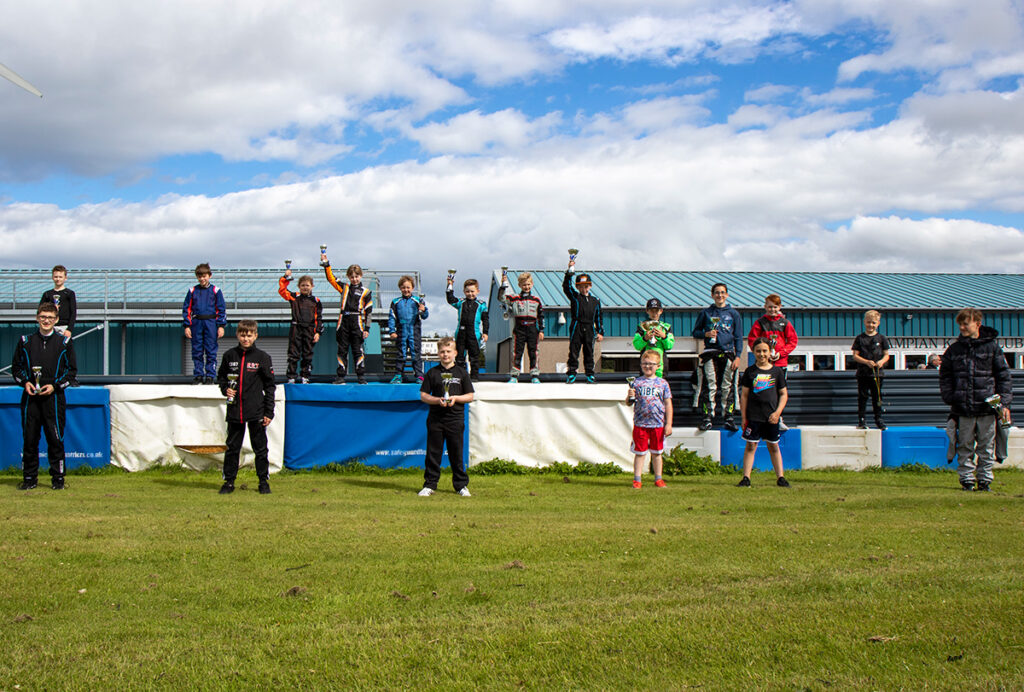 A socially distant prize giving was held at the end of both days.
Next race meeting at Boyndie will take place on 8-9 August 2020.
Full results available at https://speedhive.mylaps.com/Events/1708183