Wall to wall sunshine over the weekend gave the perfect conditions for fast times at the Boyndie Circuit.
The normal one-day meeting was split in two to reduce the number of people on site to ensure social distancing could be met.
Seven of the ten classes set new lap records including the long standing Honda Cadet that had stood for four years.
The meeting was again held over two days with the youngsters on Saturday and seniors on Sunday with social distancing measures in place. Due to the Aberdeen lockdown five drivers were unable to attend.
Feature trophies for the weekend were Mike Philip Trophy and the JRD Cup.
Bambino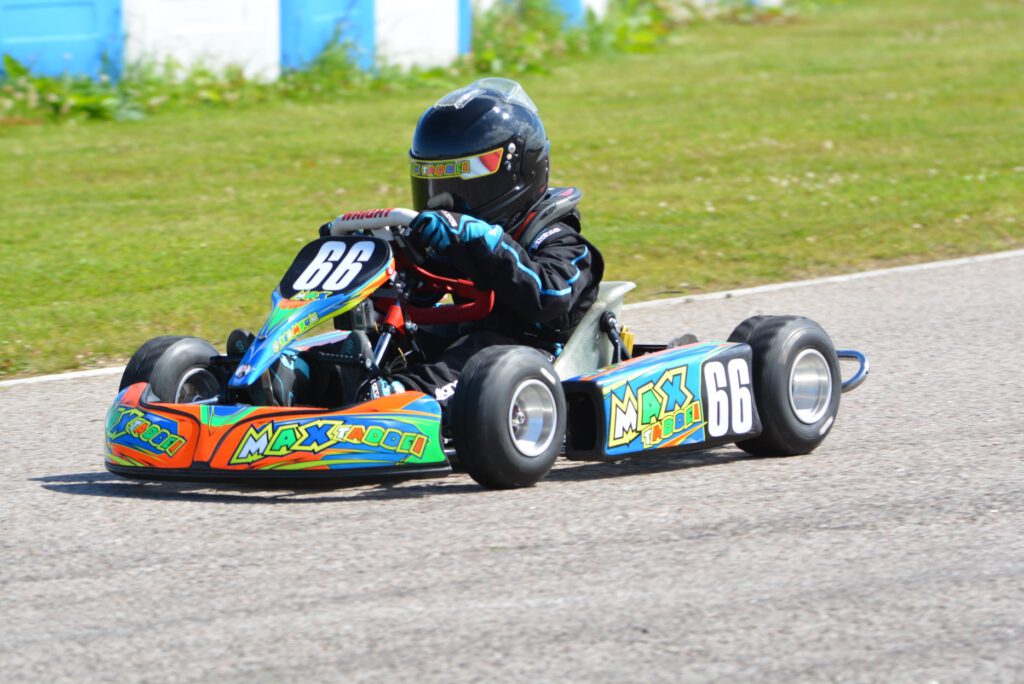 In very warm conditions the seven bambinos took to the track in their four timed sessions. Max Taddei improved his own lap record to 52.448 seconds in the first session. Ryan White was quickest in sessions 2 and 3. Taddei took session 4.  Taddei took the victory with White second.  Dylan Rankin filled the final podium position.  Jude Buchan was fourth followed by William Alexander, Amaya Thomson and Harry Matheson.
1st – Max Taddie
2nd – Ryan White
3rd – Dylan Rankin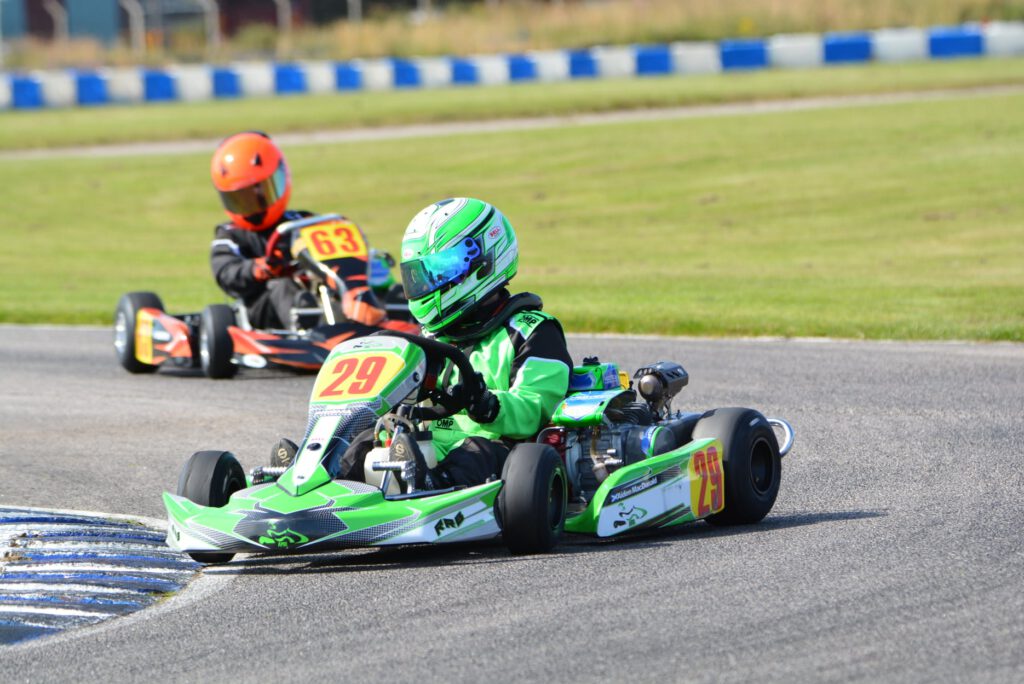 Honda Cadets
Arguably the best achievement over the weekend was Harvey Mitchel breaking the long-standing lap record of Oliver Stewart's set in 2016.  The record was reduced by 0.143 sec. to 43.617 seconds.  The final race was stopped due to an accident on the first lap. Once restart settled down the drivers divided into with four pairs.  The front pair was Aiden MacDonald and Harvey Mitchell with MacDonald rebuffing all Mitchell's attempts to take the victory.  The second pair was Duncan Ingram and Katie Donaldson.  This pair switched positions on lap three which evolved in Donaldson taking the final podium spot. The third pair was Finlay Smith and Leo Massie who maintained positions throughout the race. Finally Daniel Dempster and Logan Silva-Domingo also circulated together but the order was unaltered.
1st – Aiden Macdonald
2nd – Harvey Mitchell
3rd – Katie Donaldson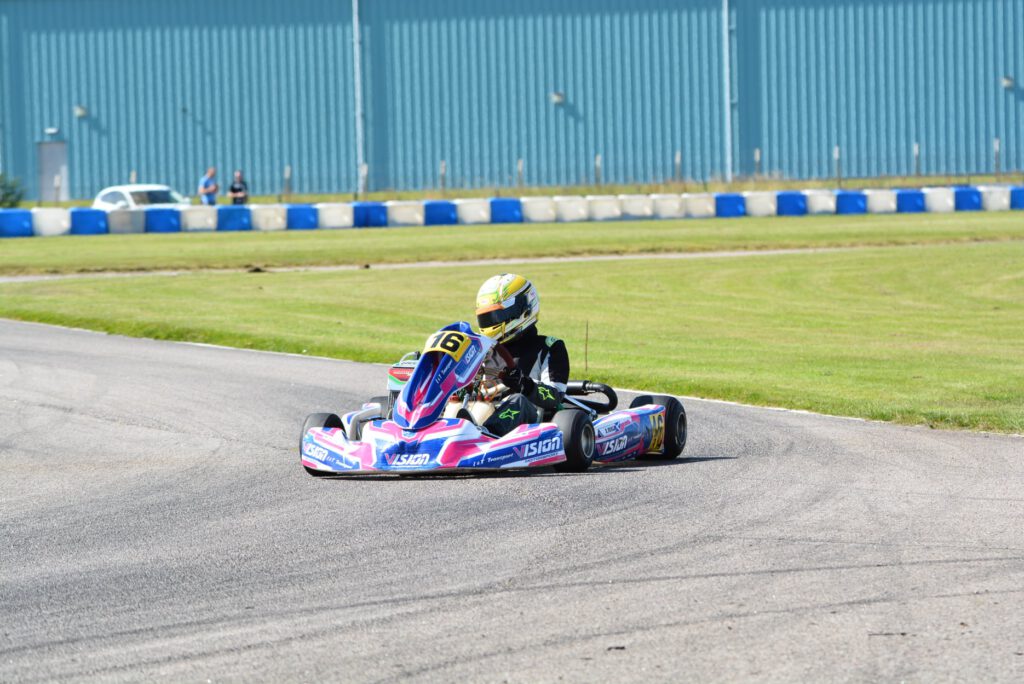 Mini Max
Steven Duncan broke his own lap record of 38.630, set last month, by 0.048 sec. to record the new class best of 38.582 seconds.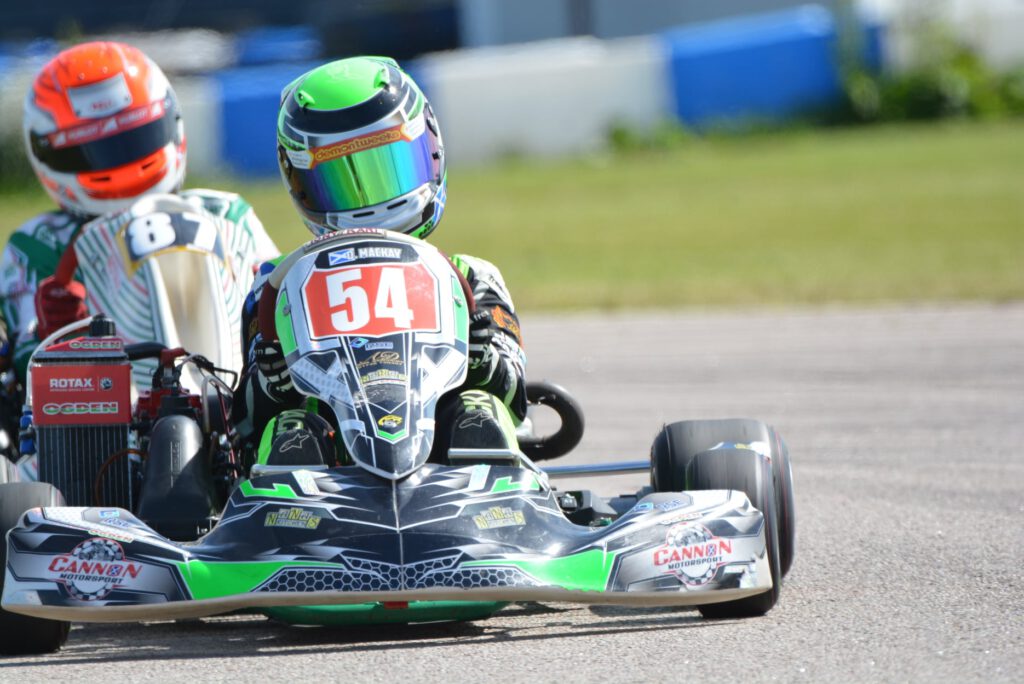 Junior Max
Nathan Smith led away closely followed by Dylan Mackay. A second pair formed of Cole Richie and Reece Duthie. The first pair circulated as one in the 9 minute (16 lap) final. On lap eleven at Gate Corner, Richie and Duthie collided eliminating both. As a result Craig Stephen inherited third spot. The lead pair continued to circulate and it came down to the last corner when Mackay saw an opportunity and dived to the inside of Smith and drove to the line for victory. A disappointed Smith took second with Stephen third. The pass on the final lap was voted the best move resulting in Mackay winning the Mike Phillip Trophy.
1st – Dylan Mackay
2nd – Nathan Smith
3rd – Craig Stephen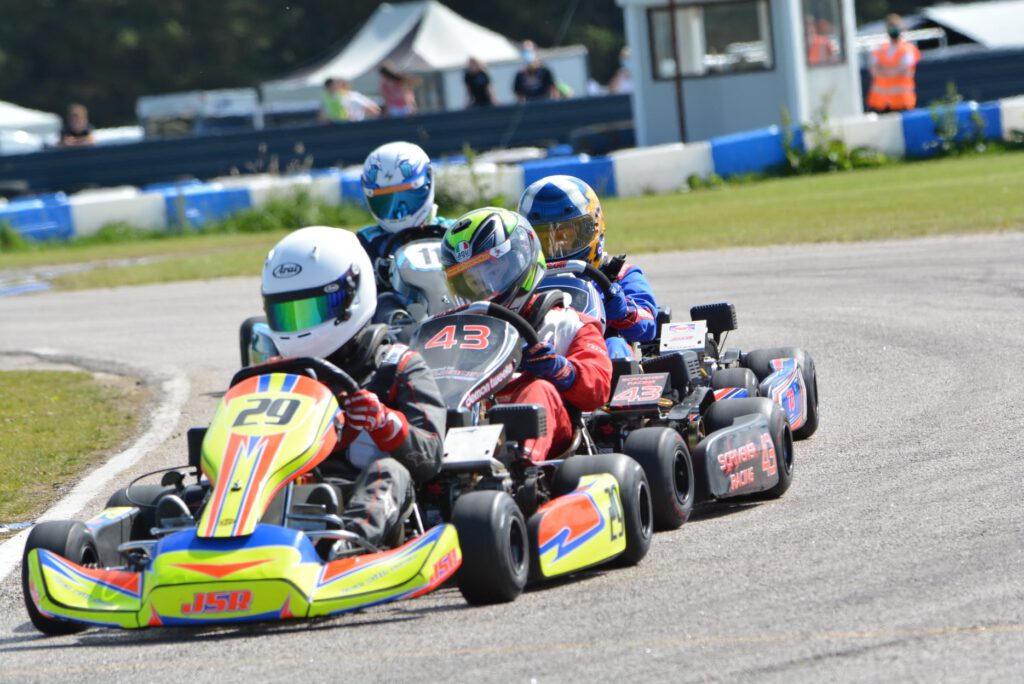 Junior Prokarts
The four karts had been close all day with all four breaking last months lap record for the class. The nine-minute final got under way with Ian Menzies leading. It was half distance when Angus Scrivener and Kieran Crosbie both passed Menzies.
This was the finishing order with Cameron Bailey pressing hard on the run to the line.
1st – Angus Scrivener
2nd – Kieran Crosbie
3rd – Ian Menzies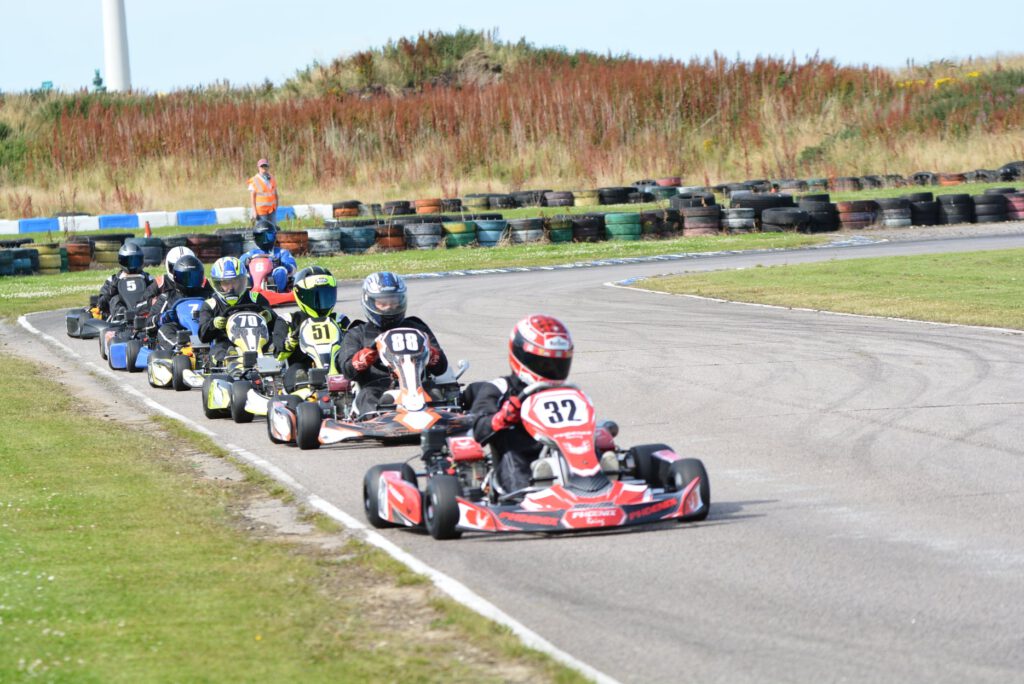 Senior Prokarts
The grid size was affected by the Aberdeen Covid lockdown, which had a maximum travel of five miles. From the starting lights it was Reece Flemming who led away from David Leiper and Murray Scott. Scott edged into second on second lap. Scott gradually closed in on Flemming and on the twelfth lap got on the inside at gate corner to take the lead. Scott went onto take the chequered flag by half a second from Fleming. Leiper took the third podium position. Nicky Sutherland was fourth from Sean Webb, Gordon Fleming, Scott Web and Stuart Webb.
1st – Murray Scott
2nd – Reece Fleming
3rd – David Leiper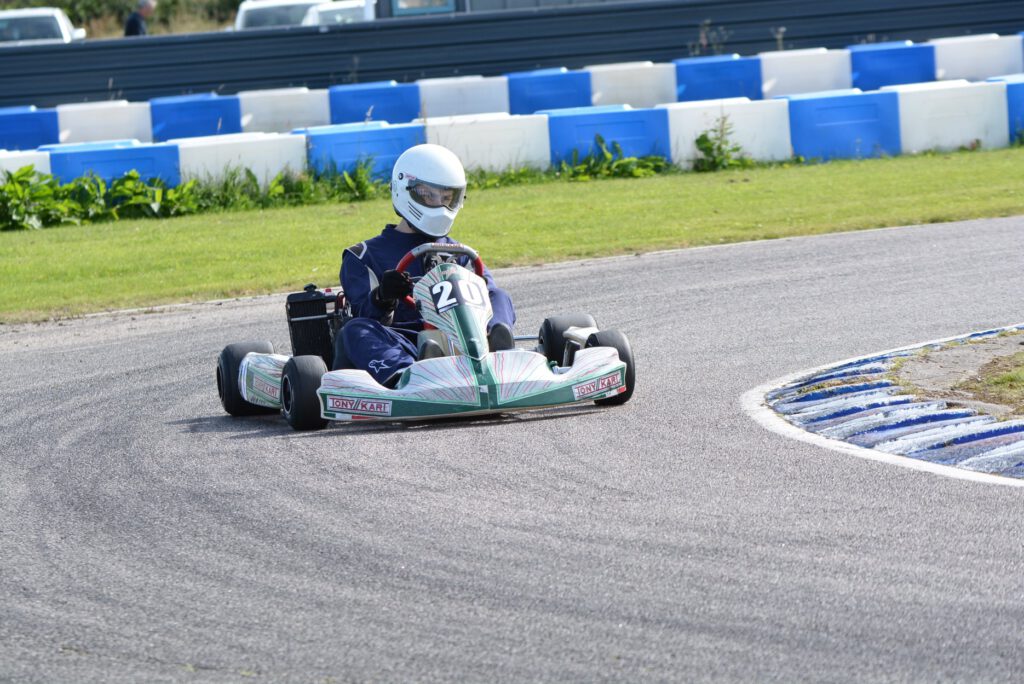 Senior Max Clubman
Ross McWilliam who also set a class best of 37.346 sec. led all the way to take a comfortable victory by 12 seconds. John Fairclough came home second a further 5 seconds clear. Mark Knowles, who had been running fifth, gained two places during laps 11 and 12 to take the final place on the podium. Gordon Black gained fourth on the last lap from Ian Thomson.
1st – Ross McWilliam
2nd – John Fairclough
3rd – Mark Knowles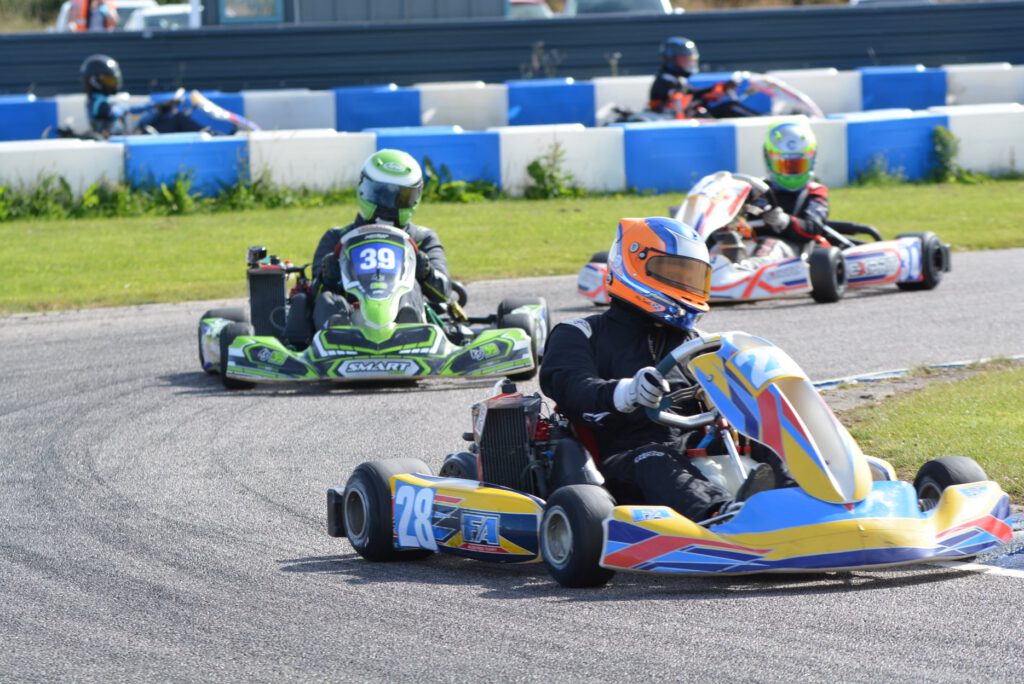 Senior Max (162kg)
Ally Smith, after several years out of karting, put his kart on pole following the heats. Smith got away in front with Keiran Smart, Jonathan Edwards, Kes Watson and Steven Bain in hot pursuit. Smith opened a gap of a second lead. Edwards was on Smarts bumper and made several attempts but Smart held him off. The nine-minute final, which elated to 16 laps, was won by Smith with Smart and Edwards 1.5 sec. back. Fourth was Kes Watson 3 sec. back. Steven Bain came fourth followed by Dominic Lund and Ross Raffan.
1st – Ally Smith
2nd – Keiran Smart
3rd – Jonathan Edwards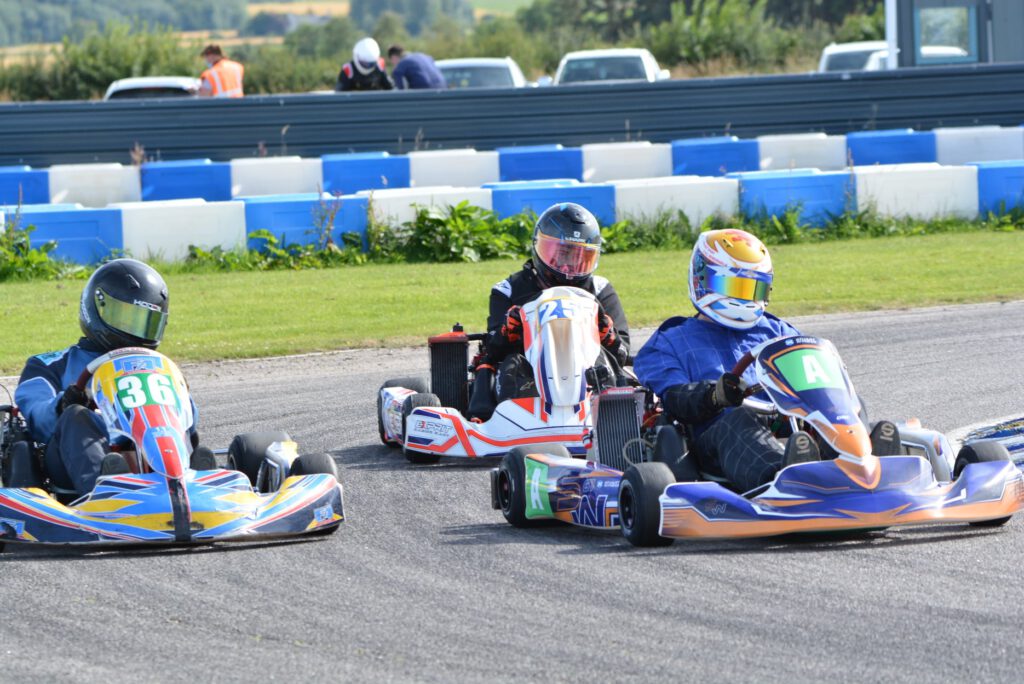 Senior Max (177kg)
The three in the 177kg started at the back of the 162kg class above. Robert Strachan led away from Stuart Wyness and Peter Lesisz. Lesisz dropped out after three laps. The pair circulated battling the 162 class drivers. On the eleventh lap, Wyness spotted an opportunity at pit corner a dived through. Wyness went on to take the victory by only three tenths from Strachan. Earlier Strachan had set a new class record of 37.155 sec. in heat 1.
1st – Stuart Wyness
2nd – Robert Strachan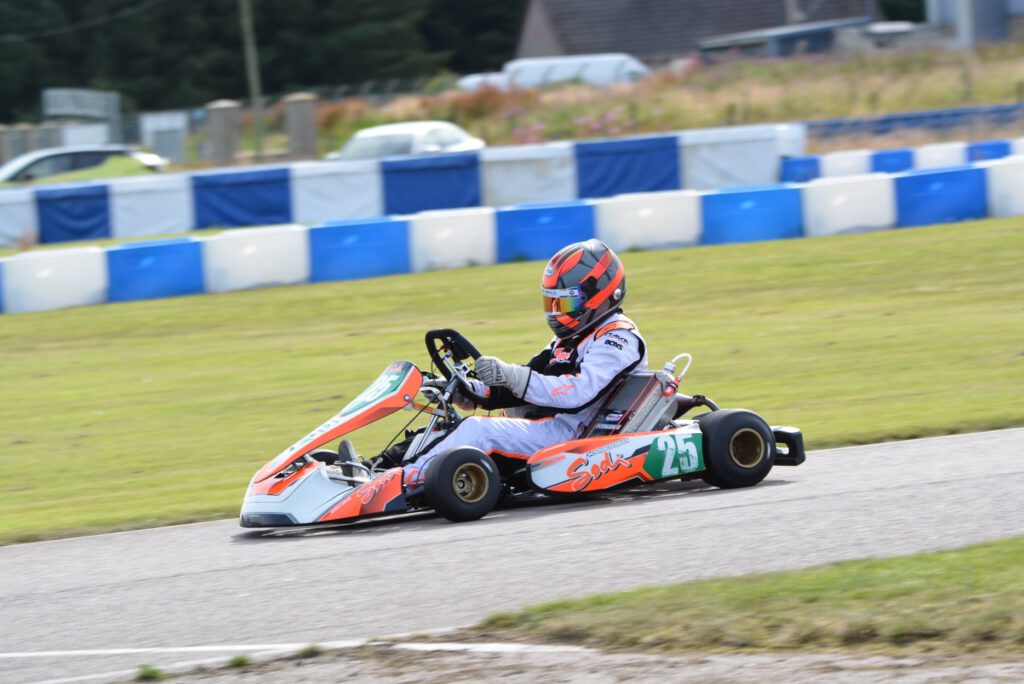 KZ2 UK (Gearbox)
Neil MacLennan, who had lowered the lap record to 32.016 sec earlier in the afternoon, led from the lights to an untroubled victory. Neil Anderson, Gary Williams and Ryan Simpson took up the chase. Lap five, Williams and Simpson touched at pit corner eliminating both. Anderson's kart started emitting a loud screeching noise caused by a broken exhaust and had to pit. This left Chris Walker in second followed by Ross Armstrong and Alex Mackay. Walker took the second podium position. Mackay was closing in on Armstrong but the chequered flag came to soon in the 18 lap final. Fifth was Roy Thomson with John Robertson sixth.
1st – Neil MacLennan
2nd – Chris Walker
3rd – Ross Armstrong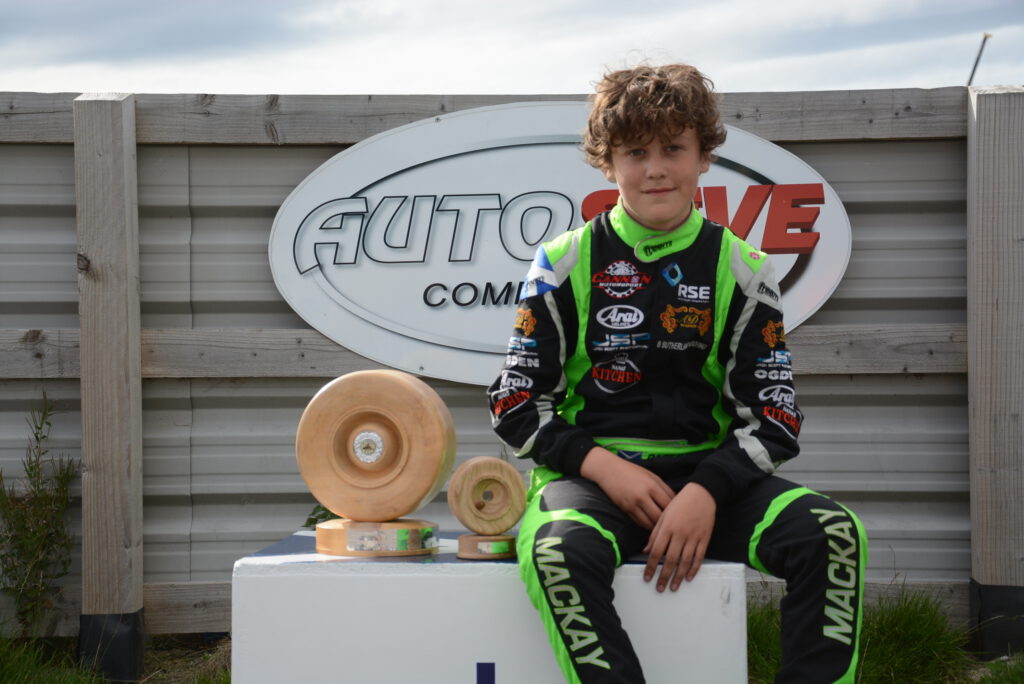 Mike Phillip Trophy – Dylan Mackay (Golspie)
Chosen by the marshals for their driver of the day.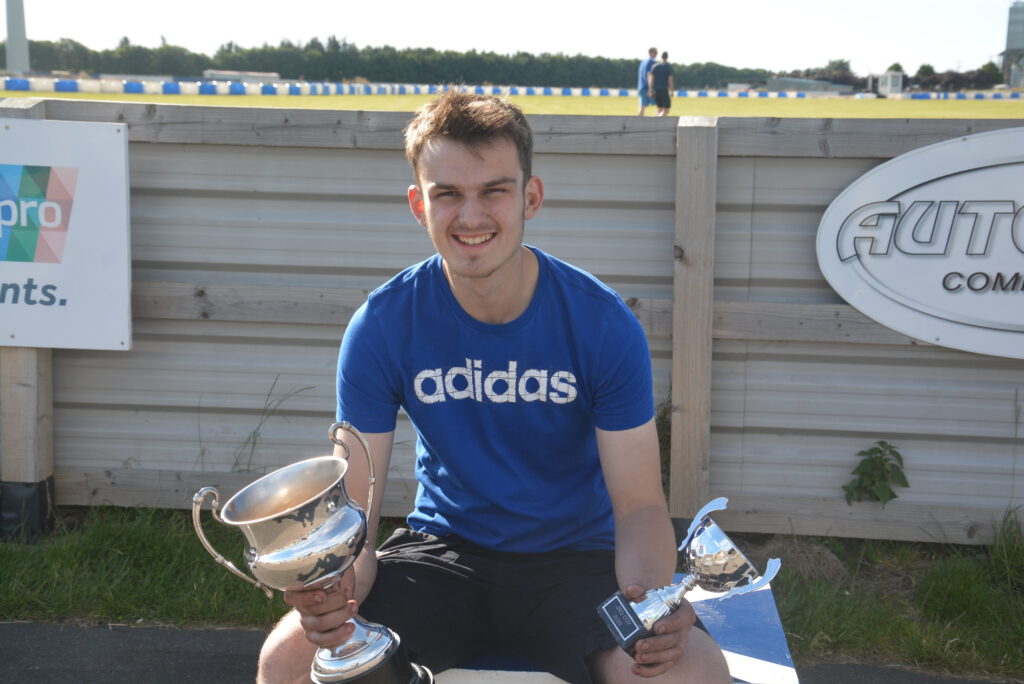 JRD Cup – Ross McWilliam (New Elgin)
Lowest point score in a senior (non-gearbox) class of 5 or more.
Next race meeting at Boyndie will take place on 12/13th September 2020.
Full results available at https://speedhive.mylaps.com/Events/1791167