The meeting was once again held over two days with the youngsters on Saturday and seniors on Sunday. The reduced capacity of the split format to assist the club's social distancing measures.
Different weather conditions greeted the drivers over the two days with fine, sunny and windy on Saturday but wet and drying on Sunday. Feature trophies for the weekend were the Cadet Cup and September Cup.
Bambino
Eight mini racing drivers were first to take to the track for round three of the 2020 Boyndie Drome Open Challenge. Ryan White took the victory showing his British Championship form setting the quickest time of the day, 52.777 seconds, during Heat 1. He also was quickest in heat 4. Heats 2 and 3 went to Dyln Rankin and Max Taddei. Overall White took the victory followed by Rankin and Taddei. Fourth was Oliver Newall with Jude Buchan fifth. William Alexander, Keiran Stewart and Amaya Thomson followed them home.
Honda Cadets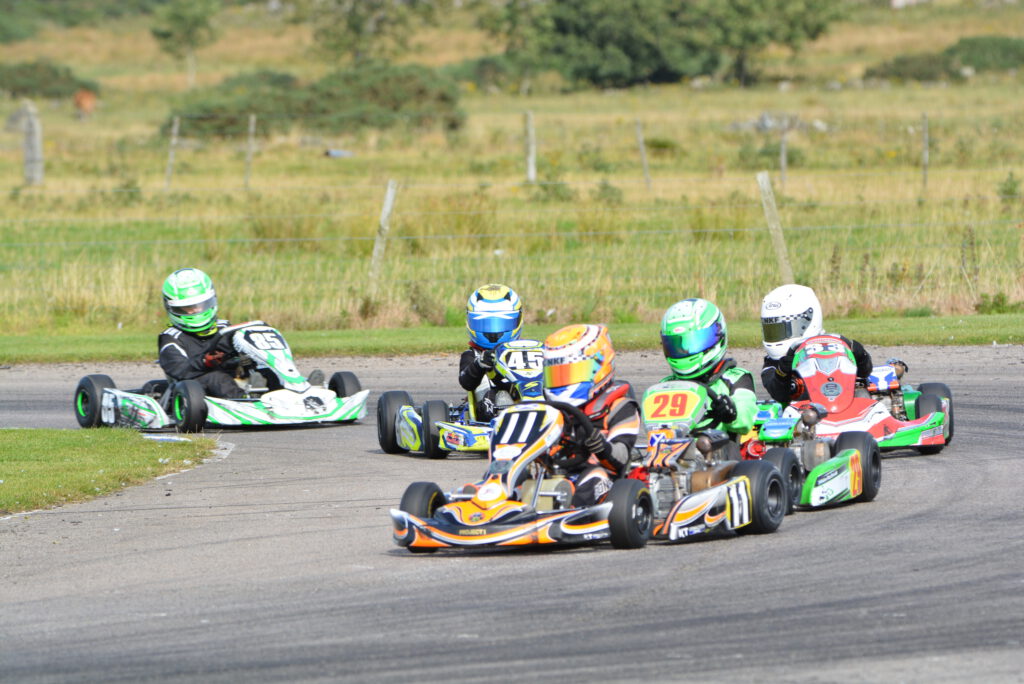 After an initial false start Aiden MacDonald led from Katie Donaldson, Aiden Seaton, Duncan Ingram and Alexander Reid. These five broke away. MacDonald and Donaldson swapped places on numerous occasions during the first seven laps. However as they charged through Seafield Complex the two touched sending Donaldson spinning onto the grass dropping her to eight. MacDonald charged on to take the victory on the road from Smith, Reid and Ingram. Donaldson regained her composure and started the recovery drive to fifth on the road. However, officials docked MacDonald 4 places and Reid received the same penalty for carburettor irregularities. As a result the official finishing order was Smith, Ingram, Donaldson with Leo Massie in fourth. MacDonald was fifth and Reid, sixth. Logan Silvia-Domingo, Daniel Dempster and Tylor Edminson taking the remaining places.
Junior Twin-Engine Prokarts
The four karts had been close all day. However Angus Scrivener broke away early on and Ian Menzies did the same. Scrivener took the victory with Menzies second. A close race long battle between Keiran Crosbie and Cameron Baillie and despite a finishing line lunge from Baillie, Crosbie held third.
Mini Max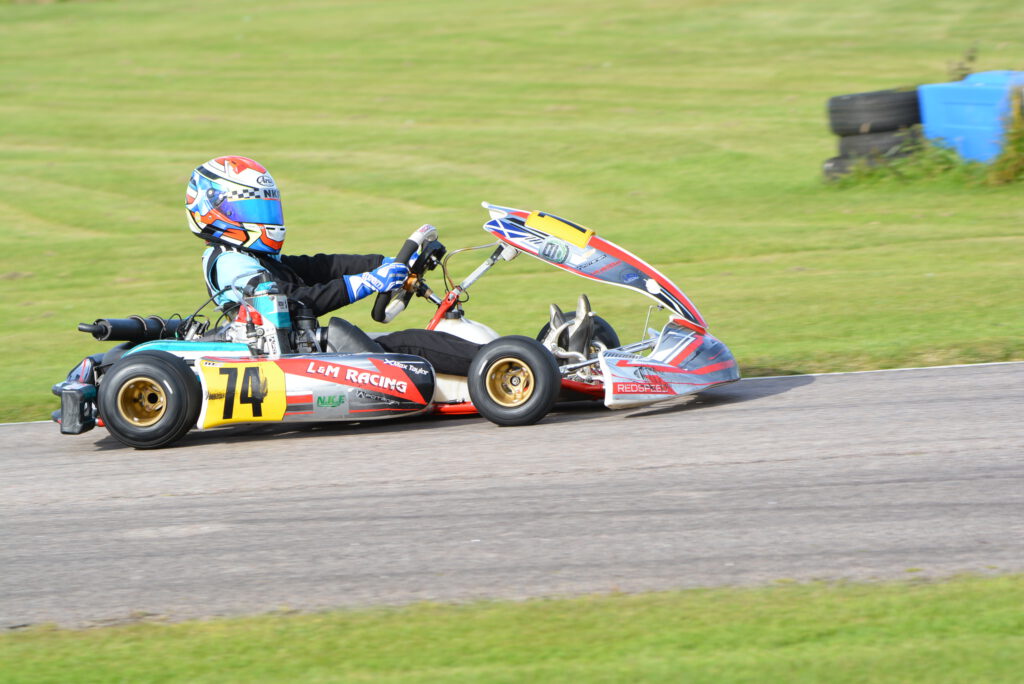 Max Taylor took the victory setting a new class lap record in heat 2 of 37.559 seconds. Cameron Hodson was runner-up with a credible performance on his very first outing.
Junior Max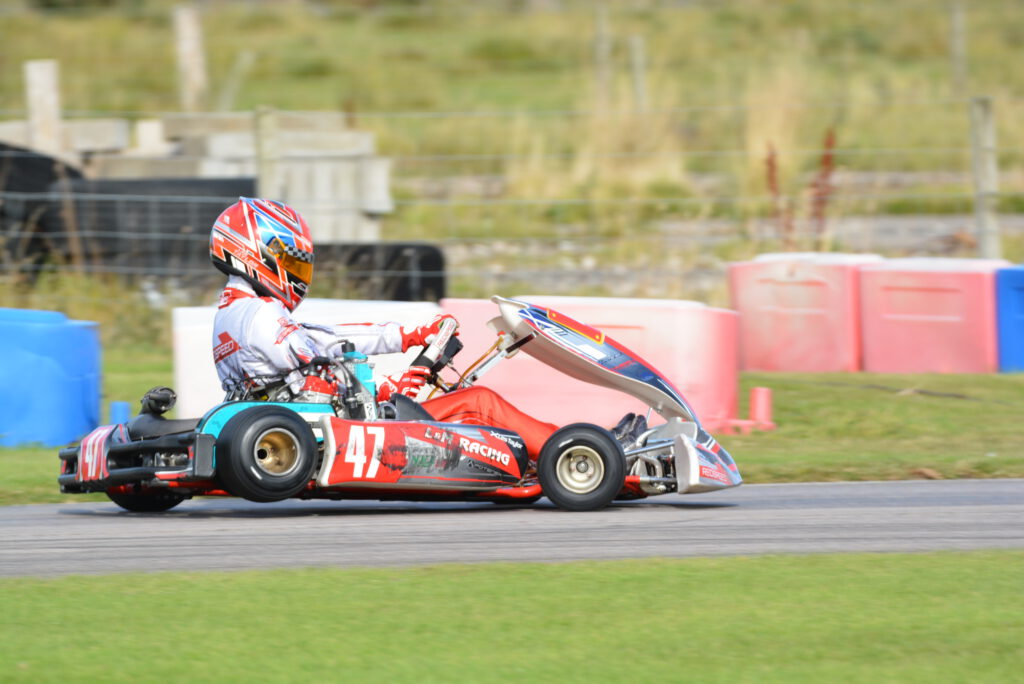 Les Taylor took a lights to flag victory over Nathen Smith by over six seconds. Taylor had earlier set a new lap record of 37.211seconds during heat 1. Smith was 10 second clear of the third man, Aiden Seaton. Reece Duthie was one step off the podium. Craig Steven came home ahead of Kieran Wood.
Senior Twin-Engine Prokarts
In the largest class of the day Ralph Sturrock lead at the end of the first lap with Ryan Fleming, Garry Fleming, Reece Fleming and David Leiper. On lap 3 Ryan Fleming took the lead. Reece Fleming was climbing up the lap-scoring chart and took the lead and went on to win the 14 lap final. Ryan Fleming crossed the line a second behind. Garry Fleming had a steady run for the final podium spot. Nicky Sutherland was fourth with David Leiper, fifth and Murray Scott sixth.
Senior Max (162)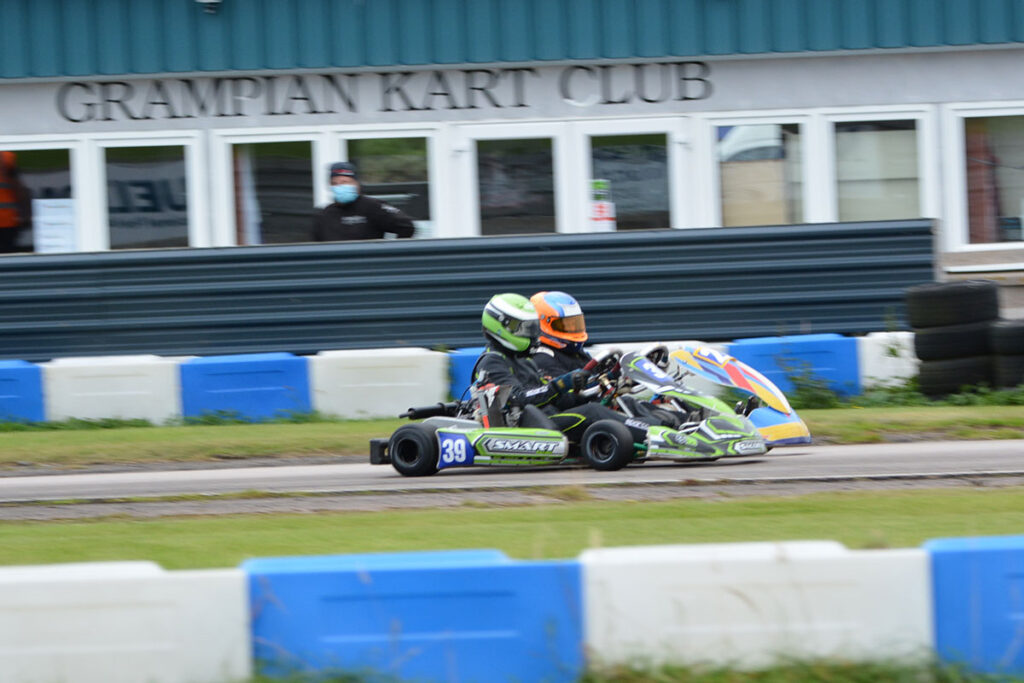 Ally Smith shot away from the lights followed by Dominic Lund, Keiran Smart, Steven Bain and Jonathan Edwards. Smart moved through to second on lap 2 and started his chase to catch Smith. Edwards moved to third on lap 7. Bain retired with rear bumper damage on lap 8. Smart gradually closed in and caught Smith with two laps to go. Smart briefly got in front at the top of the circuit. It was down to the last corner, Smart got to the inside of Smith and it was down to the drive to the chequered flag which Smart won by a tenth of a second. Edwards maintained third. Lund came home in fourth, followed by Shaun Doherty, Kes Watson and Ross Raffan.
Senior Max (Clubman)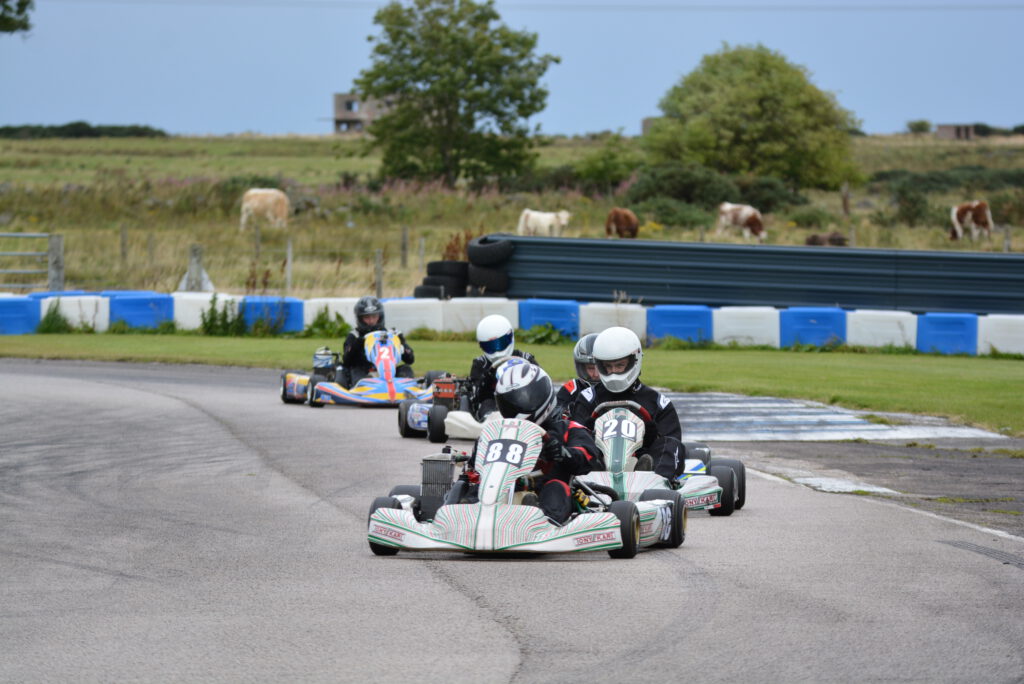 From the outset John Fairclough got away from pack and took the victory by almost nine seconds. A close group of four were in a battle for second. Gordon Black pushed Ross McWilliam hard. Black took second at Pit corner on lap 6 but McWilliam regained the position through the loop. Black was still pushing hard until an error by putting a rear wheel over the edge of the track causing a spin at gate corner. Darren Scott moved to third with Ian Thomson in fourth. McWilliam took second with Scott third. Black recovered to take fourth with and Thomson fifth.
Senior Max (177)
Stuart Wyness took the 177 class.
KZUK (Gearbox class)
Early in the final Ryan Simpson led but on lap 3 he suddenly slowed with a mechanical issue and retired. Charlie MacKintosh took the lead with Roy Thomson, Gary Warren and Aiden Doherty in hot pursuit. Warren moved to second on lap 8 and took the lead a lap later. Warren was never headed punching the air as he took the chequered flag. Second step of the podium was filled by MacKintosh 3seconds adrift. Thomson was a further 3 seconds back. Doherty took fourth.
Cadet Cup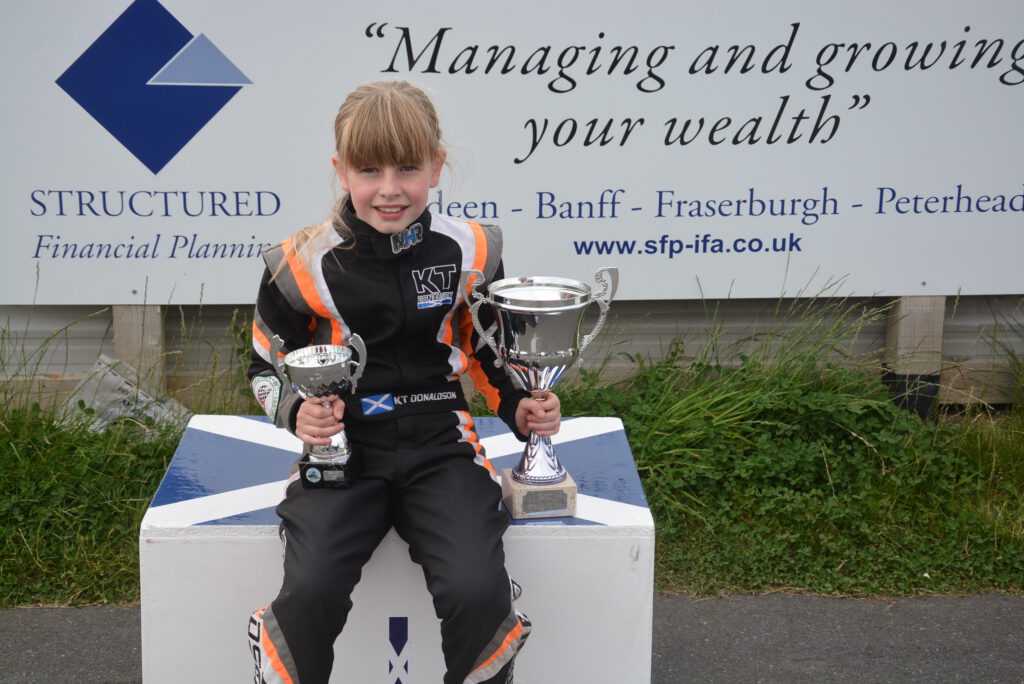 Grampian Kart Club's Katie Donaldson won the Cadet cup on Saturday 12th September. She scored least point from her other Honda Cadet racers. Katie, 9 years old, p5 of Gordon Primary School, was surprised after being spun off while leading the the final.
September Cup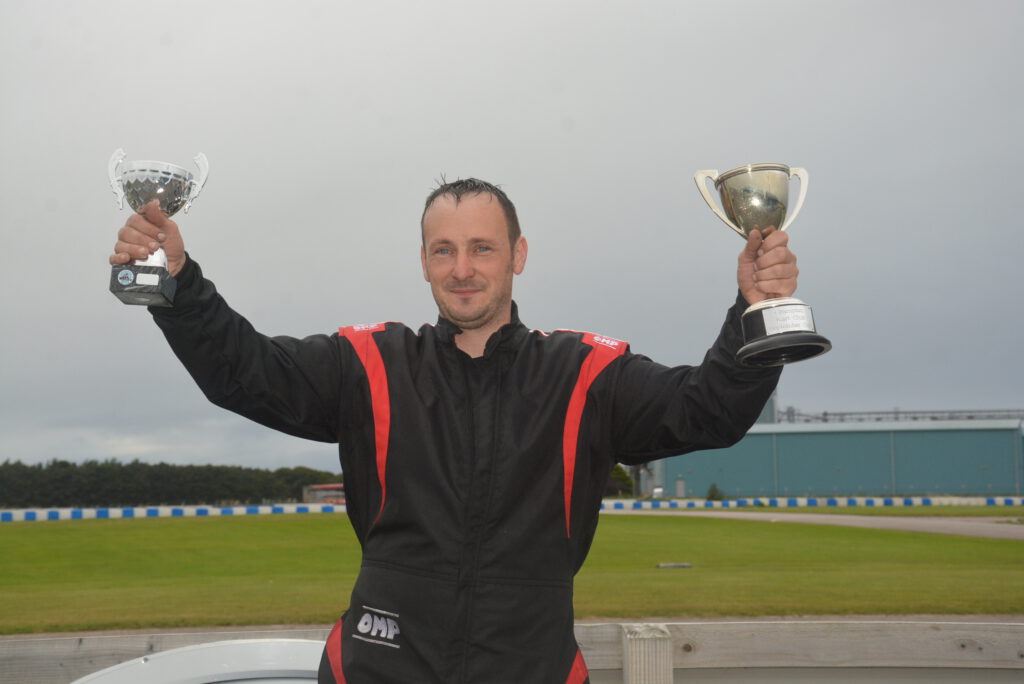 John Fairclough won the GKC's September Cup on Sunday 13th September whilst taking his first final victory in Senior Rotax Clubman. He only scored 2 points all day. He also out scored three other senior classes to win the September cup.
Full results can be viewed on Speedhive.
Next race meeting at Boyndie will take place on 10/11th October 2020.
For more information see GKC website www.grampiankartclub.com and club facebook page.