Scorchio Boyndie was the host of the first round of the ASKC Super Series with COVID-19 procedures in place on 13th June 2021.
In 2020 the Scottish Super Series was cancelled due to COVID-19 but has returned for 2021 as a 3 round Championship. A large entry made use of lots of sun cream with the mercury exceding 20c. The feature trophies up for grabs were the Andrew Borton Memorial Quaich for gearbox drivers and Kenny Mackay Shield for a GKC driver in a Junior or Cadet class.
Bambino
The ten Bambinos took to the track with the distinctive note of their 50cc comer engines. These drivers compete against the clock in four time trial heats. Josh Cormack, in 21 kart, was working hard by moving around in the seat to get every ounce of speed which proved successful and took victory. Local driver, Jude Buchan, was second proving the hours of practice paying off. Archie Cannon was delighted with third.
1st – Josh Cormack (Larbert)
2nd – Jude Buchan (Mintlaw)
3rd – Archie Cannon (Leven)
Honda Cadet
A large field of 21 drivers of which only five had full MSUK racing licences with the remaining drivers novices. From the start Alexander Reid led from Aiden Macdonald and Finay Smith. These three drew away from the pack. The lead changed several times between Reid and MacDonald. With four laps to go it was MacDonald, Smith and Reid. Reid moved to second on the next lap and led on the penultimate lap. At the chequered flag it was Reid, Smith and MacDonald. On his home track Duncan Ingram was fourth and picked up the novice trophy. Mya Simpson finished fifth ahead of Charlie Kelso and Daniel Dempster.
1st – Alexander Reid (Stirling)
2nd – Finlay Smith (Stuartfield)
3rd – Aiden Macdonald (Woodhead)
Top Novice – Duncan Ingram (Macduff)
Mini Max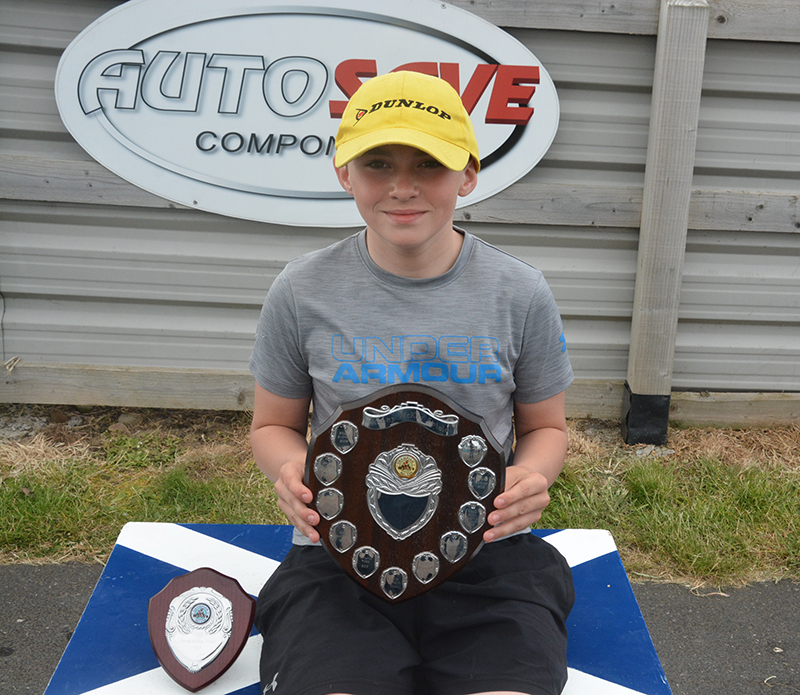 From the off Taylor Thomson took the lead from Alexander Hawcutt. Thomson took the victory by 2.5 seconds from Hawcutt. There was an intense battle for the final podium position between Eihil Smith, Alexander Duffie, Lucas Ross Cameron and Harvey Mitchell. A last lap change in position, Duffie took third form a disappointed Smith who took the best novice. Ross-Cameron was fifth from Mitchell and Kyle Smith.
1st – Taylor Thomson (Kirkcaldy)
2nd – Alexander Hawcutt (Newtonhill)
3rd – Alexander Duffie (Bathgate)
Top Novice – Eihil Smith (Westhill)
Kenny Mackay Shield – Alex Hawcutt (Newtohill)
Junior Max
Lights went out and the race was on with Aiden Seaton leading from Nathan Smith, Reece Duthie, Angus Scrivener, Max Taylor and Darren Guijt. There were no changes in positon in the top six until lap 11 when Jack Ryan overtook Guijt. The technical black and orange circle board was shown to Scrivener after he lost his chain cover and he had to pit. Seaton took the chequered flag with Smith 0.2 seconds back. Duthie, Taylor, Ryan and Guijt completed the top six.
1st – Aiden Seaton (Falkirk)
2nd – Nathan Smith (Stuartfield)
3rd – Reece Duthie (Stuartfield)
Top Novice – Liam Kelso (Blairadam)
Senior Max (162)
Poleman Andrew Harvie, got swamped at the start by John Knox taking the lead from David Mitchell. Harvie had some contact and as a result landed up at the back of the field. Les Taylor moved up to second on lap 5 with Mitchell in third. The drive of the day must go to Keiran Smart who had been demoted to the back of the field due to a hotly disputed technical infringement. Smart was fired up and by lap six was fourth. Three laps later he was third. Knox and Taylor were just too far away for Smart to catch. Late on in the 18 lap final Taylor closed down Knox. Taylor challenged on the last lap but Knox held on for the victory. Smart finish third, setting the fastest lap. Jonathan Edwards came home fourth, followed by David Mitchell and a recovering Andrew Harvie.
1st – John Knox (Larbert)
2nd – Les Taylor (New Leeds)
3rd – Keiran Smart (Oldmeldrum)
Senior Max (177)
Robert Strachan took a comfortable 177 victory by 4.6 seconds. A close battle for second between Jamie Mackay and Matt McQueen was resolved in favour of the Mackay by a tenth of a second. Phillip Patterson was fourth.
1st – Robert Strachan (Cuminestown)
2nd – Jamie Mackay (Halkirk)
3rd – Matt McQueen (Golspie)
KZUK Gearbox
A small field of KZ drivers were the fastest karts on track with a standing start. The Maclennan brothers locked out the front row with Neil in pole position. However it was Rory that got the best start and led at the end of the first lap. Neil Maclennan took the lead at the end of Boyndie Straight on the fourth tour of the twenty-lap race. The two circulated with Neil taking victory by 1.3 seconds. Adam Barbour slotted into third spot until Alex Mackay gained the position on lap 7. Mackay finished third with Barbour fourth closely followed by Gary Williams.
1st – Neil Maclennan (Tore)
2nd – Rory Maclennan (Tore)
3rd – Alex Mackay (Inverness)
Andrew Borton Memorial Trophy – Neil Maclennan (Tore)
Full results can be found on Speedhive.
Next race meeting at Boyndie will take place on 19th-20th June 2021.
Sheryl Borton presented the trophies.
Race report courtesy of Alan Wyness. Post and header picture courtesy of Jake Smith.