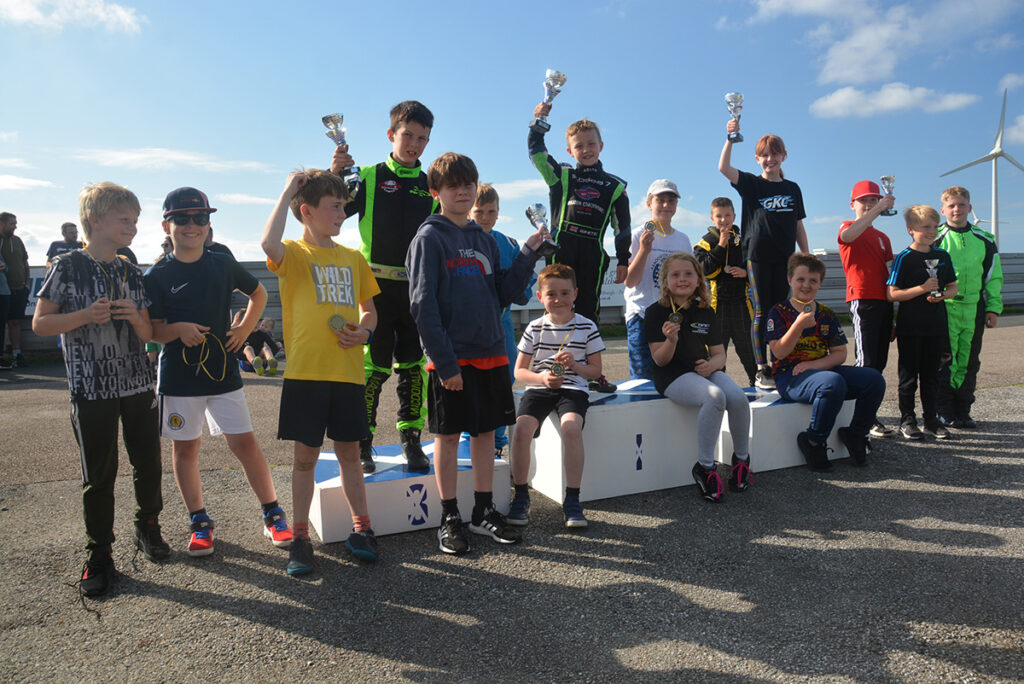 The weather forecast of heavy rain showers didn't reach the Moray coast with the weather remaining dry and sunny all weekend.
The meeting was again run over two days 7-8 August 2021 but next month will revert to a one-day event with Saturday a combination of owner driver practice and hire kart races.
Feature Trophies of the day were:-
Mike Philip Trophy – Officials vote for the most impressive driver
JRD Cup – Senior, non-Gearbox driver scoring most points
Bambino
Jude Buchan was quick out of the box by setting the quickest lap of 52.360 in heat 1 which proved to be fastest of the day. Next was 2021 Scottish Champion Amaya Thomson who was followed by Cooper Earsman and Nico Henderson.
1st – Jude Buchan (Mintlaw)
2nd – Amaya Thomson (Prestonpans)
3rd – Cooper Earsman (Whitehills)
Honda Cadets
A large entry of seventeen cadet drivers was great to see as they all charged up Boyndie Straight. From the heats Ryan White took pole position and led when the red start lights went out. Tucking in to second was Katie Donaldson, Leo Massie, Aiden MacDonald, Finlay Smith, Daniel Dempster and Duncan Ingram. The top five 'train' edged away with nothing between them. MacDonald grabbed third on lap 9. There were no other changes during the 14 lap final. White took the chequered flag ahead of Donaldson, MacDonald, Massie and Smith. Six tenths separated the five karts. Daniel Dempster was sixth with Duncan Ingram by 3 thousands of a second. Mya Simpson, Alex Simmons, and Thomas Jackson completed the top ten.
1st – Ryan White (Aberdeen)
2nd – Katie Donaldson (Dufftown)
3rd – Aiden MacDonald (Woodhead)
Hire Kart (lights)
Neil Halliwell took the victory by over a second from Duncan Ross. Ross was 2.6 seconds ahead of Richard Evans and Linda Bonner. Aiden Carl, Mark Knowles, Lorna Rose and David Ewen completed the top eight.
1st – Neil Halliwell (Kintore)
2nd – Duncan Ross (Lumphanan)
3rd – Richard Evans (Banff)
Hire Kart (heavies)
Marc Morrison took a decisive victory with a 12 second lead. Roy Wilson lead the pack with Bruce Cameron Ayrton Redfearn and Ewan Littlejohn. Redfearn took second on lap 4. A lap later Cameron was second with Burnett taking the position the following lap. Cameron was back in second on the penultimate lap but Burnett took the position at the chequered flag. Cameron was third with Redfearn fourth, Wilson fifth. Ryan Cameron, Ewen Littlejohn, Michael Rose, Dave Brown and David Lyon completed the top ten.
1st – Marc Morrison (Elgin)
2nd – James Burnett (Ellon)
3rd – Bruce Cameron (Thurso)
Mini Max
2021 Mini Max Scottish Champion, Alex Hawcutt led from Eihli Smith. This pair circulated as one. Smith made his move at Gate Corner on the ninth lap when he got up the inside to take the lead. Smith went onto take the chequered flag with Hawcutt a tenth behind. Kyle Smith took third with debutant Matilda Brazier fourth.
1st – Eihli Smith (Westhill)
2nd – Alex Hawcutt (Aberdeen)
3rd – Kyle Smith (Aberdeen)
Junior Max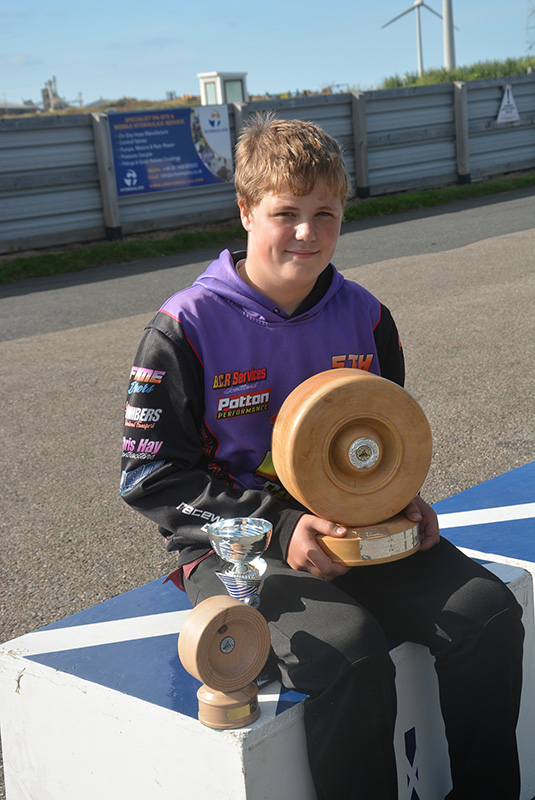 Craig Stephen led from the lights with Darren Guijt hot on his bumper and Mark Paterson a few metres back. The front pair circulated until the defining moment at mid race distance when the there was a touch as they came through the Seafield Complex and Guijt took the lead. Guijt took the win by 7 tenths from Stephen. Paterson was third.
1st – Darren Guijt (Kennethmont)
2nd – Craig Stephen (Elgin)
3rd – Mark Paterson (Forgue)
Mike Philip Trophy – Craig Stephen
Senior Twin Engine Prokarts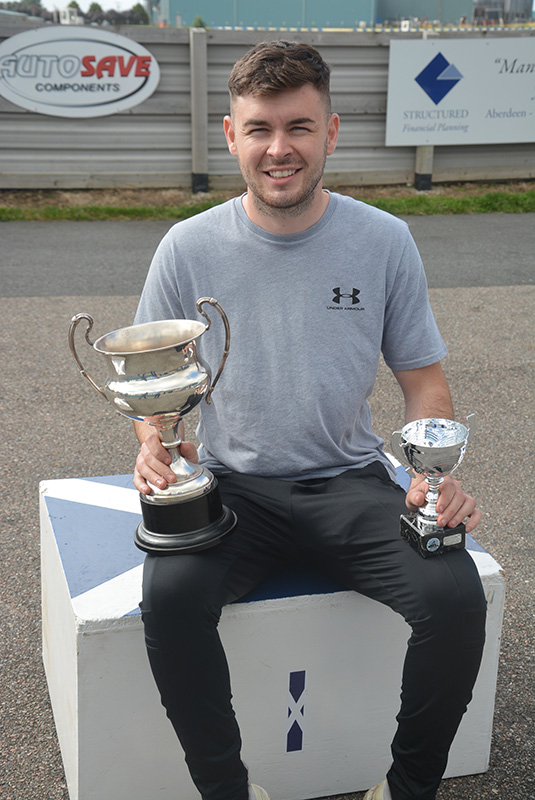 Murray Scott led from the lights and took an untroubled victory by nine seconds.  Scott had also won all the heats thus he also won the JRD Cup.  Nicky Sutherland, Dave Leiper and Rik Christie were in a close, race long battle. Gary Fleming retired early with an engine problem and Ralph Sturrock with a drive problem.  Sutherland and Leiper swapped positions on several occasions.  On the last lap exiting pit corner for the drive to the finish line the trio were three abreast as the chequered flag was waved. The timing computer showed the three separated by 7 hundreds in the order of Leiper, Sutherland and Christie.  Lorna Rose finished fifth.
1st – Murray Scott (Glenrothes)
2nd – Dave Leiper (Arbuthnott)
3rd – Nicky Sutherland (Stonehaven)
JRD Cup – Murray Scott (Glenrothes)
Senior Max (162kg)
Kes Watson led from Keiran Smart during the early laps of the final. In the loop the two touched and both spun causing mayhem behind. Jonathan Edwards took a considerable lead from Dominic Lund and Gary Scott. Watson and Smart recovered and chased the leaders. More drama occurred when leader Edwards ground to a halt when the drive sprocket came off. Edwards kicked his kart in frustration. Lund inherited the lead and took his first victory by six tenths from the fast finishing Watson. Smart came third and Euan McLeod fourth.
1st – Dominic Lund (Cuminestown)
2nd – Kes Watson (Oldmeldrum)
3rd – Keiran Smart (Oldmeldrum)
Senior Max (177kg)
Robert Strachan took a comfortable victory from Billy Falconer and Adrain Brodie who had been delayed earlier.
1st – Robert Strachan (Cuminestown)
2nd – Billy Falconer (Inverness)
3rd – Adrian Brodie (Banff)
Senior Max Clubman
Neil Carle took the victory over Michael Paton and Donny McLeod.
1st – Neil Carle (Whitehills)
2nd – Michael Paton (Elgin)
3rd – Donny Mcleod (Bigger)
KZUK Gearbox
Standing start, lights out and the rush up Boyndie Straight was led by Gary Warren.  On his tail were Chris Walker, Ross Greig, Gordon Hawton and Ryan Fleming.  Warren and Walker were away. Hawton took Greig on the fourth tour.  Lap 7 Walker made a move to the inside of Warren but the two collided. Warren kept the engine running and continued but the rest of the field were through.  Walker retired.  Hawton led from Greig and Fleming.  Warren took third on lap 9 and second on lap 12.  Hawton took the victory from Warren, Greig and Fleming.
1st – Gordon Hawton (Peterhead)
2nd – Gary Warren (Aberdeen)
3rd – Ross Greig
The next BDOC will be the 12th August 2021.
Full race results can be viewed on Speedhive and championship points available on the BDOC page.