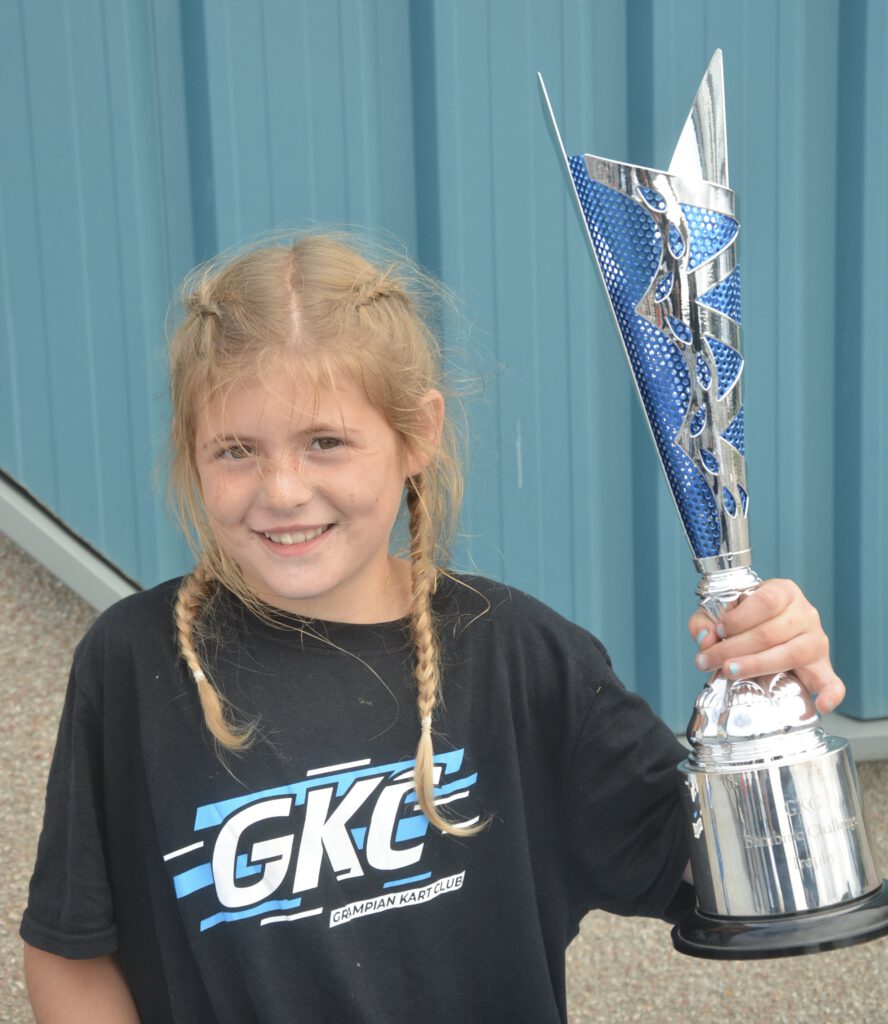 Hire karts, light and heavy, ran on Saturday 11 September afternoon in damp conditions.  All other classes were on Sunday 12th under threatening sky but it cleared so the drivers were on slicks all day.
Feature Trophies was the GKC Bambino Trophy and the September Cup which dates back to 1969.
Bambino
S and A plate champion, Amaya Thomson took all four heat wins to scoop up the feature trophy. The GKC Bambino Trophy for the sum of all heats, second was George Simmons followed by Cooper Earsman.
1st – Amaya Thomson (Prestonpans)
2nd – George Simmons (Cellardyke)
3rd – Cooper Earsman (Whitehills)
Honda Cadets
A plate Scottish Super Series Champion, Aiden Macdonald, led the cadets away when the lights went out. Leo Massie, Thomas Jackson, Katie Donaldson, Logan Silvia-Domingo and Alex Simmons chased after him. Donaldson moved up a place to third. The front pair had opened a gap over Donaldson by a second.  Silvia Domingo stopped at the top of the circuit. Macdonald and Massie were having a ding dong battle in front with the former crossing the line a tenth ahead. Donaldson was a comfortable third. Jackson and Daniel Dempster had a race long battle with Dempster taking fourth. Jackson was fifth and Vinnie Lewis sixth.  Alex Simmons, seventh and Tylor Edminson, eighth.
1st – Aiden MacDonald (Woodhead)
2nd – Leo Massie (Huntly)
3rd – Katie Donaldson (Dufftown)
Hire Kart (lights)
On Saturday afternoon in damp conditions the club's prokarts entered the fray.  Neil Halliwell took the victory and set the fastest lap of 56.7 seconds.  Duncan Ross was second and Mark Knowles third.
1st – Neil Halliwell (Kintore)
2nd – Duncan Ross (Lumphanan)
3rd – Mark Knowles (Aberdeen)
Hire Kart (heavies)
The heavy category Marc Morrison won with Roy Wilson, Mike Rose and Ayrton Redfearn close behind.
1st – Marc Morrison (Elgin)
2nd – Roy Wilson (Dingwall)
3rd – Michael Rose (Auchnagat)
Mini Max
Eihli Smith took the lead from the lights and immediately opened a gap over Aiden MacDonald and Duncan Ingram.  Smith took the chequered flag with a gap of 3 seconds.  The green helmets of MacDonald and Ingram circulated together. Ingram had a look at the end of Boyndie straight a couple of times but was never close enough. MacDonald took second by 0.3 tenths from Ingram.  Fourth was Liam Watson, fifth, Matilda Brazier followed by Owen Towler.
1st – Eihli Smith (Westhill)
2nd – Aiden MacDonald (Woodhead)
3rd – Duncan Ingram (Banff)
Junior Max
Two non-starters had reduced the field leaving Alex Hawcutt leading from Craig Stephen. The rear bumper came loose from Stephen's kart and was trailing on the ground.  As a result he pitted and retired. Hawcutt took victory.
1st – Alex Hawcutt (Aberdeen)
2nd – Craig Stephen (Elgin)
Senior Twin Engine Prokarts
C plate, Murray Scott who has quickest in the class all year, once again proved to be the class of the field and took a lights to flag win. Ralph Sturrock settled into second and at the line had a 1.3 second cushion over David Leiper. Leiper had to fend off Rik Christie race long and crossed the line 0.4 seconds ahead.  Nicky Sutherland, who came through the rest of the pack, nipped Mike Rose on the last lap for fifth.  Sean Webb was seventh a smidgen ahead of Lorna Rose.
1st – Murray Scott (Glenrothes)
2nd – Ralph Sturrock (Carnoustie)
3rd – Dave Leiper (Arbuthnott)
Senior Max (162kg)
From pole, Keiran Smart, got the early break from the pack and took the victory. Kes Watson led the chase with Jonathan Edwards, Dominic Lund and Ross Raffan. Edwards got through at Kevin's Korner on lap 6. Raffan got the better of Lund on lap 9. Edwards was second followed by Watson. Watson, Raffan and Lund crossed the line bumper to bumper. Sixth was Steven Bain followed by Neil Carle.
1st – Keiran Smart (Oldmeldrum)
2nd – Jonathan Edwards (Cornhill)
3rd – Kes Watson (Oldmeldrum)
Senior Max (177kg)
Robert Strachan took a comfortable victory from Matt McQueen and Adrian Brodie.
1st – Robert Strachan (Cuminestown)
2nd – Matt McQueen (Brora)
3rd – Adrian Brodie (Banff)
Senior Max Clubman
Michael Paton led the early part of the final but pitted with a mechanical problem leaving Callum MacLeod to take the victory.
1st – Callum MacLeod (Banff)
2nd – Michael Paton (Elgin) 
KZUK Gearbox
Scottish Super Series A plate Champion Rory Maclennan was on pole position for the standing start. Maclennan led up Boyndie Straight. On reaching a left hander the right rear hub and tyre parted company with the kart resulting Maclennan spinning across the grass. The hub cut across the grass and came to rest on the track where the other karts were approaching.  Thankfully everyone avoided the hub and the marshal rescued it. This occurrence left Ben McLeod in the lead from Gary Williams and Greg Moir.  Moir got past Williams at the end of Boyndie Straight but clipped a kerb with Williams regaining the position.  McLeod took his first KZ victory from Williams and Moir.  Ross Greig was fourth.
1st – Ben Macleod (Evanton)
2nd – Gary Williams (Ellon)
3rd – Greg Moir (Huntly)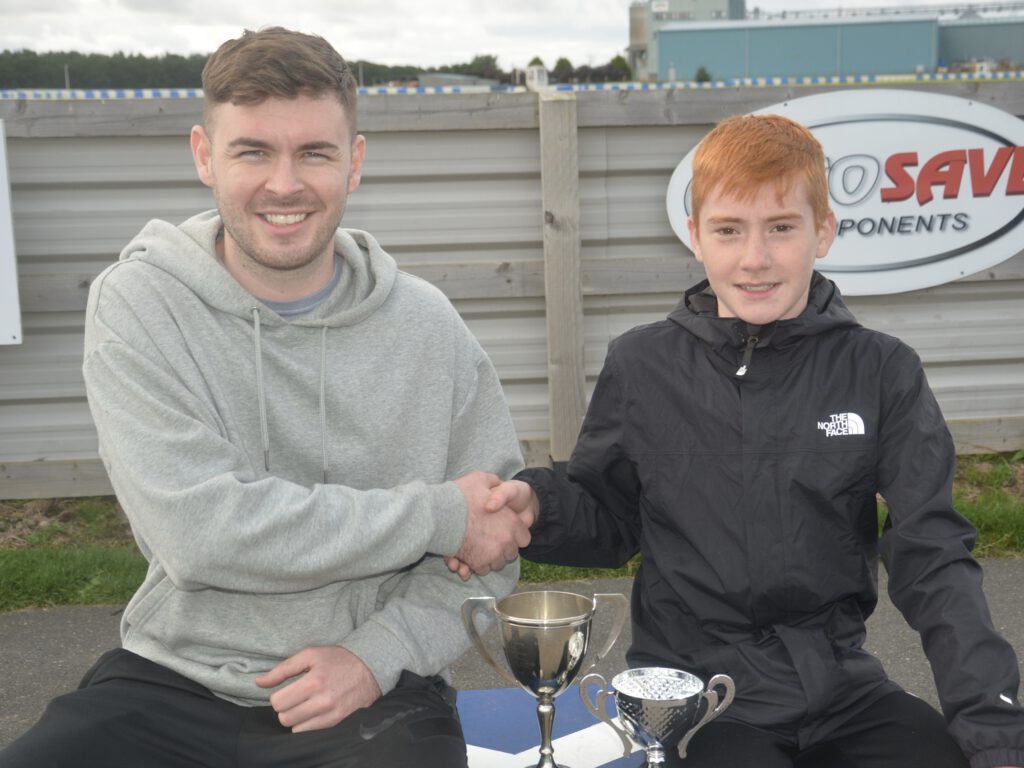 Gary Williams presented the trophies.
The next BDOC will be 10th October 2021 which will be the first round of the Northern Challenge; second round will be on 31st October at Golspie.
Full race results can be viewed on Speedhive and championship points available on the BDOC page.