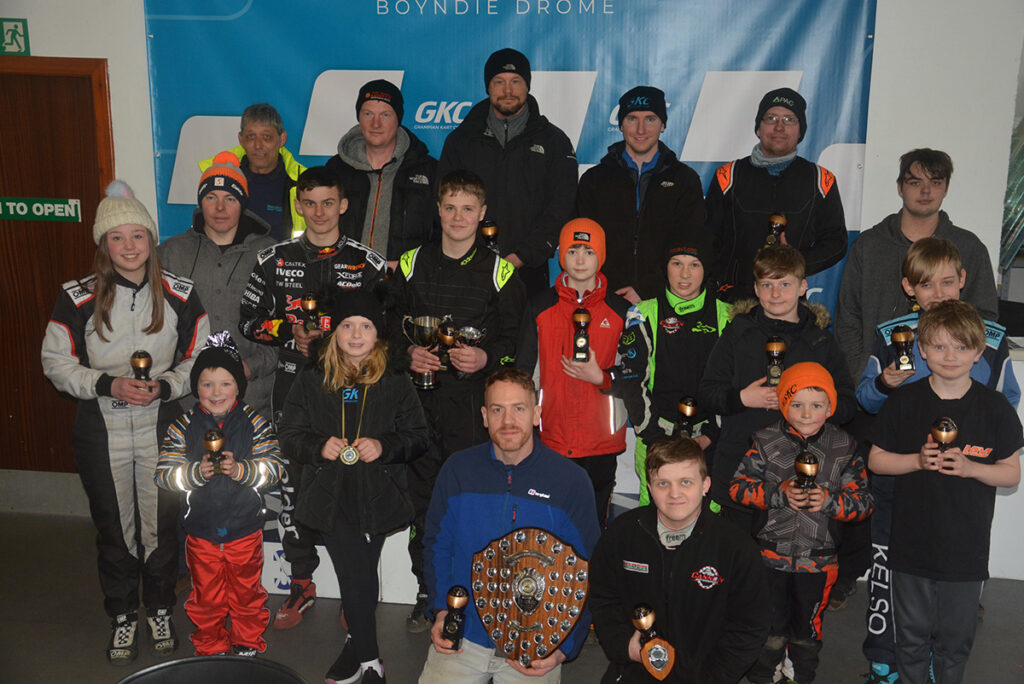 The first round of the Boyndie Drome Open Challenge was held over the weekend of 12-13th March 2022. 
On Saturday afternoon the club hire karts ran with all other classes taking part on Sunday. A southerly wind was howling a gail but at least it was dry on the Sunday. The feature trophies were the Dickie Bent Cup (voted by the marshals most impressive driver) and the Kildonan Shield for the most successful driver in a Senior class.
Bambino (6-7 years old)
Louis MacDonald led away when the starting lights went out but was soon passed by Cooper Earsman. Earsman went on to record his first final victory and celebrated by punching the air on the cooling down lap. MacDonald retained second ahead of Luca Bicocchi.
1st – Cooper Earsman (Whitehills)
2nd – Louis MacDonald (Fyvie)
3rd – Luca Bicocchi (Inverallochy)
Honda Cadets (8-12 years old)
The largest grid of the weekend, the Honda Cadets, was led from the lights by Leo Massie from pole position. Charging in formation were Finlay Smith, Thomas Jackson and Daniel Dempster. Massie and Smith pulled away from the pack and opened a gap of 9 seconds. Massie took the victory 2 tenth from Smith. Jackson and Dempster swapped positions several times but it was Jackson who took third at the line with Demster on this bumper. John James Buchan was fifth with Zane Sword, sixth. Tylor Edminson was next across the line with Amaya Thomson eighth.
1st – Leo Massie (Huntly)
2nd – Finlay Smith (Stuartfield)
3rd – Thomas Jackson (Dunfermline)
Hire Kart (lights) 15 years+
On Saturday the Lights and Heavies ran together. Daniel MacRae took a comfortable victory from Richard Evans and Sean Kelman. Dane Christison took fourth followed by Ryan Mark Thurston and Mark Knowles. In the heavies Ayrton Redfearn took the win with Martin Stephen second and Roger Broughton third. George Barr took fourth and Ryan Taylor fifth.
1st – Daniel MacRae (Elgin)
2nd – Richard Evans (Banff)
3rd – Sean Kelman (Peterhead)
Hire Kart (heavies)
1st – Ayrton Redfearn (Lossiemouth)
2nd – Martin Stephen (Longside)
3rd – Roger Broughton (Thurso)
Mini Max
A spin on lap 1 for Kyle Smith ruined his race. Aiden MacDonald, had won all the heat and also took the final from Duncan Ingram.  Charlie Kelso took third. It was a close contest between Rachel Turnbull and Liam Watson which resolved in favour of Watson. Recovering Smith finished sixth.
1st – Aiden MacDonald (Fyvie)
2nd – Duncan Ingram (Macduff)
3rd – Charlie Kelso (Kelty)
Junior Max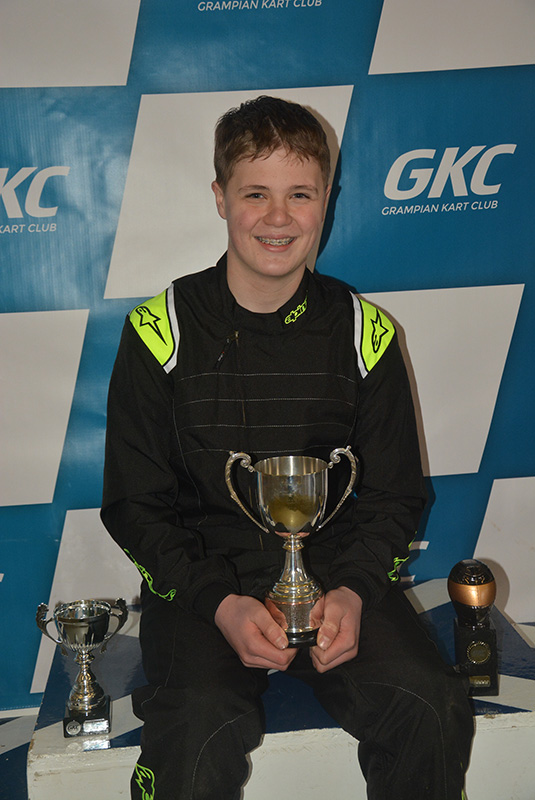 Superb driving from Craig Stephen won all the heats and took the final, setting an average speed of over 50 mph. This attracted the majority of the marshals attention who awarded him the Dickie Bent Cup. Second on the road was Mark Paterson. Matilda Brazier, who moved to third on lap 5, held the position to the line. On the last lap Jemma Hiorns got the better of Cameron Hobson.
1st – Craig Stephen (Elgin)
2nd – Mark Paterson (Forgue)
3rd – Matilda Brazier (Newmacher)
Senior Twin Engine Prokarts
From the start Nicky Sutherland led from Garry Fleming, Rik Christie and Mike Rose. Sutherland gradually opened a 2 second gap over Fleming and likewise a similar gap to Christie. James Burnett got the better of Mike Rose early in the final which he held to the chequered flag. Lorna Rose finished sixth.
1st – Nicky Sutherland (Stonehaven)
2nd – Garry Fleming (Arbroath)
3rd – Rik Christie (Aberdeen)
Senior Max (162kg)
Kes Watson got the best start and led for two laps. Jonathan Edwards took the lead on the third lap and went on to win by five second. Watson came home second. Ross Raffan hounded Dominic Lund for the majority of the final but the final podium position was taken by Lund.
1st – Jonathan Edwards (Cornhill)
2nd – Kes Watson (Oldmeldrum)
3rd – Dominic Lund (Cuminstown)
Senior Max (177kg)
In the heavier 177kg class Robert Strachan was able to keep Adrian Brodie at bay to take the victory by 2 seconds. Alan Falconer was third with Michael Christie fourth.
1st – Robert Strachan (Turriff)
2nd – Adrian Brodie (Banff)
3rd – Alan Falconer (Inverness)
KZUK Gearbox
The last race of the weekend proved to be the closest and most exiting. Pole-man, Gary Williams got it off the line the best to lead up Boyndie straight. Greg Moir took up the chase with Neil Anderson, Chris Walker and Ross Greig.  Walker got third on the third tour.  Williams managed to pull a gap and looked comfortable. Walker was closing in on Moir. In the last few laps Moir and Walker were pulling in Williams.  At the end of Boyndie Straight Moir made an optimistic move and almost lost control but was able to gather it together.  Although there were no positional changes it was very close with Williams taking the victory by 9 hundredths from Moir with Walker six tenths back in third. Ross Greig was fourth with Gordon Hawton close behind.  Neil Anderson was sixth in a battling race.
1st – Gary Williams (Ellon)
2nd – Greg Moir (Huntly)
3rd – Chris Walker (Carron)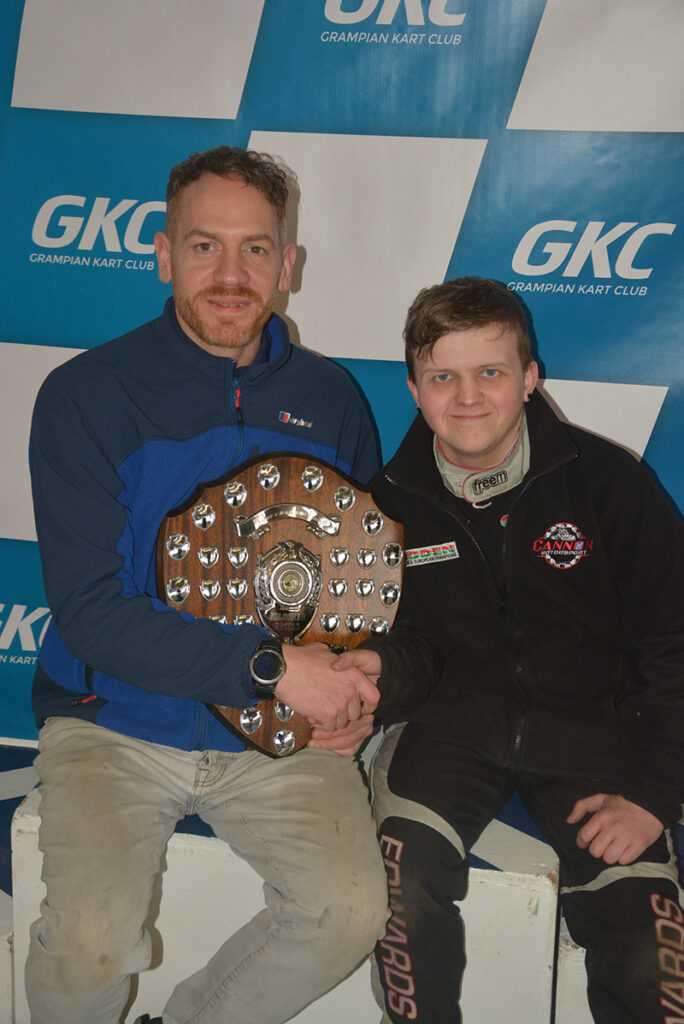 Hamish Bruce, Club Secretary, presented the trophies after the meeting.
Full race results can be viewed on Speedhive and championship points available on the BDOC page.