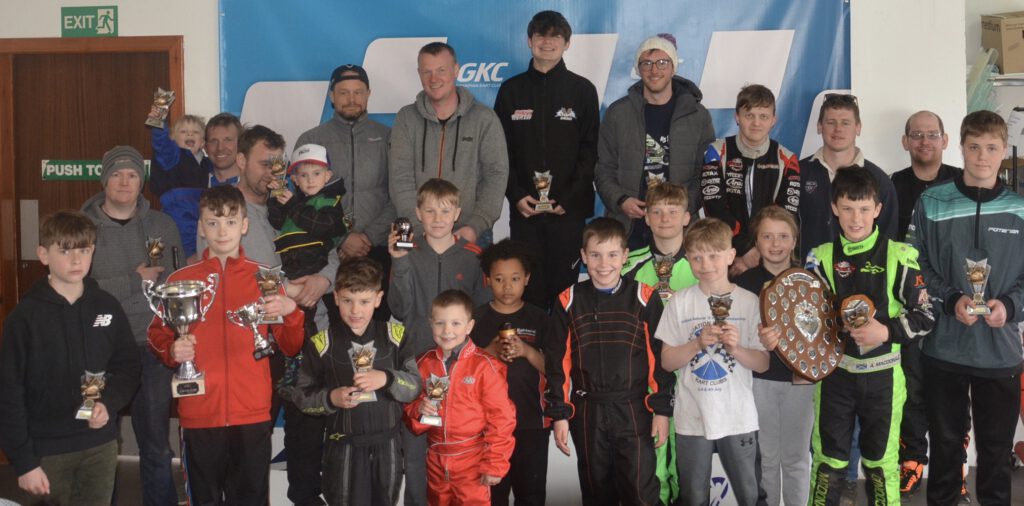 The second round of the Boyndie Drome Open Challenge was held over the weekend of 9th -10th April 2022.
On Saturday afternoon the club hire karts ran in snow showers with all other classes taking part on Sunday. Dry, sunny with a cool northerly breeze greeted the Sunday drivers. Feature trophies for the day's racing were the Cadet Cup for the most successful cadet driverand the Pioneer Mutual Shield for the most successful driver in any class.
Bambino (6-7 years old)
Only two karts with Cooper Earsman taking victory over Luca Biccocci. It emerged that Earsman set a new Bambino lap record of 52.208 seconds.
1st – Cooper Earsman (Whitehills)
2nd – Luca Bicocchi (Inverallochy)
Honda Cadets (8-12 years old)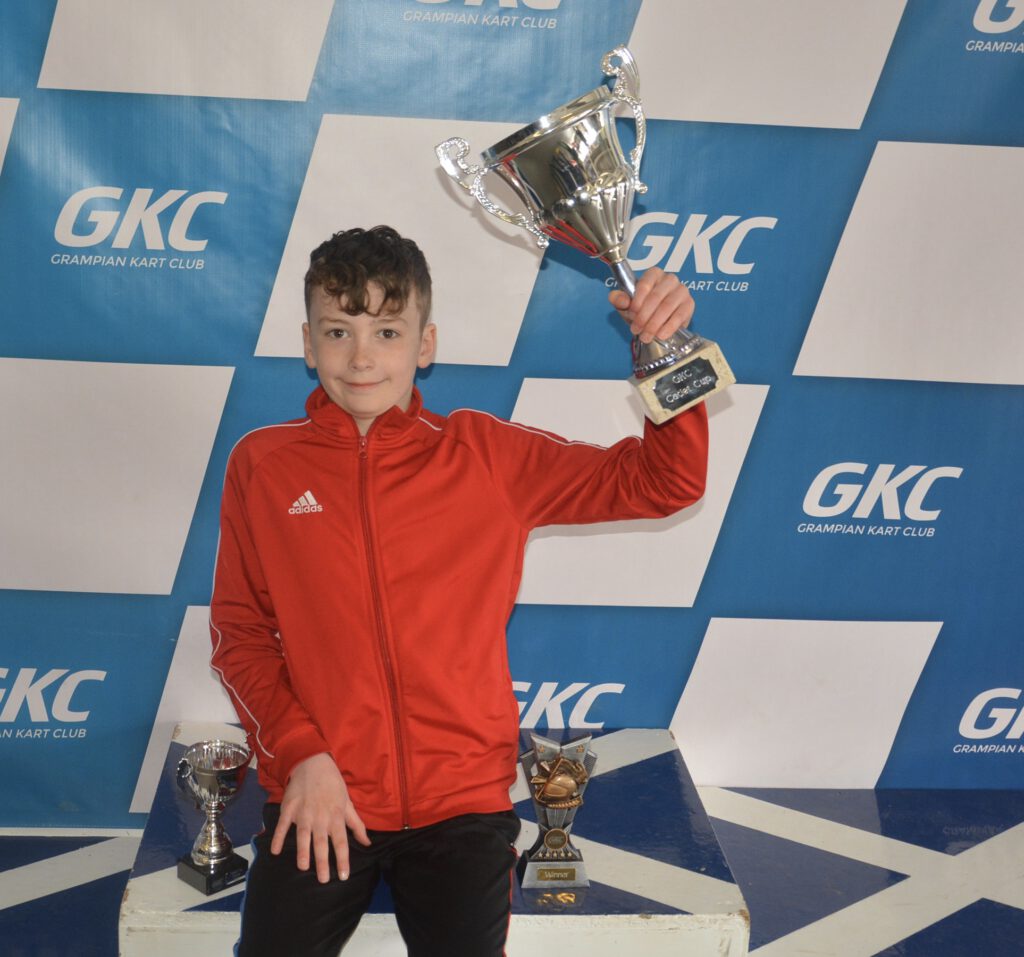 Leo Massie led away from the starting lights closely followed by Zane Sword and Finley Smith. The trio gradually drew away from the pack. On lap 7 both Sword and Smith got past Massie. Pit corner on the last lap proved a disaster for the two front runners as they touched and both Sword and Smith landed in the barriers. This allowed Massie to take the victory and win the Cadet Cup. This also enabled Thomas Jackson and Daniel Dempster who both worked their way through the pack to complete the podium. Andrew Sutherland came home fourth ahead of John James Buchan and Alex Simmons. The top ten was completed by Bailey Wilson, Mya Simpson, Vinnie Lewis and Amaya Thomson.
1st – Leo Massie (Huntly)
2nd – Thomas Jackson (Dunfermline)
3rd – Daniel Dempster (Daviot)
Hire Kart (lights) 15 years+
In damp conditions the slick shod prokarts produced a tremendous final in the light category. Daniel Macrae led away from Neil Halliwell. The lead swapped on numerous occasions, too many to record. In the last two laps Macrae opened a gap to finish 5 seconds ahead of Halliwell. Mark Knowles gained two places on the first lap and held third to the chequered flag. Completing the top six were Richard Evans, Daniel Roberts and Calum Grant.
1st – Daniel MacRae (Elgin)
2nd – Neil Halliwell (Kintore)
3rd – Mark Knowles (Aberdeen)
Hire Kart (heavies)
Mike Rose took a lights to flag victory from Ayrton Redfearn by 7 seconds. The top two were well clear of David Birkett who took the final podium spot. The top six were completed by Roger Broughton, Daniel Grant and Scott Marshall.
1st – Mike Rose (Ellon)
2nd – Ayrton Redfearn (Lossiemouth)
3rd – David Birkett (Aberdeen)
Mini Max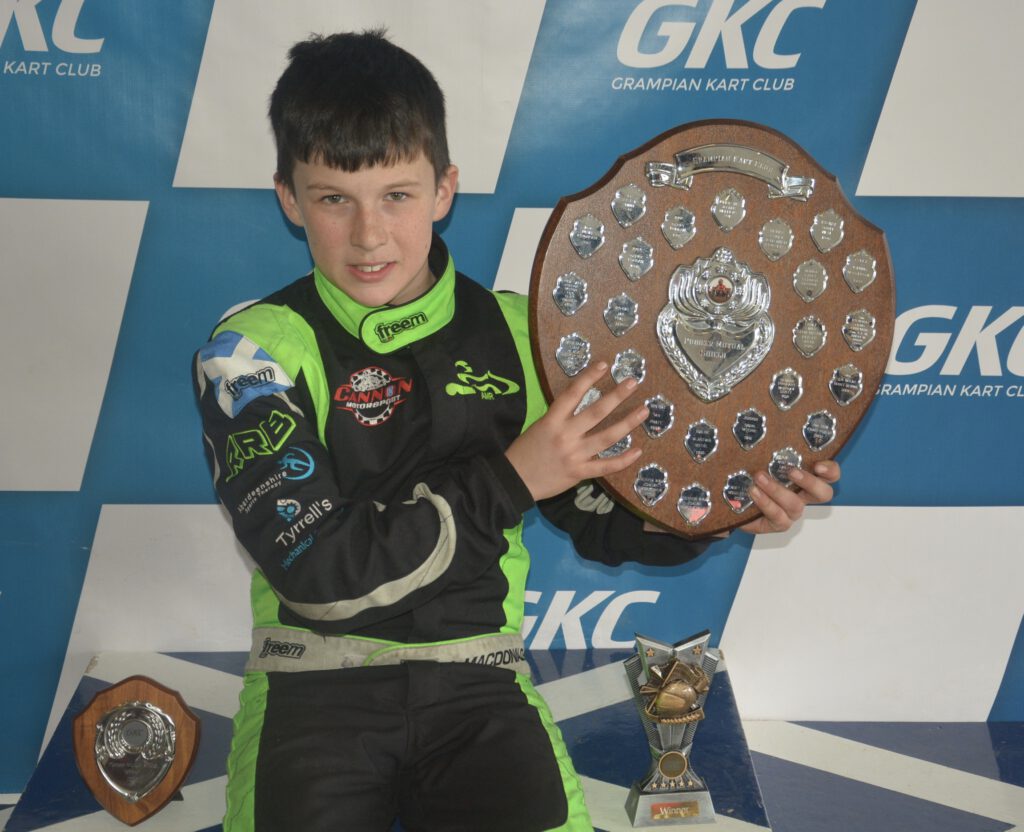 Aiden MacDonald had a stella day taking all three heats and the final which resulted in the award of the Pioneer Mutual Shield. The race became spread out with Duncan Ingram coming home in second. Charlie Kelso was third and led home Owen Towler, William Brazier, Kyle Smith and Darci Morrison.
1st – Aiden MacDonald (Fyvie)
2nd – Duncan Ingram (Macduff)
3rd – Charlie Kelso (Kelty)
Junior Max
Craig Stephen dominated the class from lights to chequered flag. Darren Guijt took second. Alex Hawcutt came under attack on the second last lap from Matilda Brazier but held on to take third. Brazier was fourth.
1st – Craig Stephen (Elgin)
2nd – Darren Guijt (Kennethmont)
3rd – Alex Hawcutt (Portlethen)
Senior Twin Engine Prokarts
Nicky Sutherland took victory from the young Cameron Bailey. Third was Rik Christie. Dave Leiper, who recovered from an early incident, was fourth with Lorna Rose ahead of husband Mike Rose.
1st – Nicky Sutherland (Stonehaven)
2nd – Cameron Bailey (Kinross)
3rd – Rik Christie (Aberdeen)
Senior Max (162kg)
The front row of Jonathan Edwards and Keiran Smart shot of together with Edwards coming out in the lead. Smart was alongside several times but Edwards held on. Edwards took the chequered flag with Smart close behind. Ben Burnett was running in third with Ross Raffan and Dominic Lund on his tail. Lund got Raffan on lap 8 and on the next lap at gate corner both Lund and Raffan took Burnett. Lund took the third spot with Raffan and Burrnett close behind. Sixth was Steven Bain followed home by Gary Scott.
1st – Jonathan Edwards (Cornhill)
2nd – Keiran Smart (Oldmeldrum)
3rd – Dominic Lund (Cuminstown)
Senior Max (177kg)
In the 177 class Adrain Brodie took the early lead with Robert Strachan on this bumper. Race long Strachan kept up the pressure. Again it was last corner drama with Brodie defending the corner, Strachan made the move down the outside and the two touched resulting in Strachan spinning off. Brodie took the chequered flag with Alan Falconer, second and Strachan recovered to third.
1st – Adrian Brodie (Banff)
2nd – Alan Falconer (Inverness)
3rd – Robert Strachan (Turriff)
KZUK Gearbox
A reduced field because of various mechanical problems was led away by Neil Anderson, Ross Greig and Billy Falconer. Suddenly, the leader Anderson went missing on lap 5 who was found sitting in the kart at the end of Boyndie Straight with his engine saying no more. This left Greig leading who took the victory. Falconer was second. Neil McWilliam did a few laps and retired his historic gearbox kart.
1st – Ross Greig (Fraserburgh)
2nd – Billy Falconer (Inverness)
3rd – Neil Anderson (Insch)
Hamish Bruce, Club Secretary, presented the trophies after the meeting.
Full race results can be viewed on Speedhive and championship points available on the BDOC page.