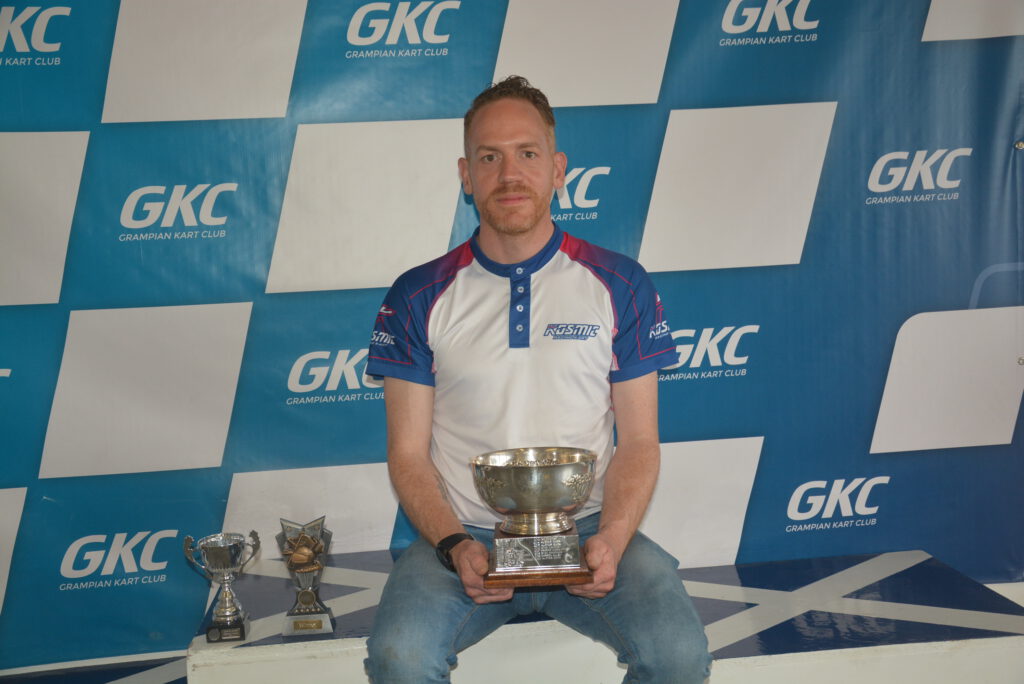 The third round of the Boyndie Drome Open Challenge was held over the weekend of 11th -12th June 2022. 
On Saturday afternoon the club hire ran in blustery conditions with all other classes taking part on Sunday.  Dry, sunny with a westerly wind greeted the Sunday drivers. Feature trophies were the Prokart Challenge for the most successful driver and the Granville Grubb Memorial Trophy for the winning gearbox driver.
Bambino (6-7 years old)
An accident immediately off the start brought out the red flag to stop the action. Unfortunately Munro Stephen was unable to take the restart. At the restart Cooper Earsman took the lead followed by Bruno Simonelli and Luca Bicocci.  Earsman took the victory from Simonelli and Bicocci.
1st – Cooper Earsman (Whitehills)
2nd – Bruno Simonelli (Dingwall)
3rd – Luca Bicocchi (Inverallochy)
Honda Cadets (8-12 years old)
The Honda Cadets had largest grid of seventeen and it was Leo Massie that managed to escape the pack to take victory by almost 3 seconds. Once the race settled there was a bunch of four vying for second. Many changes took place in the 12 lap final but it was Evi Davison, who saw the circuit for the first time on Sunday morning that took second with Bella Brown taking fastest lap and third.  Fourth was Oliver Newall, closely followed by Josh Cormack. A short distance back was Thomas Jackson and Alex Simmons separated by two tenths of a second. Top ten were completed by John James Buchan, Archie Cannon and Tylor Edminson.
1st – Leo Massie (Huntly)
2nd – Evi Davidson (Bathgate)
3rd – Bella Brown (Falkirk)
Hire Kart (lights) 15 years+
In blustery conditions Daniel Macrae took a comfortable victory from Daniel Roberts and Mark Knowles. Mark Purmal was fourth ahead of Neil Halliewell and Richard Evans. Daniel Mcrae won the Prokart Challenge Trophy with the best score of the day.
1st – Daniel MacRae (Elgin)
2nd – Daniel Roberts (Aberdeen)
3rd – Mark Knowles (Aberdeen)
Hire Kart (heavies)
In the heavy class Martin Steven took the victory from Roger Broughton and Peter Addison. Fourth home in the ten lap final was Patrick Gallagher followed by Stephen Newman and Adam Gill.
1st – Martin Stephen (Longside)
2nd – Roger Broughton (Thurso)
3rd – Peter Addison (Peterhead)
Mini Max
From pole Aiden MacDonald took the early lead from Duncan Ingram. Ingram was on MacDonald's bumper all the way.  On the last lap Ingram made a move but had to abort it at MTM bend. MacDonald took the victory by four tenths from Ingram. In the interim Kyle Smith had a good race to take third from Liam Watson, Owen Towler and William Brazier.
1st – Aiden MacDonald (Fyvie)
2nd – Duncan Ingram (Macduff)
3rd – Kyle Smith (Westhill)
Junior Max
Mark Patterson who had reduced the class lap record to 37.184 seconds during heat 2, took the lead at the lights to take victory. Matilda Brazier made a move at Kevin's Korner on Cameron Hobson but resulted in going wide dropping a long way off the others. Hobson was holding second from Darci Morrison.  Morrison moved to second at half distance. It was observed the Brazier was closing down on Hobson during the final laps and indeed took third position at the end of Boyndie Straight. Hobson was only three tenths off the bumper of Brazier at the finish line.
1st – Mark Patterson (Forgue)
2nd – Darci Morrison (Insch)
3rd – Matilda Brazier (Newmacher)
Senior Twin Engine Prokarts
From the starting lights going out Nicky Sutherland took the lead from Michael Lithgow, Rik Christie, Dave Leiper and Cameron Bailey. Lithgow dropped two places to fourth on lap two. Christie was keeping Sutherland honest but was unable to challenge. Lithgow made a place back with three laps to go. Finishing order was Sutherland, Christie, Lithgow, Leiper and Bailey.
1st – Nicky Sutherland (Stonehaven)
2nd – Rik Christie (Aberdeen)
3rd – Michael Lithgow (Kirkcaldy)
Senior Max (162kg)
Cameron Mcphee got the better start from Ben Burnett, Jonathan Edwards, Dominic Lund, Steven Bain and Murray Scott. Edwards moved to second on the second tour but by this time Mcphee had a 2 second gap that he maintained to the chequered flag. Murray Scott began to work his way through the field and by lap 9 he was third. Scott came home in third followed by Burnett, Bain and Lund.
1st – Cameron Mcphee (Inverurie)
2nd – Jonathan Edwards (Cornhill)
3rd – Murray Scott (Glenrothes)
Senior Max (177kg)
In the depleted 177 class Adrian Brodie took a comfortable victory over Alan Falconer.
1st – Adrian Brodie (Banff)
2nd – Alan Falconer (Inverness)
Historic Gearbox
Three of the four older gearbox karts took to the track with Gordon Gray's kart saying no more. Scott Mutch took the lead and was never challenged for the victory. David Wiseman was second followed by Scott Benton.
1st – Scott Mutch (Keith)
2nd – David Wiseman (Aberlour)
3rd – Scott Benton (Aberdeen)
KZUK Gearbox
From pole, Ryan Simpson was first out of the blocks and led from Gary Williams. Williams was chasing hard but made an error dropping wheel at the edge of the circuit giving Simpson several lengths. However Williams closed and it was on lap 10 he took the lead at the end of Boyndie straight. Simpson kept up the challenge but lost out by six tenths at the chequered flag.  Meanwhile Neil Anderson came home in third. Jack Simpson gained third position lap 8 with Ross Greig taking fourth several laps later. Greig closed in on Jack Simpson and as the chequered flag fluttered was only two tenths behind.  Anderson came home in fifth with Colin McIrvine in sixth.
1st – Gary Williams (Ellon)
2nd – Ryan Simpson (Mcduff)
3rd – Jack Simpson (Fraserburgh)
Sheryl Borton, Club Chairman, presented the trophies after the meeting.
Full race results can be viewed on Speedhive and championship points available on the BDOC page.