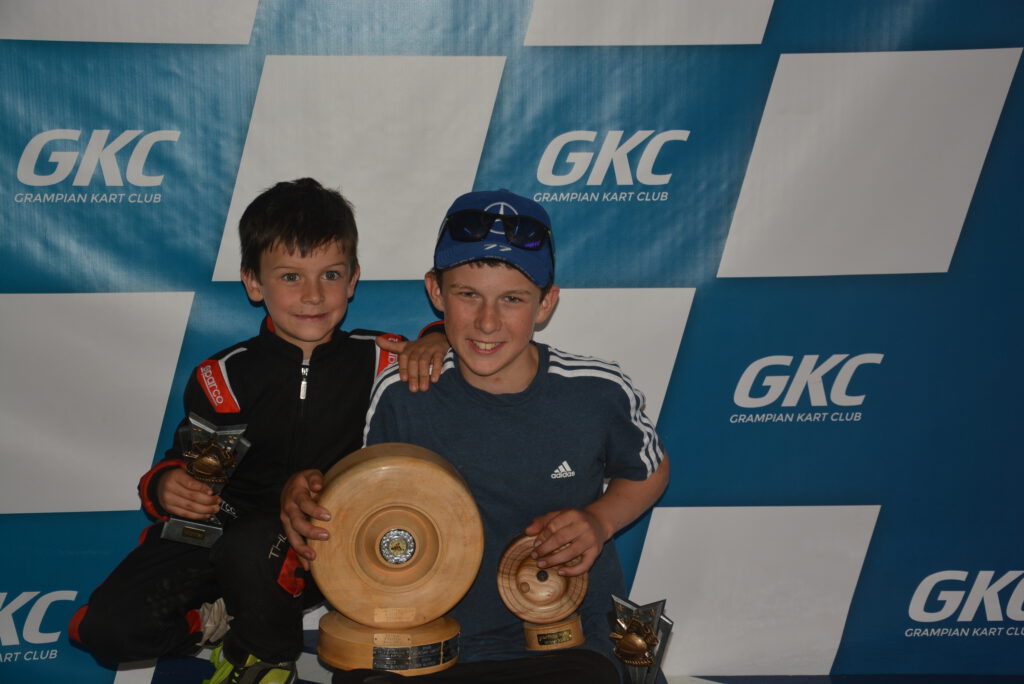 The fourth round of the Boyndie Drome Open Challenge was held over the weekend of 13th -14th August 2022.
On Saturday afternoon the club prokarts ran in hot sunny conditions with all other classes taking part on Sunday. Again Sunday was hot sunny conditions.
Feature trophies were Mike Philip Trophy, which the officials voted for the most impressive Junior driver and the JRD Cup for the most successful senior driver over the day.
Bambino (6-7 years old)
The four Bambino drivers lined up on the grid for a standing start and it was the 75 kart of Hamish Gordon who slotted between the front row drivers to lead up Boyndie Straight.  However Louis MacDonald was leading by the end of the first lap.  He was followed through by Luca Bicocchi and Bruno Simonelli.  Positions did not alter, and MacDonald took the victory from Bicocchi, Simonelli and Gordon.
1st – Louis MacDonald (Fyvie)
2nd – Luca Bicocchi (Inverallochy)
3rd – Bruno Simonelli (Dingwall)
Honda Cadets (8-12 years old)
The Honda Cadet final was red flagged when two karts crashed out.  The restart was single file until the red lights went out.  Thomas Jackson led the way from Bella Brown, Leo Massie and Amaya Thomson.  The front three remained in this order until the last lap when Brown got into the lead to take the victory. Jackson and Massie followed her home.  Oliver Newall came through to grab fourth from Calum Gardiner and John James Buchan.  Completing the top ten were Amaya Thomson, Finlay Smith, Sophie Ingram and Darren Bain.
1st – Bella Brown (Falkirk)
2nd – Thomas Jackson (Dunfermline)
3rd – Leo Massie (Huntly)
Hire Kart (lights) 15 years+
Kyle Donaldson took a comprehensive win with a lights to flag victory of 16 seconds.  Richard Evans was in second for most of the race but was passed by Mark Knowles and Callum Patience in the closing laps.  Knowles was second, Patience third with Evans fourth.  Blair Loggie and Katia Logie completed the top six.
1st – Kyle Donaldson (Inverurie)
2nd – Mark Knowles (Westhill)
3rd – Callum Patience (Aberdeen)
Hire Kart (heavies)
Elvis Sinuks got in front of Martin Stephen early in the final.  These two remained close though-out with Sinuks taking victory.  Sean Duncan took third and Roger Broughton was fourth following a stop go penalty.
1st – Elvis Sinuks (Peterhead)
2nd – Martin Stephen (Longside)
3rd – Sean Duncan (Aberdeen)
Mini Max
The final developed into the field splitting into three pairs of drivers. The front pair of Aiden MacDonald and Duncan Ingram was so close through the final. Ingram tried hard to overtake but MacDonald resisted every attempt. MacDonald, who had broken the class lap earlier, took the victory by two tenths from Ingram. Similarly Kyle Smith led Finlay Smith
through-out the final but the positions remained unaltered. The final pair of William Brazier and Owen Towler again kept their positions separated with two tenths at the line. Good racing all round.
1st – Aiden MacDonald (Fyvie)
2nd – Duncan Ingram (Macduff)
3rd – Kyle Smith (Aberdeen)
Junior Max
Due to Covid there was only two Junior Max drivers.  Craig Stephen took the victory from Matilda Brazier.
1st – Craig Stephen (Elgin)
2nd – Matilda Brazier (Newmacher)
Senior Twin Engine Prokarts
Although only three karts, it was always close with half a second covering them at the chequered flag.  Nicky Sutherland led all the way from Rik Christie and Dave Leiper.
1st – Nicky Sutherland (Stonehaven)
2nd – Rik Christie (Aberdeen)
3rd – Dave Leiper (Arbuthnott)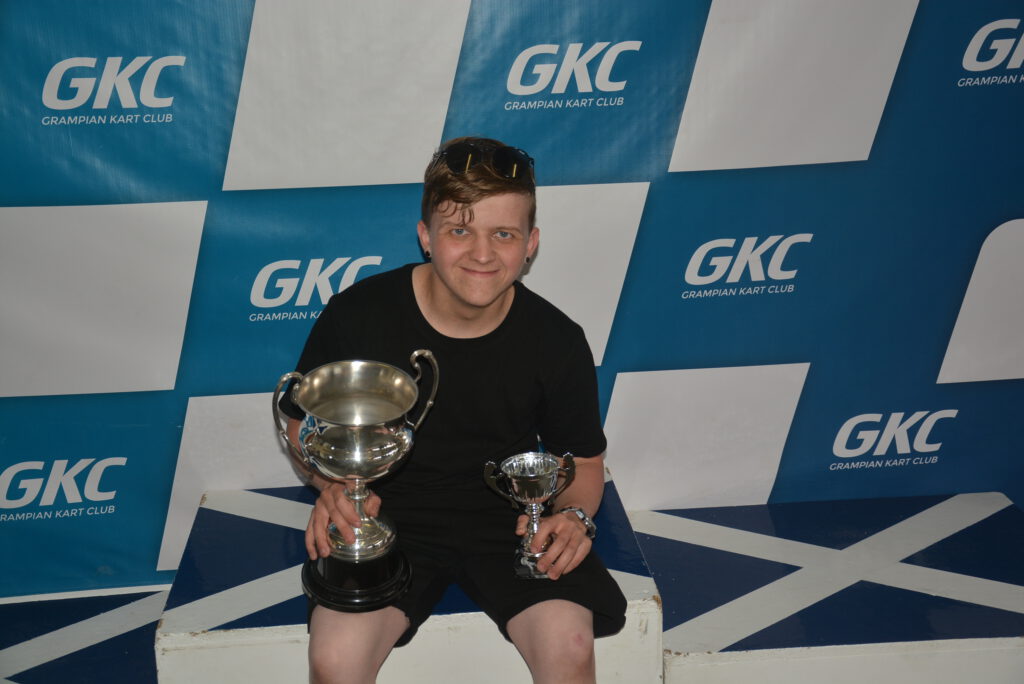 Senior Max (162kg)
Jonathan Edwards had the perfect day by winning all heats and the final collecting the JRD Cup.  In the final Edwards took lights to flag victory by almost four seconds.  The real contest was for second between Murray Scott and Dominic Lund.  After a couple of rehearsals Lund got to the inside of Scott at Kevins Korner on the penultimate lap.  Lund was only two tenth ahead of Scott at the line.  Steven Bain was fourth, half a second back.  Shaun Simpson was fifth.
1st – Jonathan Edwards (Cornhill)
2nd – Dominic Lund (Turriff)
3rd – Murray Scott (Glenrothes)
Senior Max (177kg)
In the 177 class Adrian Brodie punctured early, leaving Alan Falconer to take the victory.
1st – Adrian Brodie (Banff)
2nd – Alan Falconer (Inverness)
KZUK Gearbox
Pole-sitter Gary Williams took the lead when the lights went out.  Ben MacLeod chased hard but overcooked into pit corner taking out Williams on lap three.  Williams was able to continue but had dropped to fifth.  MacLeod retired on the spot with a broken kart.  Greg Moir inherited the lead and was well away from Gordon Hawton, Jack Simpson and Robert Strachan.  Williams began to push and fought back to third and closed in on Hawton.  On the last time up Boyndie Straight Williams made his move but there was a touch as a result both ended up on the grass with broken karts.  Moir took the chequered flag by six seconds over Simpson who was four tenth ahead of Strachan.  Neil Anderson came home in fourth ahead of Scott Mutch and Walter Wallace.
1st – Greg Moir (Huntly)
2nd – Jack Simpson (Fraserburgh)
3rd – Robert Strachan (Turriff)
Dorothy Wyness, Competition Secretary, presented the trophies after the meeting.
Full race results can be viewed on Speedhive and championship points available on the BDOC page.