The fifth round of the Boyndie Drome Open Challenge was held over the weekend of 10th -11th September 2022.
On Saturday afternoon the club hire karts ran in sunny conditions with all other classes taking part on Sunday.  Again Sunday was sunny conditions.
Feature trophies were Bambino Trophy for the winner of the class final.
September Cup for the most successful driver over the day.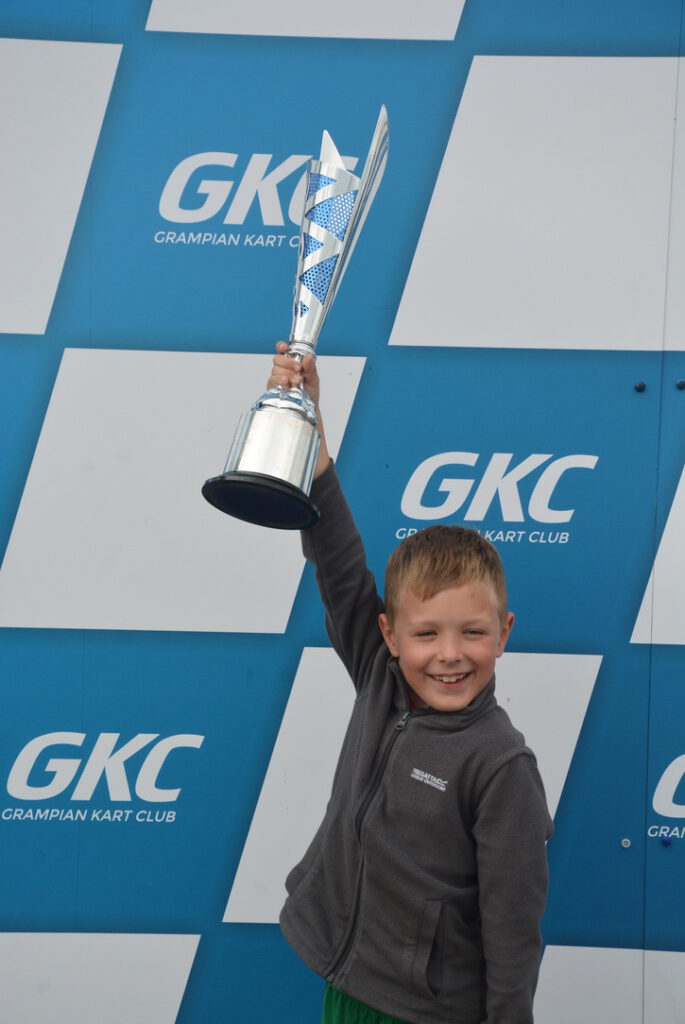 Bambino (6-7 years old)
A standing start saw Luca Bicocchi beat pole-man, Cooper Earsman off the line and was never headed and won the twelve lap final by six seconds. A close battle between Bruno Simonelli and Louis MacDonald lasted five laps until Simonelli's drive chain come off resulting in retirement. Hamish Gordon was fourth followed by Munroe Stephen and Arianna Benham.
1st – Luca Bicocchi (Inverallochy)
2nd – Cooper Earsman (Whitehills)
3rd – Louis MacDonald (Fyvie)
Honda Cadets (8-12 years old)
Ryan White from pole position led the cadet grid from the start lights. The chase was led by Thomas Jackson, Leo Massie, John James Buchan, Archie Canon, Sophie Ingram and Vinnie Lewis. White had opened a gap over the field.  Massie moved to second and began to close on White. Amaya Thomson moved up several places to sixth. Massie caught White on the last couple of laps but White held on to take the victory. Massie was only a tenth behind. A group of karts vied for third, entering the last corner between Buchan, Jackson, Cannon and Thomson. Buchan was pushed wide and after the race Jackson was given a four place penalty. Therefor the final result was White, Massie, Cannon, Thomson and Buchan. Sixth was Vinnie Lewis, followed by Jackson, Ingram, William Alexander and Lewis Stewart.
1st – Ryan White (Aberdeen)
2nd – Leo Massie (Huntly)
3rd – Archie Cannon (Leven)
Hire Kart (lights) 15 years+
The two classes (lights & heavies) ran together in a single final. From the lights it was Daniel MacRae, Keiran Smart and Kyle Donaldson who led off. This order remained the same until the second last lap when Smart got to the inside at Kevin's Korner. However MacRae was back in front at the end of Boyndie Straight on the next lap. Smart made the same move again at Kevin's Korner but held on to the chequered flag. As the administrator Smart disqualified himself. Therefore the final order was MacRae, Donaldson, Knowles and David Lyon.
1st – Daniel MacRae (Elgin)
2nd – Kyle Donaldson (Inverurie)
3rd – Mark Knowles (Aberdeen)
Hire Kart (heavies)
In the heavies Stuart Wyness led all the way for the victory.  Ayrton Redfearn was second ahead of Sean Duncan, Roger Broughton, Ben Noble and Peter Morrison.
1st – Stuart Wyness (Inverurie)
2nd – Ayrton Redfearn (Elgin)
3rd – Sean Duncan (Aberdeen)
Mini Max
The green helmet pair of Aiden MacDonald and Duncan Ingram were again to the fore in the Mini Max class. MacDonald got away from Ingram on this occasion to take victory by 3 seconds. Mya Simpson, Charlie Kelso and Kyle Smith had a race long battle but the order did not change. William Brazier was sixth.
1st – Aiden MacDonald (Fyvie)
2nd – Duncan Ingram (Macduff)
3rd – Mya Simpson (Dundee)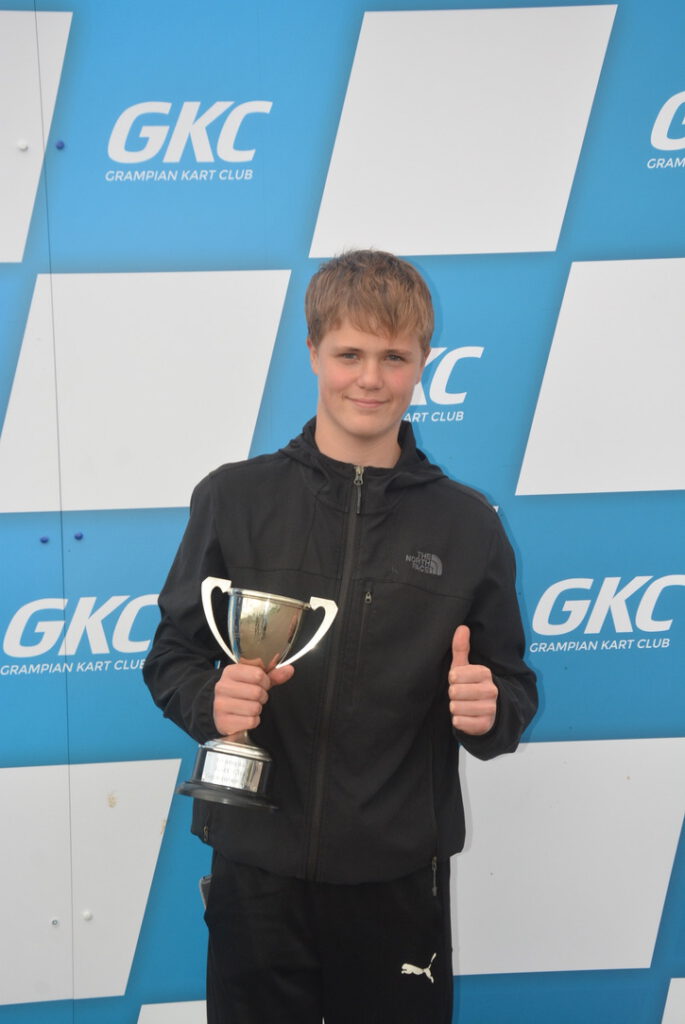 Junior Max
There was a red flag at the beginning of the race when two karts collided with one flipping over. Thankfully everyone was fine. At the restart Craig Stephen took the lead which he held to the chequered flag. Following his three heat wins he was presented with the September Cup. Mark Paterson slotted into second followed by Darren Guijt, Liam Kelso and Matilda Brazier. Brazier made a move on Kelso at mid distance. Paterson was second ahead of Guijt, Brazier and Kelso.
1st – Craig Stephen (Elgin)
2nd – Mark Patterson (Forgue)
3rd – Darren Guijt (Kennethmont)
Senior Twin Engine Prokarts
Nicky Sutherland took a light to flag victory with Dave Leiper and Rik Christie close behind.
1st – Nicky Sutherland (Stonehaven)
2nd – Dave Leiper (Arbuthnott)
3rd – Rik Christie (Aberdeen)
Senior Max (162kg)
Jonathan Edwards had a convincing victory in the 162 class. Keiran Smart and Dominic Lund had a close battle for second which was resolved in favour of Smart. Novice, Craig Coutts was fourth.
1st – Jonathan Edwards (Cornhill)
2nd – Keiran Smart (Oldmeldrum)
3rd – Dominic Lund (Turriff)
Senior Max (177kg)
Adrian Brodie took the 177 victory.  Alan Falconer had to retire with a broken rear bumper. Second was Gordon Black followed by Ross McWilliam.
1st – Adrian Brodie (Banff)
2nd – Gordon Black (Elgin)
3rd – Ross McWilliam (Elgin)
KZUK Gearbox
Greg Moir had mechanical problem and pitted on the rolling lap. Gary Williams took the lead from the Neil Anderson on the first lap. Ross Greig got Anderson at the end of Boyndie Straight on the third tour. Robert Strachan got him a lap later. From there on positions did not alter in the 15 lap final. Final order was Williams, Greig, Strachan, Anderson and Jack Simpson. 
1st – Gary Williams (Ellon)
2nd – Ross Greig (Fraserburgh)
3rd – Robert Strachan (Turriff)
Hamish Bruce, Club Secretary, presented the trophies after the meeting.
Full race results can be viewed on Speedhive and championship points available on the BDOC page.