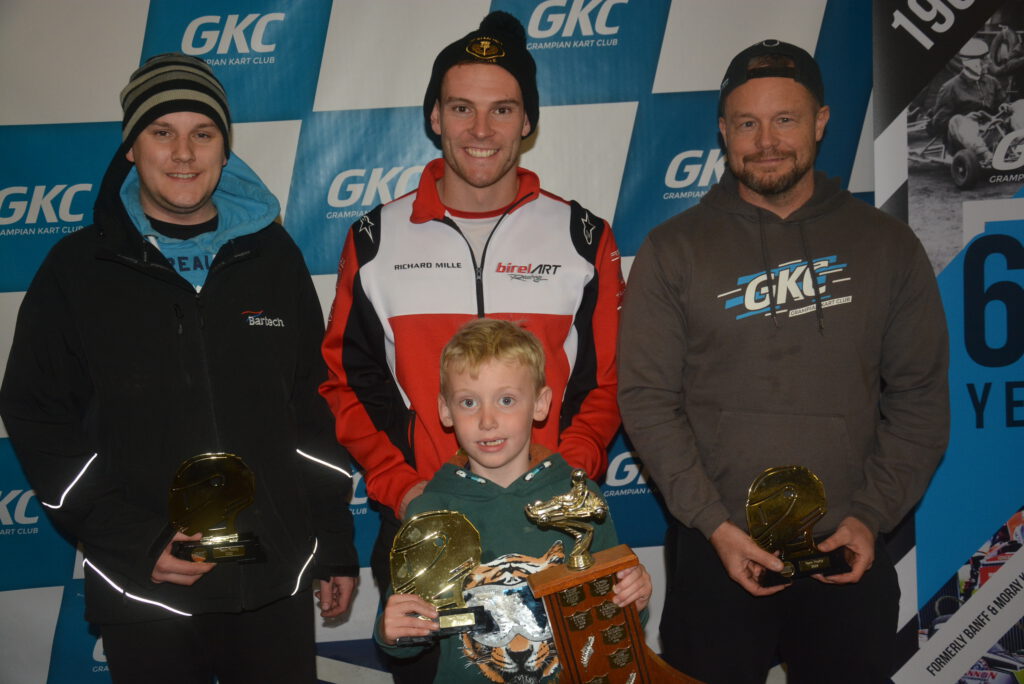 The sixth and final round of the Boyndie Drome Open Challenge was held over the weekend of 8th -9th October 2022.
On Saturday afternoon the club hire kart ran in sunny conditions with all other classes taking part on Sunday. Sunday saw a strong westerly wind turning southerly with a rain storm forecast for later in the day. Racing was completed before any rain fell.
Feature trophy of the day was the GKC Team Trophy for teams of four drivers picked out of a hat across all classes.
The rising stars award sponsored by Spyder Racing was also presented.
Bambino (6-7 years old)
From a standing start, Luca Bicocchi led the field of six bambino karts when the lights went out. Bicocchi took the win by 11 seconds. Close contest between Bruno Simonelli and Hamish Gordon lasted race long but the positions did not alter. Fourth was the A plate Cooper Earsman who was followed home by Louis MacDonald and Munroe Stephen.
1st – Luca Bicocchi (Inverallochy)
2nd – Bruno Simonelli (Dingwall)
3rd – Hamish Gordon (Glenrothes)
Honda Cadets (8-12 years old)
Pole sitter Ryan White, led when the starting lights went out from J J Buchan, Leo Massie, Thomas Jackson, Vinnie Lewis, and Sophie Ingram. White gradually increased his lead and went on take victory by 4 seconds in the 12 lap final.  Jackson got past Massie on the third lap. A very close battle between Buchan and Jackson for the remainder of the race ensued. On the final run from pit corner to the finish line the pair collided. Jackson collided with the barriers a few meters from the line. Unfortunately this resulted in a DNF. Buchan took second and Massie was third. Lewis had a good run for fourth. Archie Cannon gained a few places for fifth with Andrew Sutherland grabbing sixth position on the last lap.  The top ten was completed with Amaya Thomson, seventh, followed by Ingram, Darren Bain, and William Alexander.
1st – Ryan White (Aberdeen)
2nd – John James Buchan (Peterhead)
3rd – Leo Massie (Huntly)
Hire Kart (lights) 15 years+
Daniel MacRae was dominant to take the victory by 9 seconds. Richard Evans was second ahead of Sean Kelman. The top six were completed by Stanley Foster Rooke, Callum Patience and Sandy Donaldson.
1st – Daniel MacRae (Elgin)
2nd – Richard Evans (Banff)
3rd – Sean Kelman (Peterhead)
Hire Kart (heavies)
Dave Brown led home Joe Bicocchi by 2 seconds. Third was Martin Stephen who was only 0.3 seconds ahead of Elvis Sinuks. Roger Broughton was only 4 tenths back. Peter Morrison completed the top six.
1st – Dave Brown (Inverness)
2nd – Joe Bicocchi (Inverallochy)
3rd – Martin Stephen
Mini Max
Duncan Ingram led the small grid of Mini Max karts. Charlie Kelso followed close on his bumper. This pair was soon out on their own. The lead swapped on several occasions and it was Kelso who took the chequered flag. Ingram was second 0.7 seconds back. Third was Kyle Smith with Owen Towler fourth.
1st – Charlie Kelso (Kinross)
2nd – Duncan Ingram (Macduff)
3rd – Kyle Smith (Aberdeen)
Junior Max
Drama at the first corner when Eihli Smith got knocked wide resulting losing ground on the pack. Alex Hawcutt had the early lead which he retained to the chequered flag. Craig Stephen made up two places in the later part of the race to take second. Third belonged to Aiden MacDonald on his first outing in the junior class. Fourth was Mark Paterson with Smith taking fifth.
1st – Alex Hawcutt (Newtonhill)
2nd – Craig Stephen (Elgin)
3rd – Aiden MacDonald (Fyvie)
Senior Twin Engine Prokarts
The trio of Nicky Sutherland, Rick Christie and Dave Leiper were close together throughout the final. However there were no positional changes and the above order was the race result. Grant Miller was fourth.
1st – Nicky Sutherland (Stonehaven)
2nd – Rik Christie (Aberdeen)
3rd – Dave Leiper (Arbuthnott)
Senior Max (162kg)
Jonathan Edwards dominated the 162kg class by taking a comfortable victory.  Second was Kevin Maynell in his first visit to the circuit. Craig Coutts was third with Steven Bain and Owen Cruikshank not far behind. 
1st – Jonathan Edwards (Cornhill)
2nd – Kevin Meynell (Oxford)
3rd – Craig Coutts (Fraserburgh)
Senior Max (177kg)
In the 177kg class Adrian Brodie led with Gary Scott on his bumper. Scott took the lead mid distance and opened a gap to take the victory. Brodie was second followed by Alan Falconer and Gordon Black.
1st – Gary Scott (Elgin)
2nd – Adrian Brodie (Banff)
3rd – Alan Falconer (Inverness)
KZUK Gearbox
Pole-man Ally Smith led from the standing start from Ben Macleod and Neil Maclennan. Maclennan was second by the end of the first lap and was hunting down Smith. It was half distance when Maclennan took the lead and was never headed to take the victory. Macleod came home third with Robert Strachan fourth. Fifth and sixth were Ryan Magennis and Jack Simpson.
1st – Neil Maclennan (Tore)
2nd – Ally Smith (Peterhead)
3rd – Ben Macleod (Evanton)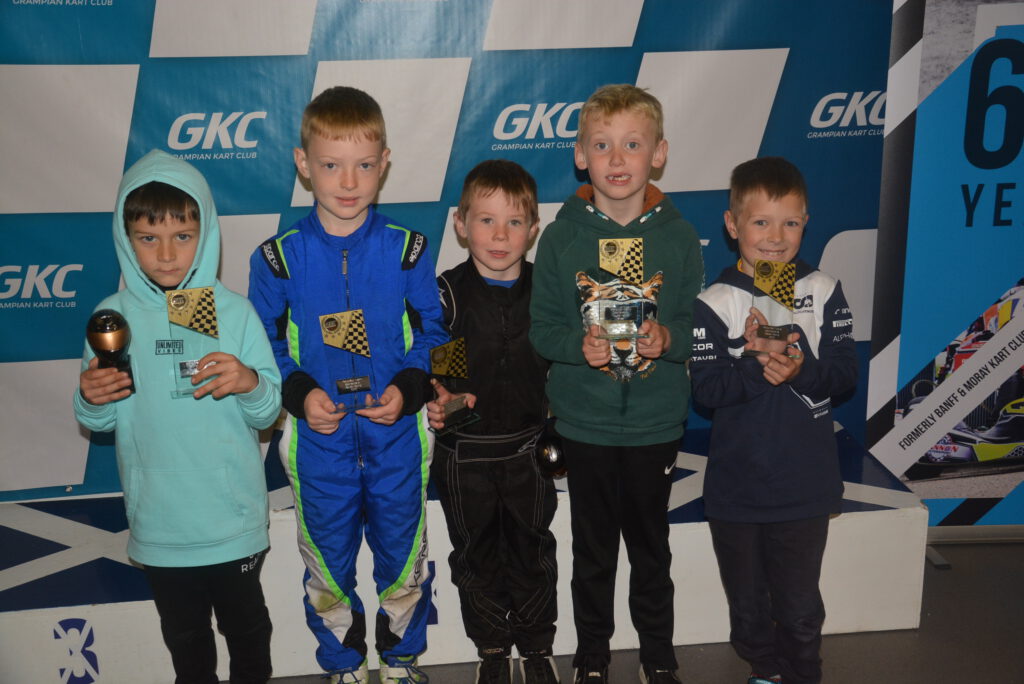 Karen Edwards, Club Treasurer, presented the trophies after the meeting.
The trophy presentation evening will be held at Beekies Neuk, Newmachar on Saturday 12th November.
The club AGM will be on 20th November in the Clubhouse at Boyndie.
Full race results can be viewed on Speedhive and championship points available on the BDOC page.