The third round of the Boyndie Drome Open Challenge took place on Sunday 12th May with wall-to-wall sunshine, which is a delightful change for previous 2019 meetings.
The feature trophy was the JRD Cup for senior drivers least points on the day) except gearbox drivers.
Bambinos
1st – Katie Donaldson (Dufftown)
2nd – Finlay Smith (Stuartfield)
3rd – Eilidh MacDonald (Turriff)
Honda Cadets
1st – Max Taylor (New Leeds)
2nd – Lennon Allardyce (Peterhead)
3rd – Rhys Ballie (Broxburn)
Mini Max
1st – Nathan Smith (Stuartfield)
2nd – Darren Guijt (Kennethmont)
3rd – Kieran Wood (Mintlaw) 
Junior Max
1st – Luke Scharf (Broughty Ferry)
2nd – Leon Henderson (Kingseat) 
3rd – Les Taylor (New Leeds)
Senior Max
1st – Keiran Smart (Oldmeldrum)
2nd – Fraser Ballantyne (Huntly)
3rd – Fraser Skene (Potterton)
Senior Max 177
1st – Robert Strachan (Cuminstown)
2nd – Matt McQueen (Golspie)
3rd – Alan Falconer (Inverness)
Senior Max Clubman
1st – Kes Watson (Oldmeldrum)
2nd – Steven Gall (Turriff)
3rd – Ross Raffan (Macduff)
Twin Engined Prokart (Owner Drivers)
1st – Gary Fleming (Arbroath)
2nd – Richard Christie (Aberdeen)
3rd – Grant Miller (Montrose)
Prokart (Club Hire)
1st – Ben Gordon (Whiterashes)
2nd – Daniel Macrae (Inverness)
3rd – Ben Burnett (Oldmeldrum)
KZ2 UK  (Gearbox) 
1st – Ryan Simpson (Macduff)
2nd – Neil Anderson (Insch)
3rd – Gary Warren (Aberdeen)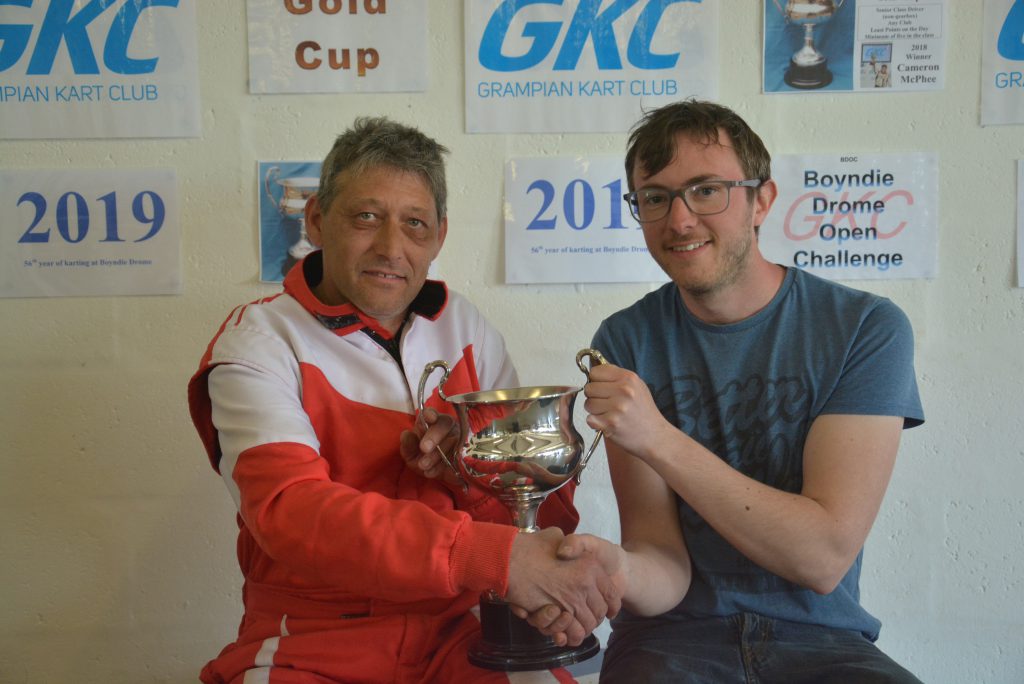 JRD Cup – Gary Fleming (Arbroath) / Keiran Smart (Oldmeldrum) (Shared)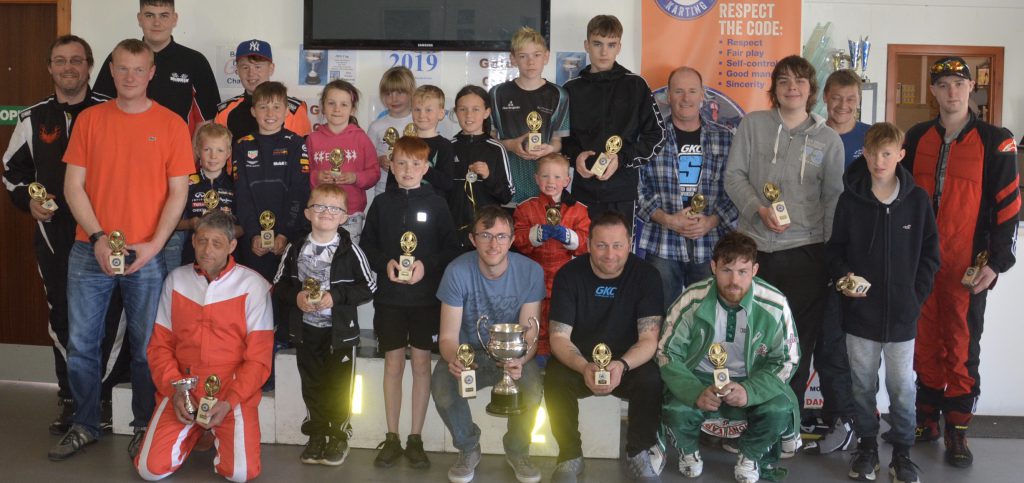 GKC Chair, Fraser Edwards, presented trophies after the meeting.
Next race meeting takes place on 9th June 2019.
MyLaps results available here – https://speedhive.mylaps.com/Events/1658322