The fifth round of the Boyndie Drome Open Challenge took place on Sunday 14th July with an overcast sky with the sun showing its face later in the afternoon.
The feature trophy was for the Pioneer Mutual Trophy for the least points on the day.
Bambino
Harry Matheson was the only Bambino driver and therefore took the victory.
1st – Harry Matheson (Muir of Ord)
Honda Cadets
Early on in the final a trio broke away from the pack. These were Leon Hastie, Rhys Ballie and Lennon Allardyce. A number of changes took place with Ballie leading going into the last lap. Hastie took the position on the last lap and the chequered flag followed by Ballie and Allardyce. Fourth was Ella Matherson who once into the place opened a gap. Fifth home was Cole Richie followed by Hayden Miller, Duncan Ingram and Sonny Brandie.
1st – Leon Hastie (Markinch)
2nd – Rhys Ballie (Broxburn)
3rd – Lennon Allardyce (Peterhead)
Mini Max / Junior Max
The small entry in Junior Max was won by Jonathan Edwards from Owen Ross. Kieran Wood took the Mini Max honours.
Mini Max
1st – Kieran Wood (Mintlaw)
junior Max
1st – Jonathan Edwards (Cornhill)
2nd – Owen Ross (Inverness)
Senior Max / 177 / Clubman
Fraser Skene took a lights to flag victory in the Senior Max final. He was hounded all the way by Steven Thomson who had to settle for second. Third home was Fraser Ballantyne ahead of Dominic Lund and Steven Bain.
In the 177 class Robert Strachan took victory over Stewart Thomson.
Ross Raffan lead the Clubman class from John Fairclough. Peter Lesisz had slotted into third ahead of Scott Penny and Ross Barron. The positions did not change and Raffan took the win from Fairclough, Lesisz, Penny and Barron.
Senior Max
1st – Fraser Skene (Potterton)
2nd – Steven Thomson (Barthol Chapel)
3rd – Fraser Ballantyne (Huntly)
Senior Max 177
1st – Robert Strachan (Cuminstown)
2nd – Stewart Thomson (Tarves)
Senior Max Clubman
1st – Ross Raffan (Macduff)
2nd – John Fairclough (Peathill)
3rd – Peter Lesisz (Huntly)
KZ2(UK)
From the lights Gary Warren got to the inside of pole-man Gary Williams and the two ran wide allowing Neil Anderson to undercut the pair. Anderson was well away and took the victory. Warren and Williams took up the chase with the latter slotting into second on the second tour. No other positional changes took place. Fourth was Ryan Simpson, followed home by Charlie Mackintosh and Roy Thomson.
1st – Neil Anderson (Insch)
2nd – Gary Williams (Ellon)
3rd – Gary Warren (Aberdeen)
Prokarts
There was close battle for the whole race distance of 10 laps between Rik Christie and Grant Miller. Christie edged the win as they crossed the line. Stuart Webb was third.
In the club prokarts Ben Gordon took the early lead from Daniel Macrae, Logan Blake, Darren Scott, Ross McWilliam aand Kerrian Glen. Numerous changes took place in the midfield pack and once the race settled down it was Gordon, Macrae, Scott, Ben Burnett, Blake, McWilliam. More change took place and at the finishing line it was Gordon, Macrae, Blake, Scott, McWilliam, Burnett and Glen.
Owner driver
1st – Richard Christie (Aberdeen)
2nd – Grant Miller (Montrose)
3rd – Scott Webb (Kennethmont)
hire karts
1st – Ben Gordon (Whiterashes)
2nd – Daniel Macrae (Inverness)
3rd – Logan Blake (Oldmeldrum)
Pioneer Mutual Shield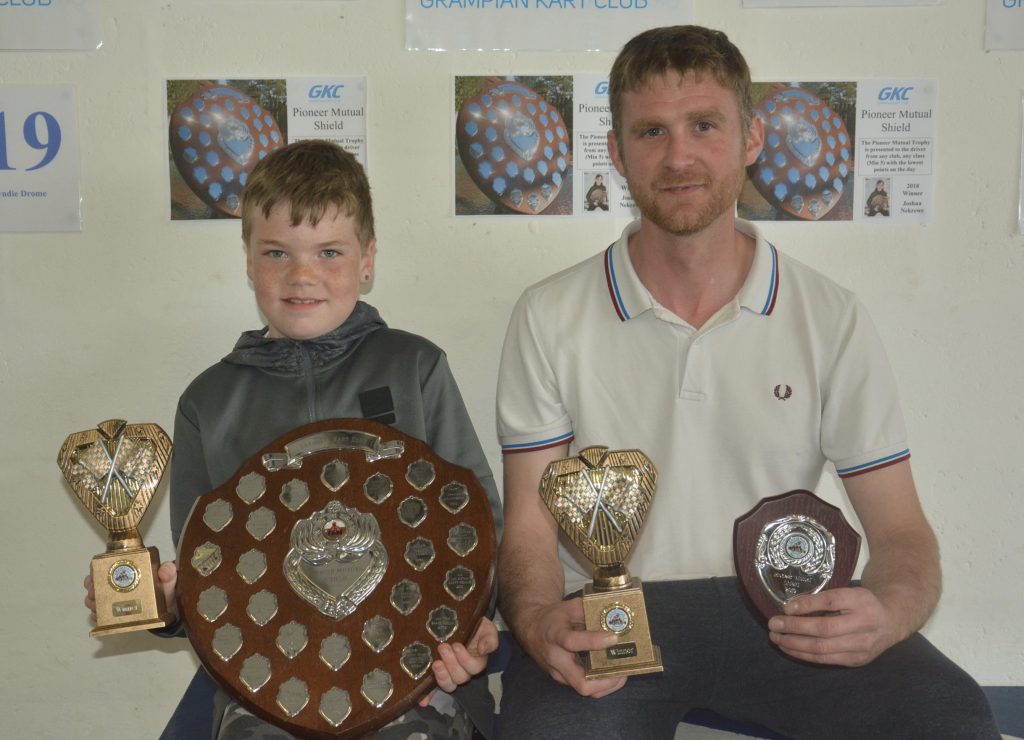 Leon Hastie & Fraser Skene (shared)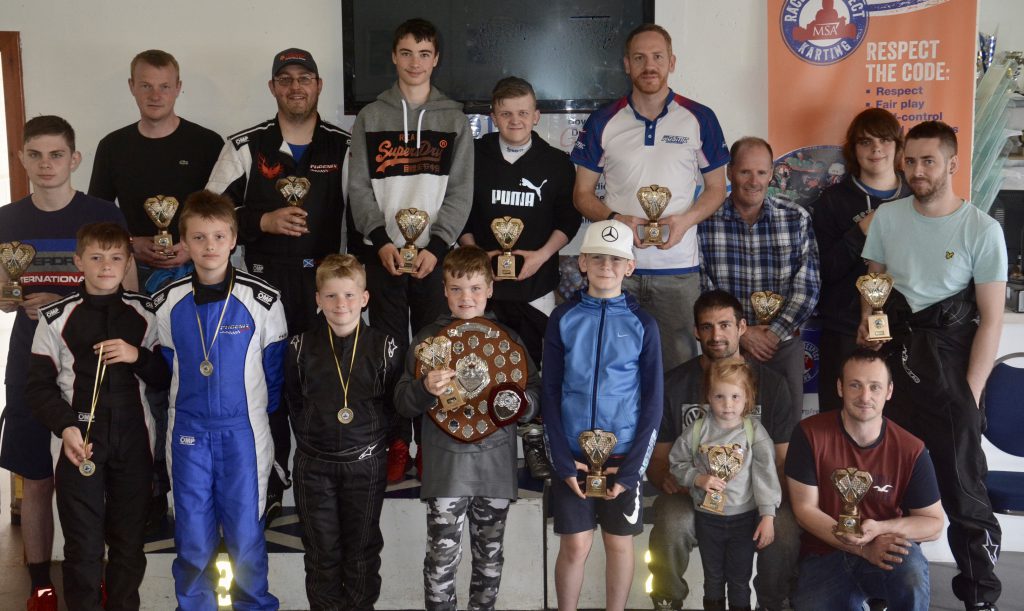 GKC Chair, Fraser Edwards, presented trophies after the meeting.
Next race meeting takes place on 11th August 2019.