The weekend proved to be quick with two lap records broken over the two days.
Feature Trophies of the day were:-
GKC Cadet Cup – Cadet Class – Least points on the day (Saturday)
Pioneer Mutual Shield – Any class – Least points on the day (Sunday)
Bambino
Amaya Thomson looked the quickest of the four bambino drivers in the four time trial heats setting the quickest time of 52.938 seconds in heat one. Jude Buchan was second followed by Cooper Earsman and Nico Henderson.
1st – Amaya Thomson (Prestonpans)
2nd – Jude Buchan (Mintlaw)
3rd – Cooper Earsman (Whitehills)
Honda Cadets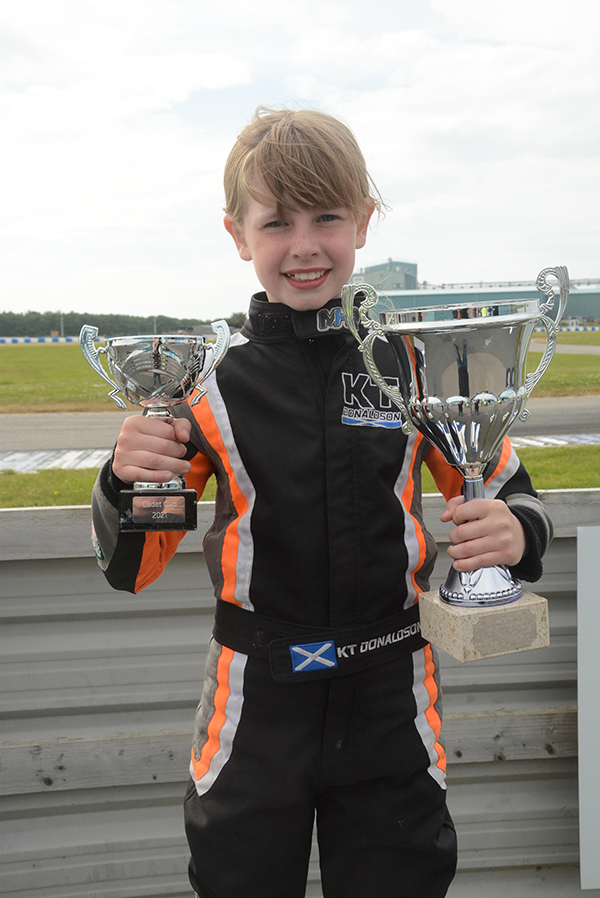 The Honda Cadet drivers produced the best race of the day. This followed the heats with Katie Donaldson and Aiden MacDonald trading the class lap record. Donaldson set a new low of 43.531 seconds. Donaldson led from the lights from Leo Massie and Aiden MacDonald. This trio opened a gap on the field. Donaldson and MacDonald exchanged the lead several times. Through Seafield they got a little too close as wheels interlocked and both were launched in the air but to no harm. With the front trio squabbling a second trio of Daniel Dempster, Calvin Moffat and Duncan Ingram were closing in and on the last lap there was a snake of six. Donaldson saw the chequered flag first with MacDonald, Massie, Dempster, Moffat and Ingram all within 1.2 seconds. Logan Silvia-Domingo and Mya Simpson were under 0.2 seconds as the crossed the line for seventh and eighth. Vinnie Lewis and Theo Ingram completed the top ten.
1st – Katie Donaldson (Dufftown)
2nd – Aiden Macdonald (Woodhead)
3rd – Leo Massie (Huntly)
Cadet Cup – Katie Donaldson (Dufftown)
Hire Kart (lights)
Poleman Daniel MacRae took the lead and was never headed to chequered flag. Duncan Ross was second ahead of Mark Knowles and Richard Evans.
1st – Daniel MacRae (Elgin)
2nd – Duncan Ross (Lumphanan)
3rd – Mark Knowles (Aberdeen)
Hire Kart (heavies)
Neil Halliwell took a lights to flag victory. Scott Duncan was second ahead of Richard Evans, Greame Simpson, Ayrton Refern and Roy Wilson.
1st – Neil Halliwell (Kintore)
2nd – Scott Duncan (Portsoy)
3rd – Richard Evans (Banff)
Mini Max
Eihli Smith took a comfortable victory in the Mini Max class. A race long close battle for second place between Liam Watson and Kyle Smith was resolved in the former. Cameron Hobson was fourth.
1st – Eihli Smith (Westhill)
2nd – Liam Watson (Aberdeen)
3rd – Kyle Smith (Aberdeen)
Junior Max
Craig Steven led from the lights with the other three juniors of Darren Guijt, Mark Paterson and Cole Richie in hot pursuit. Richie moved to third on the third tour. At the start of lap ten at Gate Corner Both Guijt and Richie got past Steven. The quadruple continued at great pace until the chequered flag. Guijt took the victory was closely followed by Richie, Steven and Paterson all within two seconds.
1st – Darren Guijt (Kennethmont)
2nd – Cole Rithie (Aberdeen)
3rd – Craig Steven (Elgin)
Senior Twin Engine Prokarts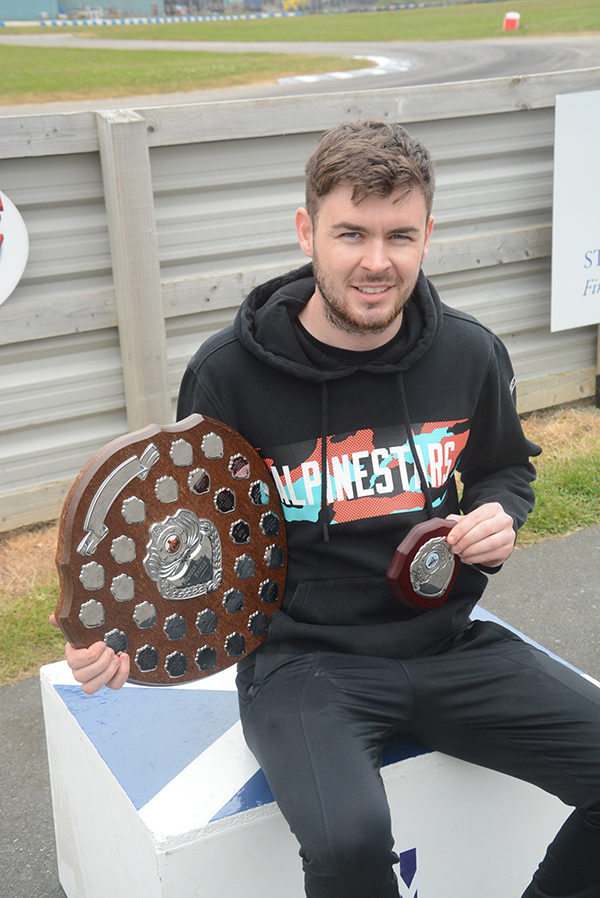 Crail champion, Murray Scott, had set a new class lap record of 42.213 seconds earlier in the heats. From pole Scott led from Rik Christie, Nicky Sutherland And David Leiper. The order remained unaltered. Completing the top six were Sean Webb and Scott Webb.
1st – Murray Scott (Glenrothes)
2nd – Rik Christie (Aberdeen)
3rd – Nicky Sutherland (Stonehaven)
Pioneer Mutual Shield – Murray Scott (Glenrothes)
Senior Max (162kg)
Kes Watson, Steven Thomson and Jonathan Edwards formed a close relationship in the 162 final. The trio were bumper for the 15 lap final. However positions did not change with Watson taking his first victory. Thomson was runner-up and Edwards third. Completing the top six were Ross Raffan, Dominic Lund and Steven Bain.
1st – Kes Watson (Oldmeldrum)
2nd – Steven Thomson (Barthol Chapel)
3rd – Jonathan Edwards (Cornhill)
Senior Max (177kg)
A collision early on in the final between Stewart Thomson and Robert Strachan caused Thomson to retire with a broken exhaust. Adrain Brodie had opened a sizeable lead but Strachan took up the chase and closed Brodie down on the last lap. Brodie robustly defended and crossed the line ahead of Strachan. Strachan was disqualified for the earlier incident.
1st – Adrian Brodie (Banff)
2nd – Stewart Thomson (Tarves)
Senior Max Clubman
John Fairclough had a comfortable victory over Raymond Campbell and Iain Thomson.
1st – John Fairclough (Peathill)
2nd – Raymond Campbell (Buckie)
3rd – Iain Thomson (Inchmarlo)
Historic Gearbox
David Wiseman had a comfortable victory over Scott Benton who had a intermittent problem with a coil.
1st – David Wiseman (Aberlour)
2nd – Scott Benton (Aberdeen)
KZUK Gearbox
Ally Smith was the class of the field with a lights to flag victory. Neil Anderson slotted into second and was never troubled. Darren Scott fluffed the standing start and Ross Greig took advantage. Scott chased down Greig and it was on lap 11 at the end of the straight when he moved to third. No other changes took place.
1st – Ally Smith (Peterhead)
2nd – Neil Anderson (Insch)
3rd – Darren Scott (Elgin)
The next BDOC will be 12th-13th July 2021.
Hamish Bruce presented the trophies.
Full race results can be viewed on Speedhive and championship points available on the BDOC page.