A dry two days of racing with a dramatic conclusion to Sunday's finals with thunder and lightning followed by torrential rain, flooding the circuit and clubhouse.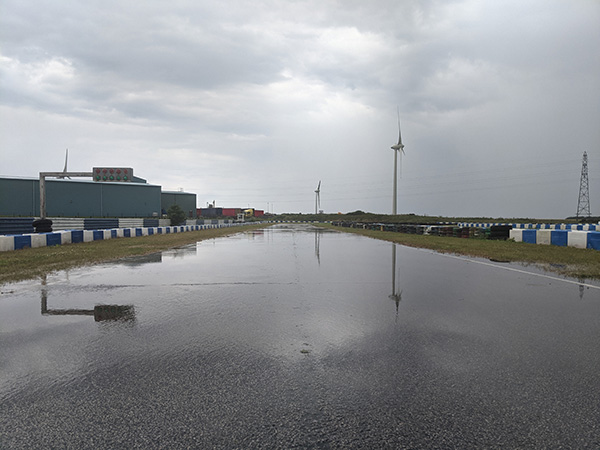 Feature Trophies of the day were:-
Prokart Challenge – Most points on the day.
Granville Grubb Memorial Challenge – Winner of the KZ final.
Bambino
Newly crowned Scottish Champion at Crail last week, Amaya Thomson was the quickest kart over the four time trial heats. Archie Cannon and Jude Buchan took the other two steps of the podium. Fourth was Lewis Kirkaldy followed by George Simmons, Nico Henderson and Cooper Earsman.
1st – Amaya Thomson (Prestonpans)
2nd – Archie Cannon (Leven)
3rd – Jude Buchan (Mintlaw)
Honda Cadets
Drama occurred on the dummy grid when Katie Donaldson failed to start. Leo Massie led the first lap from Aiden MacDonald, Finlay Smith and Daniel Dempster.
MacDonald moved into the lead on the second tour. Smith and Dempster moved ahead of Massie on the next lap. Massie moved back to third the following lap. The race order settled down and MacDonald took the win from Smith by a tenth of a second. Dempster grabbed third on the last lap from Massie. Duncan Ingram came home ahead of Alex Simmons, Thomas Jackson. Tylor Edminson was the first novice home from Sophie Ingram and Theo Ingram.
1st – Aiden MacDonald (Woodhead)
2nd – Finlay Smith (Stuartfield)
3rd – Daniel Dempster (Daviot)
Hire Kart (lights)
Mark Knowles took the victory from Duncan Ross by 1.2 seconds. Third was Aiden Carl Hawker from Chris Hedley and Ernie Knowles.
1st – Mark Knowles (Aberdeen)
2nd – Duncan Ross (Lumphanan)
3rd – Aiden Carl Hawker (St Andrews)
Hire Kart (heavies)
Marc Morrison took the victory from Ewan Littlejohn and Ayton Redfearn.
1st – Marc Morrison (Elgin)
2nd – Ewan Littlejohn (Inverurie)
3rd – Ayron Redfearn (Paignton)
Prokart Challenge – Marc Morrison (Elgin)
Mini Max
Only two Mini Max karts the outcome was decided at the first corner when Kyle Smith spun and he was never able to catch the winner Liam Watson.
1st – Liam Watson (Aberdeen)
2nd – Kyle Smith (Aberdeen)
Junior Max
Craig Stephen led from the lights to take his first victory. Mark Paterson slotted into second with Cole Ritchie in third. No positional changes took place during the final and the above order was the result.
1st – Craig Stephen (Elgin)
2nd – Mark Paterson (Forgue)
3rd – Cole Ritchie (Aberdeen)
Senior Twin Engine Prokarts
Murray Scott led from the lights and opened a considerable gap over the field to take the victory. Close race long battle between Dave Leiper and Rik Christie was resolved in favour of Christie. Nicky Sutherland, Ralph Sturrock and Alexander Sutherland completed the top six.
1st – Murray Scott (Glenrothes)
2nd – Rik Christie (Aberdeen)
3rd – Nicky Sutherland (Stonehaven)
Senior Max (162kg)
Poleman, Keiran Smart took the early lead from Kes Watson, Dominic Lund and Jonathan Edwards. Edwards got ahead of Lund on lap 2. Edwards chased down Watson and at the top of the circuit the two clashed resulting in Watson dropping to sixth. Edwards continued. Smart took the win from Edwards on the road. Lund came home third ahead of Ross Raffan and Steven Bain. The fuming Watson came sixth. After the race the Clerk of Course penalised Edwards for the earlier incident placing him sixth. As a result everyone second back moved up one place.
1st – Keiran Smart (Oldmeldrum)
2nd – Dominic Lund (Cuminestown)
3rd – Ross Raffan (Macduff)
Senior Max (177kg)
Adrain Brodie led Billy Falconer in close attendance. There seamed to be a misfire from Brodies kart and it came home to roost on lap 13. Falconer went on to take the victory.
1st – Billy Falconer (Inverness)
2nd – Adrian Brodie (Banff)
Senior Max Clubman
1st – Michael Paton (Elgin)
Historic Gearbox
Scott Benton fluffed the standing start and David Wiseman took the lead. However Benton got the red kart flying and caught and passed Wiseman mid distance to take the victory.
1st – Scott Benton (Aberdeen)
2nd – David Wiseman (Aberlour)
KZUK Gearbox
A 10 minute delay occurred before the start of the KZ final and the rumbles of thunder were getting closer with the occasional flash of lightning.
From a standing start, Ally Smith, led up Boyndie straight. Neil Maclennan, Gary Warren, Gary Williams and Ryan Simpson followed closely. Maclennan retired on lap 8, reportable his engine had came loose. Simpson was chasing Williams and made his move into pit corner to take second. Williams fought back immediately and regained the position at the end of Boyndie Straight. A three way battle was taking place between Warren, Neil Anderson and Ross Greig for fourth. Smith took the chequered flag from Williams a tenth ahead of Simpson. Warren, Anderson and Greig finished a half second apart to complete the top six.
As soon as karts finished, monsoon conditions hit the circuit.
1st – Ally Smith (Peterhead)
2nd – Gary Williams (Ellon)
3rd – Ryan Simpson (Macduff)
Granville Grubb Memorial Trophy – Ally Smith (Peterhead)
The next BDOC will be 7th-8th August 2021.
Gary Warren presented the trophies in the clubhouse.
Full race results can be viewed on Speedhive and championship points available on the BDOC page.