The final race meeting of 2021 ran over the weekend of 9-10th October.
The club's hire karts ran on Saturday afternoon in wet conditions. All other classes were on Sunday starting on greasy/damp conditions but the track dried slowly during the day.
Feature Trophies were the GKC Team Trophy (drivers were put into team of four by ballot) and a new trophy – Rising Star Trophy sponsored by Spyder Racing.
Over 100 drivers had assembled for weekend's racing which also counted as Round 1 of the two round Northern Challenge with North of Scotland Kart Club in Golspie.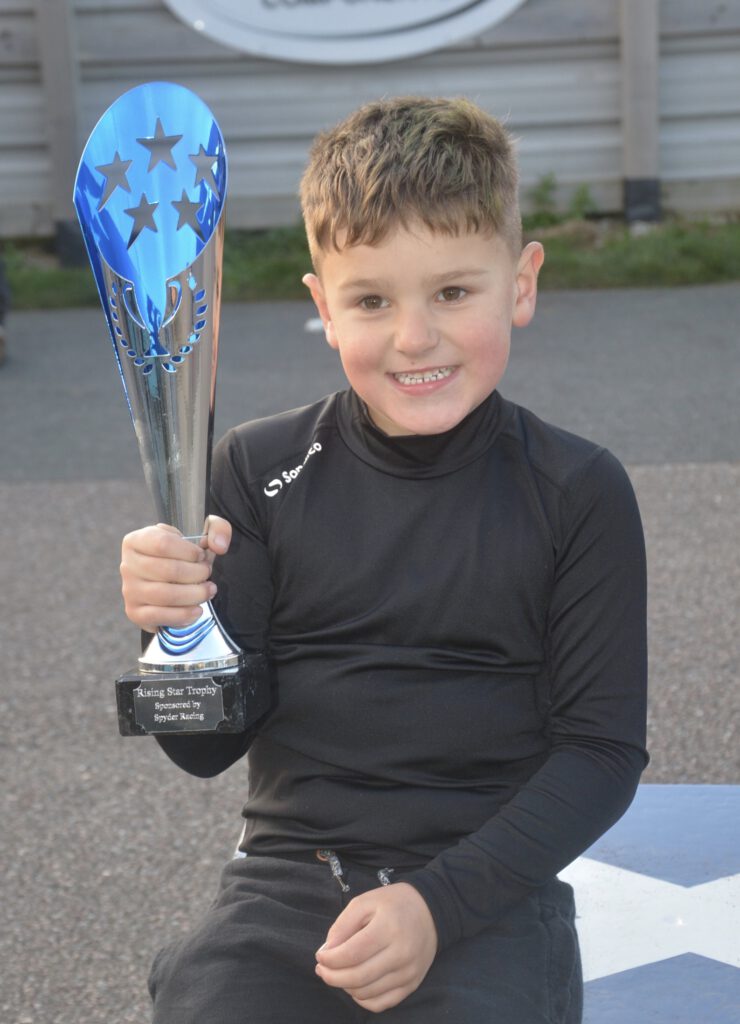 Bambino
The six Bambinos took to the track for their four time trial heats. Jude Buchan took the victory from Amaya Thomson and Lewis Kirkaldy. Fourth was Archie Cannon and Cooper Earsman, fifth with Heather Joy Sutherland, sixth.
1st – Jude Buchan (Mintlaw)
2nd – Amaya Thomson (Prestonpans)
3rd – Lewis Kirkaldy (St Andrews)
Honda Cadets
Leo Massie was the early leader with Katie Donaldson and Aiden MacDonald in close attendance. Donaldson and MacDonald both got through on lap two. Donaldson led until lap 11 when MacDonald got on the inside at Kevin's Korner and on the run down to Shirlaw's was clearly in front. Massie followed MacDonald threw and there was a touch with Donaldson which sent Donaldson onto the grass. Whilst recovering onto the circuit she spun and this allowed Finlay Smith, Euan House and Daniel Dempster through. MacDonald took the chequered flag a tenth ahead of Massie. Smith was third ahead of House and Dempster. A disappointed Donaldson recovered and was sixth. The top ten was completed by Thomas Jackson, Mya Simpson, Logan Silvia-Domingo and Andrew Sutherland.
1st – Aiden MacDonald (Woodhead)
2nd – Leo Massie (Huntly)
3rd – Finlay Smith (Stuartfield)
Hire Kart (lights)
Neil Halliwell took the victory from the hard charging Daniel MacRae. Third was Linda Bonner from Mark Knowles, fourth. The top six were completed by Duncan Ross and Stephen Buchan.
1st – Neil Halliwell (Kintore)
2nd – Daniel MacRae (Elgin)
3rd – Linda Bonner (Stuartfield)
Hire Kart (heavies)
In wet conditions, Marc Morrison and Stuart Wyness were having a close battle for the lead in the early laps. Wyness got the lead on lap three at the end of Boyndie Straight and was able to pull away to the chequered flag. Mike Rose came home in third. Ryan Cameron gained two places during the final for fourth. James Burnett was fifth and the recovering Ayrton Redfearn from an earlier spin grabbed sixth on the last lap.
1st – Stuart Wyness (Inverurie)
2nd – Marc Morrison (Elgin)
3rd – Michael Rose (Auchnagat)
Mini Max
The front pair of Eilli Smith and Duncan Ingram moved away from the pack. Ingram was tucked in behind Smith and kept him honest race long. Smith took the victory by three tenths from Ingram. Liam Watson was third. A close battle for fourth between Matilda Brazier and Rachel Turnbull, got a bit to close, but positions did not alter. Brazier was fourth and Turnbull fifth.
1st – Eihli Smith (Westhill)
2nd – Duncan Ingram (Banff)
3rd – Liam Watson (Aberdeen)
Junior Max
Reece Duthie took the lead from the lights and was never headed. Craig Stephen and Nathen Smith chased after Duthie. Smith, on the last lap grabbed second from Stephen. Mark Paterson and Alex Hawcutt changed positions several times with Paterson taking fourth at the line with Hawcutt a tenth back. Jack Ryan was sixth followed home by Darren Guijt and Rhuairidh McDonald.
1st – Reece Duthie (Stuartfield)
2nd – Nathan Smith (Stuartfield)
3rd – Craig Stephen (Elgin)
Senior Twin Engine Prokarts
C plate, Murray Scott, completed his sixth victory of the 2021 Boyndie Challenge. On this occasion Scott had a 3.7 second lead over Nicky Sutherland. Dave Leiper was third with Rik Christie on his bumper. Ralph Sturrock was in close attendance for fifth. Mike Rose completed the top six.
1st – Murray Scott (Glenrothes)
2nd – Nicky Sutherland (Stonehaven)
3rd – Dave Leiper (Arbuthnott)
Senior Max (162kg)
Another close race saw Gary Bird take the lead when the lights went out, closely followed by Keiran Smart, Jonathan Edwards, Dominic Lund and Logan Blake. Bird and Smart opened a gap over Edwards. Smart was pushing hard but Bird seemed to have his measure. As the front pair battled, Edwards closed back in. Bird went defensive on the last lap and held on to win. Three tenths covered the trio as they crossed the line with Smart second and Edwards third. Lund and Blake were fourth and fifth. Kes Watson recovered from an early spin to take sixth.
1st – Gary Bird (Muir of Ord)
2nd – Keiran Smart (Oldmeldrum)
3rd – Jonathan Edwards (Cornhill)
Senior Max (177kg)
The Super Series Champion, Jamie Mackay led away from Robert Strachan. Strachan attacked at the end of the straight a couple times and got in front but Mackay was able slip back in the inside to retain the lead. After 15 laps the pair were locked together with Mackay holding on for the victory 0.2 seconds. Adrian Brodie was third early on with Billy Falconer challenging. Falconer gained third on lap 7 and pulled a gap. Stewart Thomson was fifth with Callum MacLeod taking the Clubman prize.
1st – Jamie Mackay (Halkirk)
2nd – Robert Strachan (Cuminestown)
3rd – Billy Falconer (Inverness)
Historic Gearbox
From the lights the growl of the 250cc kart of Neil McWillian took the lead and was never troubled. Davy Wiseman initially took up chase followed by Scott Benton. Wiseman slowed dramatically which turned out to be a puncture. This allowed Benton to slot into second. Wiseman retired. McWilliam took the victory with Benton second.
1st – Neil McWillian (Elgin)
2nd – Scott Benton (Aberdeen)
3rd – David Wiseman (Aberlour)
KZUK Gearbox
From the standing start, Rory MacLennan led from Ryan Cannon, newly crowned British Champion, who had slotted ahead of Ben MacLeod and Ryan Simpson. The front pair opened a small gap from the pack. Every move Cannon made MacLennan was able to counter and held the lead. It was a race long 16 lap final battle but MacLennan took the chequered flag by 2 tenths from Cannon. Meanwhile Simpson had grabbed third on lap three. MacLeod regained the position with 3 laps to go at the end of Boyndie Straight. Fifth home was Alex Mackay followed by Greg Moir who had grabbed the position the last lap from Roy Thomson. Gordon Hawton, Gary Williams and Neil Anderson completed the top ten.
1st – Rory MacLennan (Strathpeffer)
2nd – Ryan Cannon (Leven)
3rd – Ben Macleod (Evanton)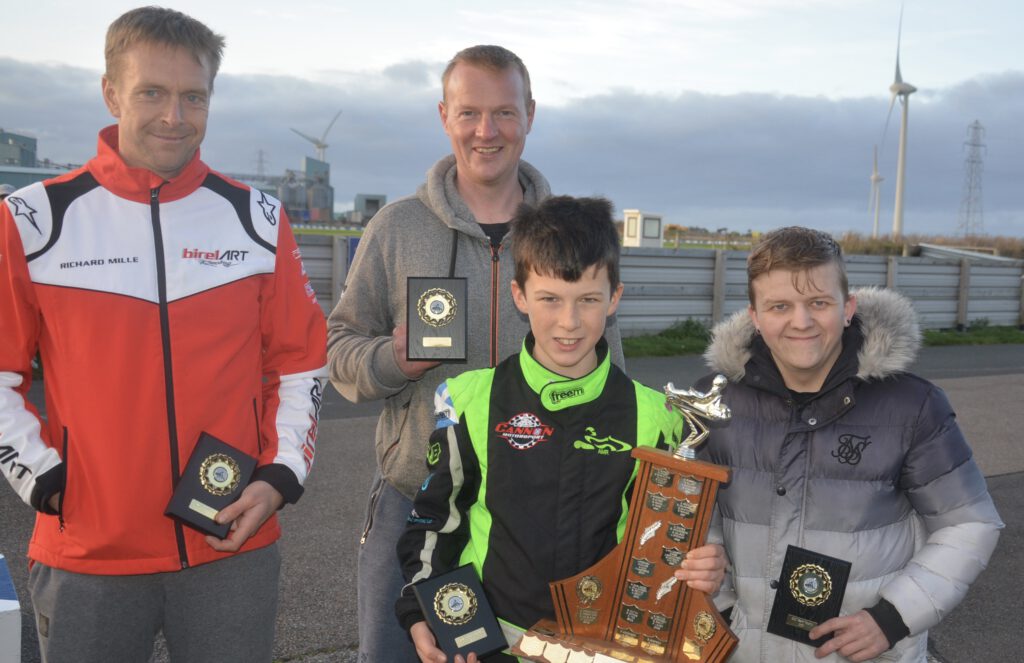 Gary Warren, Vice Chairman, presented the trophies.
This concludes the 2021 kart racing season at Boyndie Drome. The second round of the Northern Challenge takes place at Golspie on 31st October.
GKC Committee would like to thank all officials and marshals for their help in running the 2021 meetings.
Full race results can be viewed on Speedhive and championship points available on the BDOC page.