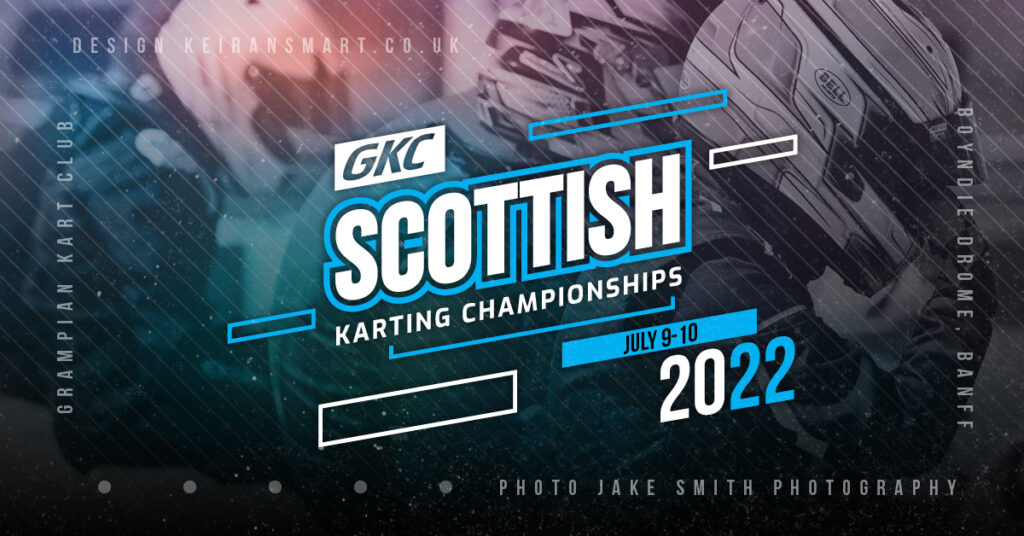 Grampian Kart Club will host the annual ASKC Scottish Championship 'S' Plate meeting over the weekend of July 9-10. The prestige Championship won by the likes of David Coulthard and Alan McNish will entitle the winner to wear the 'S' plate for their class.
To compete in this Championship you must hold a current Motorsport UK racing licence, be a member of an ASKC registered kart club (ESKC, NSKC, GKC or WSKC) and have applied to the ASKC for a race number.
You must run your ASKC registered race number in the correct colours and size. GKC doesn't have a supply of race numbers – please ensure you are aware of the requirements to compete in a Motorsport UK/ASKC event.
Meeting Format
Bambinos will compete in 5 timed heats with the total score of all 5 heats deciding the standings for the meeting.
Duration of Bambino heats will be 8mins.
All other classes will do a timed heat with fastest lap to slowest declaring the standings for that heat. Heat 2 grid will be the result of heat 1 followed by 2 heats with grids calculated by receipt of entry. All drivers will receive at least 1 final. Final grid positions will be awarded by merit of points scored in the heats.
Duration of heats 8mins + 1 lap and finals 14mins + 1 lap
Provisional Programme
Friday
Practice : 9am – 4pm, cost of £30
Saturday
8:30am – Signing On
9:00am – 11am – Practice
10:30am – 12noon – Scrutineering
12noon – 12:30pm – Lunch
12:30pm – Drivers Briefing
1:00pm – Official 3 lap practice
Followed by heats 1 and 2 for all classes
Sunday
9:30am – Drivers Briefing
9:45am – Optional 3 lap practice
Followed by heat 3, 4 and (5 for bambinos) finals
£7.50 for 1 course and £10 for 2 courses.
Cost
Weekend entry – £150 (Friday practice additional £30)
Transponder hire – £10
Camping and electricity
Camping will be available. Anyone who wishes to make use of the electric hook-up can do so at a cost of £10 per day (per person plugged in, directly or in-directly). No pre-booking necessary but please ensure you read and understand the terms of use. Showers and toilets will be available but please keep them clean.
Cafe
The cafe will be serving food and refreshments throughout the day, they can accept cash and card payments. Evening dinners also available, please place your orders in the clubhouse from Friday morning. Any special dietary requirements please contact Elaine Blake prior to the event or email webmaster@grampiankartclub.com
Friday Evening (5-6pm)
Fish (fresh local) & Chips or Chilli
Pizza, Chicken or Fish Fingers for the kids
School Cake & Custard or Cheescake
Saturday Evening (5-6pm)
Chicken Tikka Curry or Homemade Steak Pie
Pizza, Chicken or Fish Fingers for the kids
Sticky Toffee Pudding or Strawberry Pavlova
Rotax Max Tyres
With the volatile supply of kart tyres, Grampian Kart Club and the ASKC have negotiated a supply of Mojo tyres from the UK importer JAG for competitors competing in the ASKC Scottish Championship. One set of slick tyres will be supplied by Mackay Motorsports (at additional cost to entry) to paid entries of the Scottish Championship.
Wet tyres can be Mojo W5 or Komet K1W.
Supplementary Regulations
Entries open Monday 13 June and close Wednesday 6 July. To be included in the professionally printed race programme your entry must be submitted by the 29 June, 12noon.